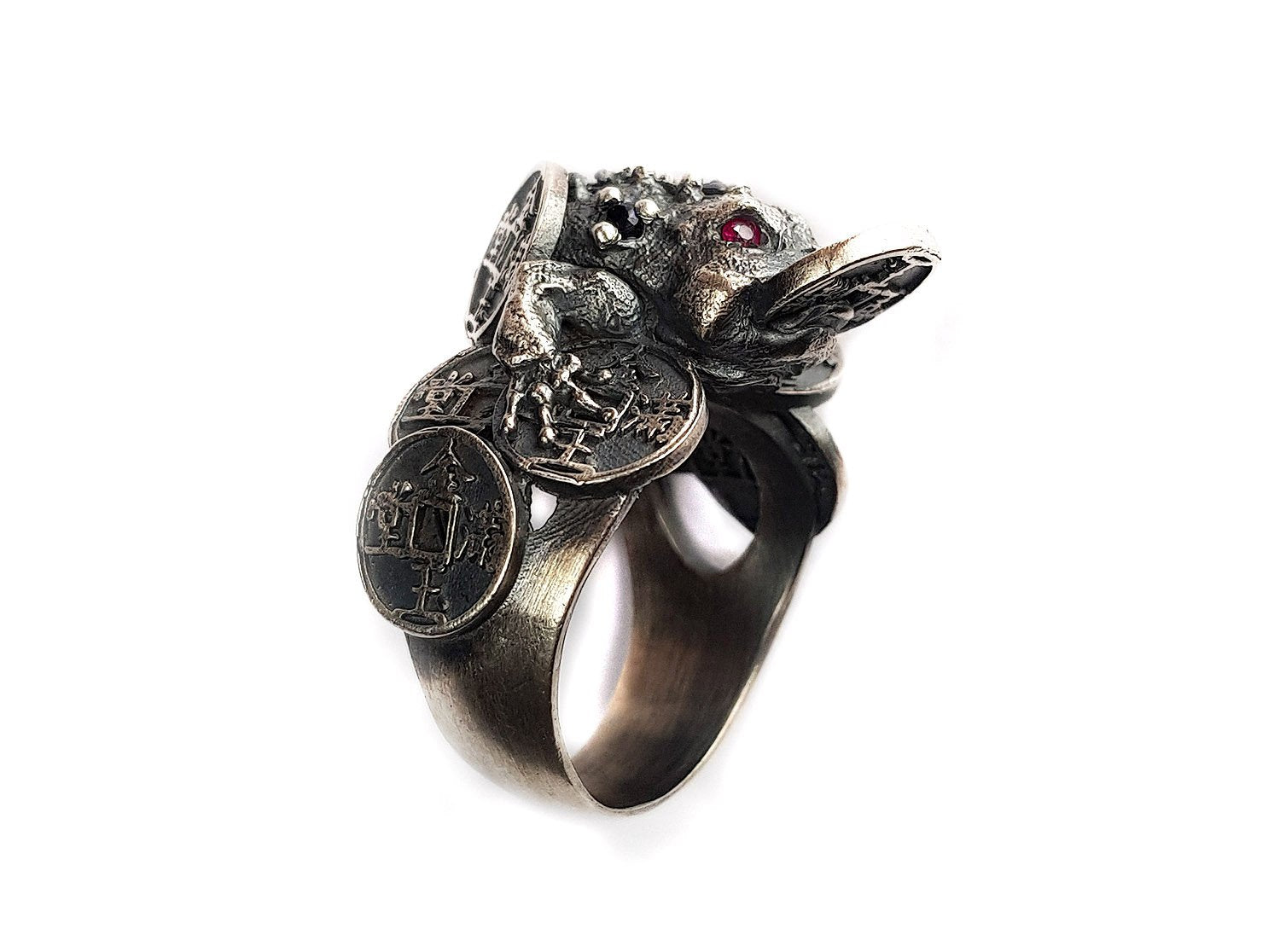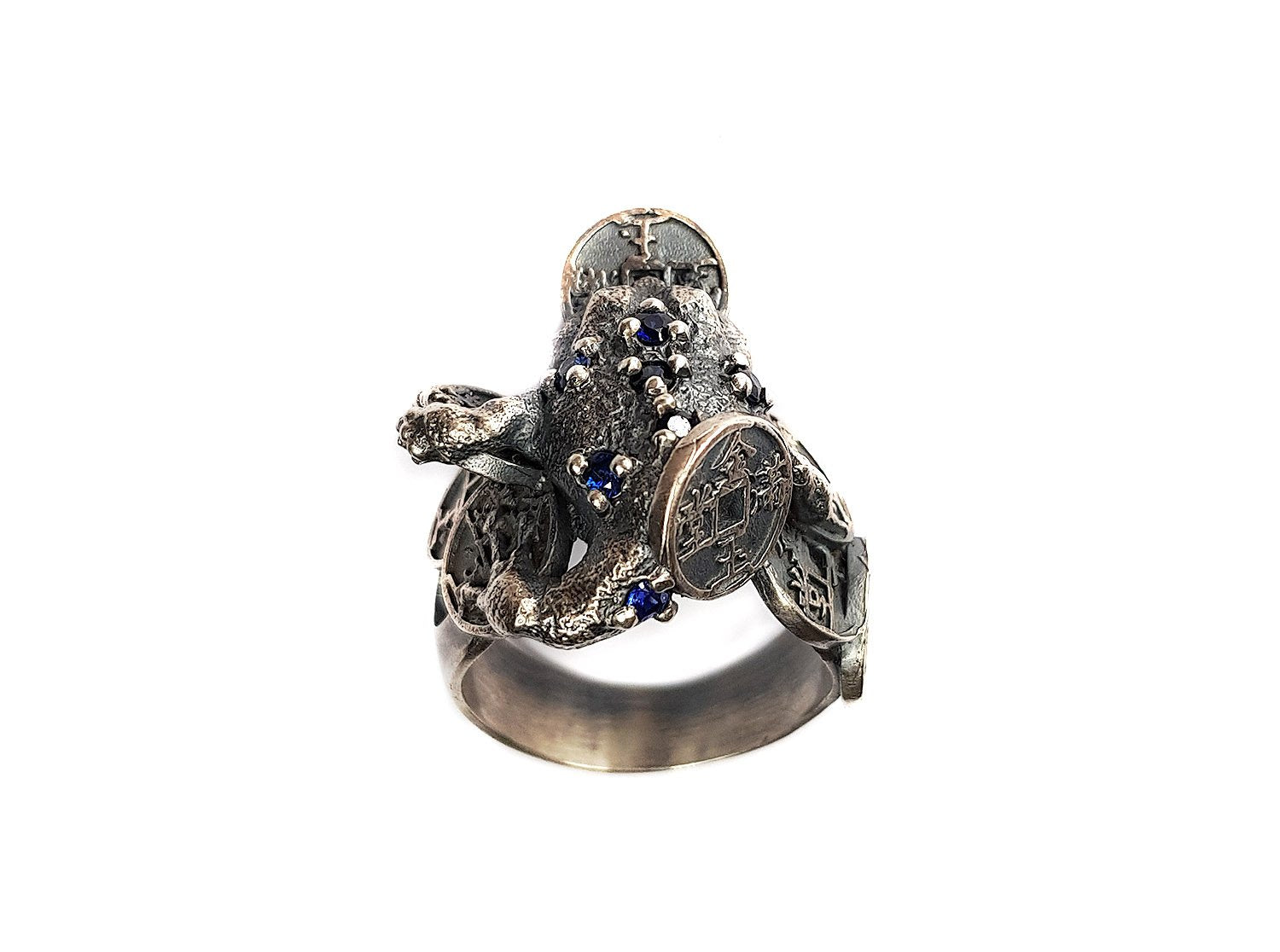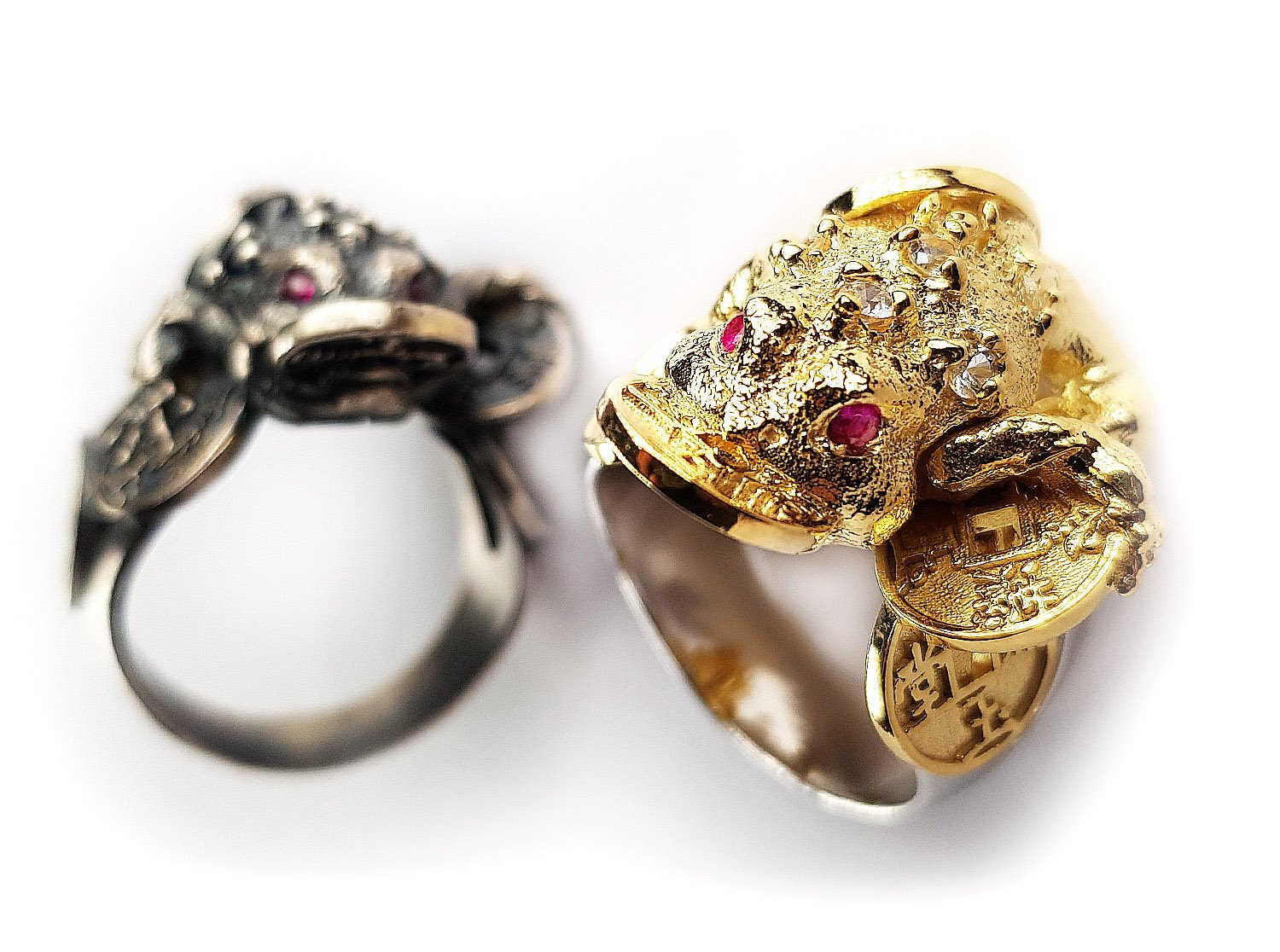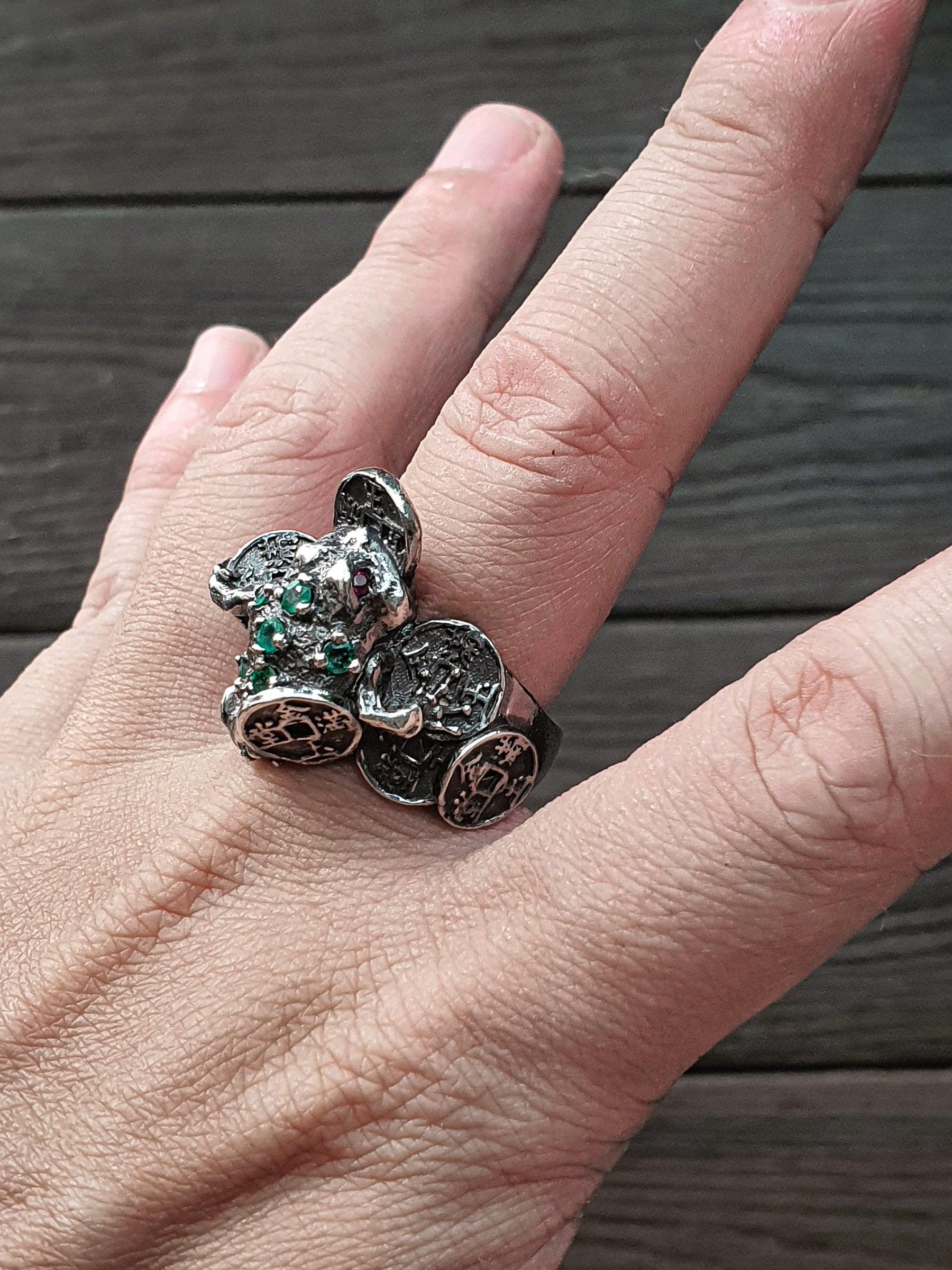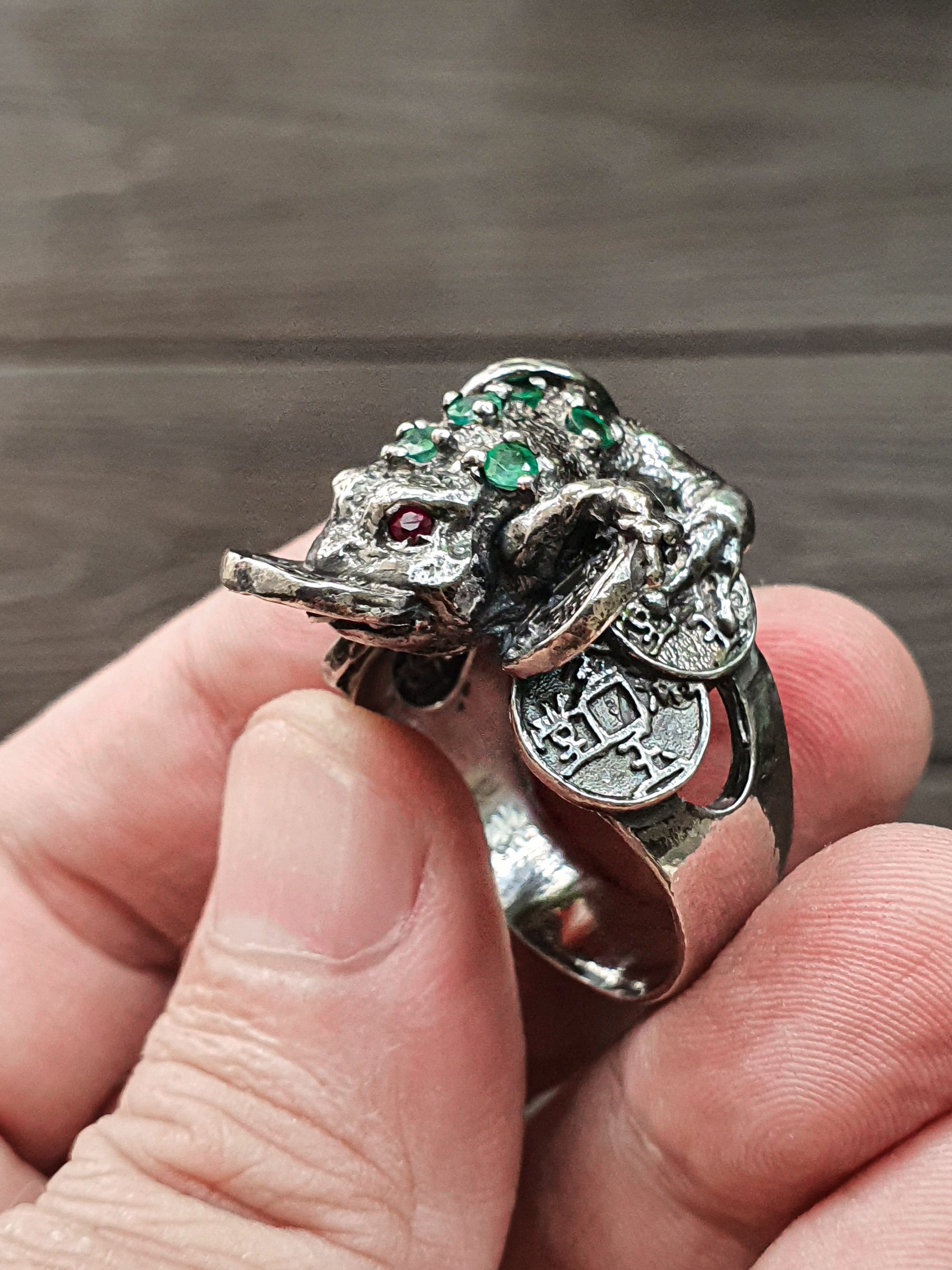 Greedy Money Toad Ring: JinChan 金蟾
The Money Toad Ring is a highly detailed and eye-catching piece of jewelry that is designed to symbolize wealth and prosperity. The design features a cute and greedy-looking money toad that is holding eight ancient coins, which is considered an auspicious number in Asian cultures. The frog's tongue is sticking out, as if it has just captured the coins as its prey. The ring also features seven stars, which represents the dipper constellation, behind the money toad.

This ring is made with meticulous attention to detail and is sure to turn heads wherever you go. The 3-legged design gives it a unique and playful appearance that sets it apart from other money toad designs. Wearing it on your left-hand middle finger is believed to attract wealth and prosperity to you.

Whether you're a fan of Asian culture, love unique and meaningful jewelry, or just want to bring good luck and prosperity into your life, the Money Toad Ring is the perfect choice. So why wait? Get your Money Toad Ring today and start attracting wealth and prosperity into your life!

Designer Notes

This highly detailed money toad is design to look greedy, grabbing 8 ancient coins (an auspicious number that represent wealth in Asia). This Frog is sticking out its tongue to depict it captured the coin like capturing a prey. It has also seven stars (dipper) behind its back. 3 legged and design to be cuter then the normal more ugly version. It is best to wear on you left hand (receiving hand) middle finger.

Product Variation:


1) Antique Silver with 9 Gems (2 Ruby as Eyes + 7 Blue Sapphire Dipper Stars)

2) Gold Plated with 9 Gems (Yellow Gold Plated + Ruby as Eyes+ 7 Quartz as Dipper Stars)**

3) Solid 18K Yellow Gold with 9 Gems (2 Ruby as Eyes+ 7 Quartz as Dipper Stars)**


* Plating Color in default is Yellow Gold, can request Black, white or Pink Gold
** 7 Dipper Stars in default is BLUE for Antique and WHITE for Gold Plate, can request Blue, White, Red or Green.
Pendant Version
For Rings
We use US sizing as standard. If you have problem converting your local sizing, please check with us.  
We are comfortably handle any sizing from 3-15. If any rings your are interested listed do not offer the sizing you need, you can write in to check with us. 
If you do not know your sizing, we recommend you visit your local jewelry store to get your sizing. But if it is not a variable option, you can DIY by using the following method.
Once you trace your size, place the paper strip against a ruler to measure.
During checkout, you can forward your reading (preferably in mm) so we can convert for you. 
We provide 1 time free ring size adjustment for our products. You just need to send back the item and we will re-adjust for you.  
For Bracelet
Same method as above, but instead of fingers, you measure the most narrow part of your wrist. For wrist, generally we are using inches instead. During purchase, select your correct wrist size measurement. If your wrist is slightly bigger then the sizing given. Choose the next bigger size. 
Example:
- if your wrist is 7 inches, choose 7 inches as your wrist size.
- if your wrist is 8.5 inches, choose 9 inches as your wrist size.
- if you are 9 1/4 inches, choose 10 inches as your wrist size.

Please write to us if you are not sure.