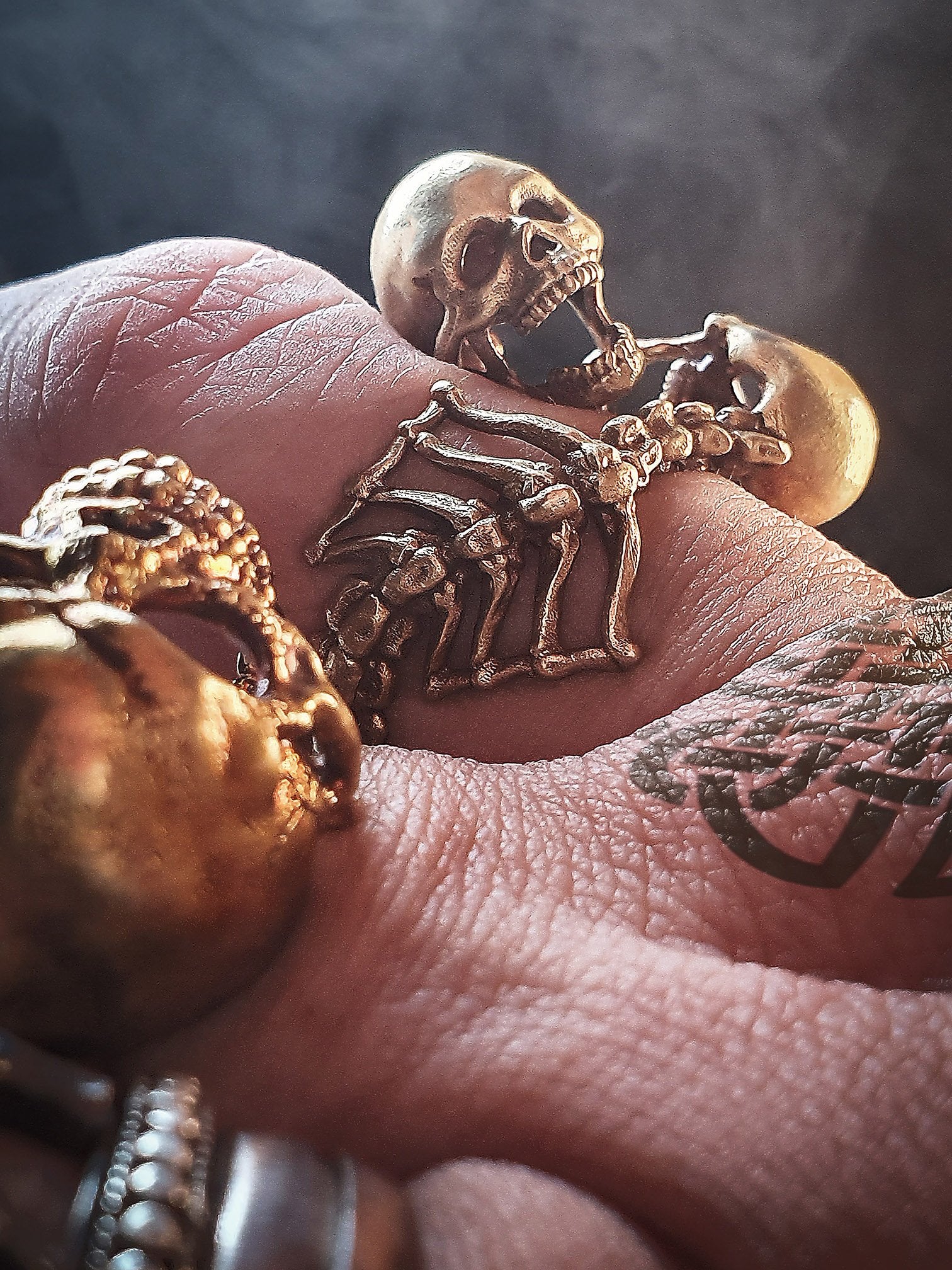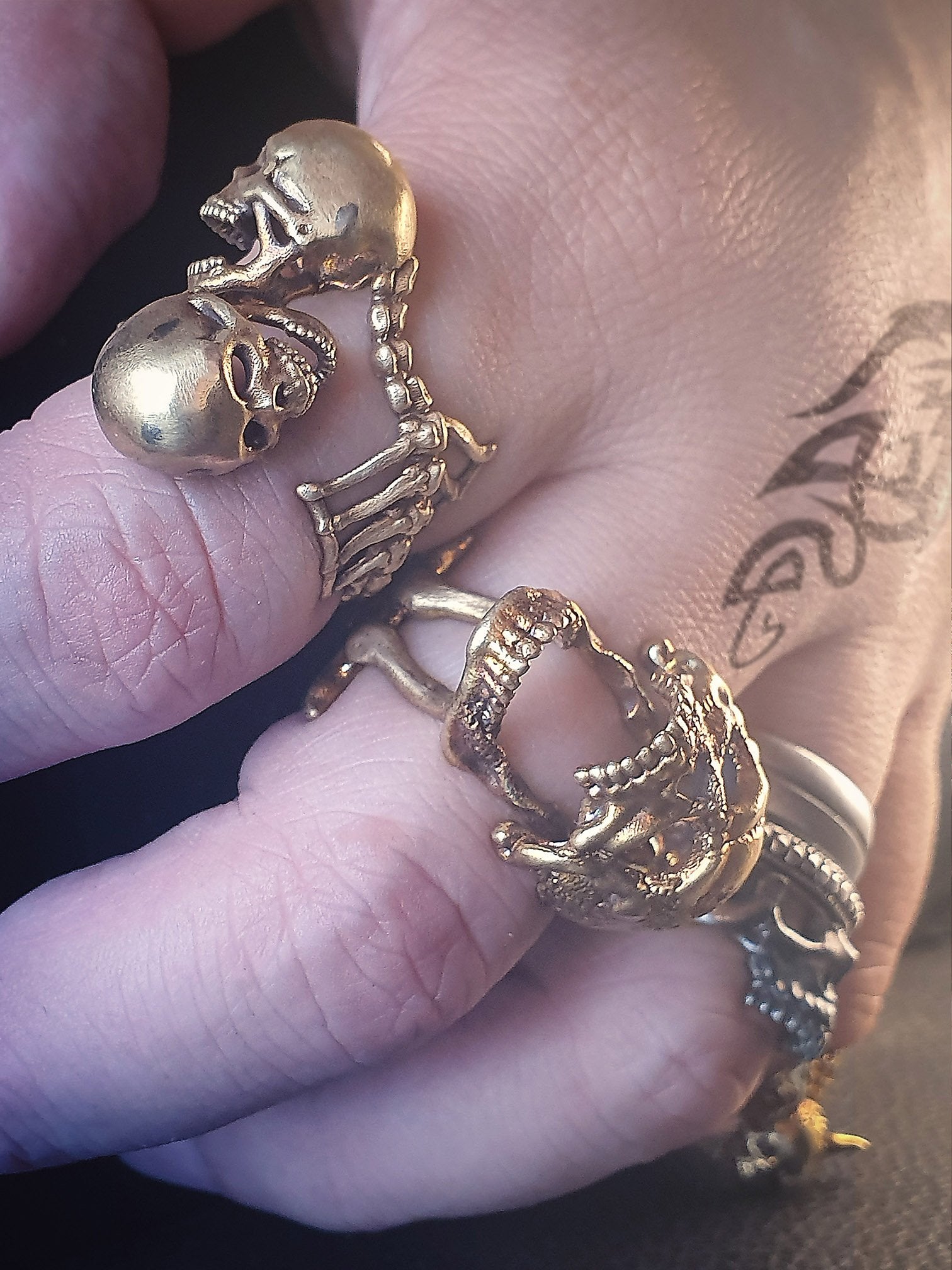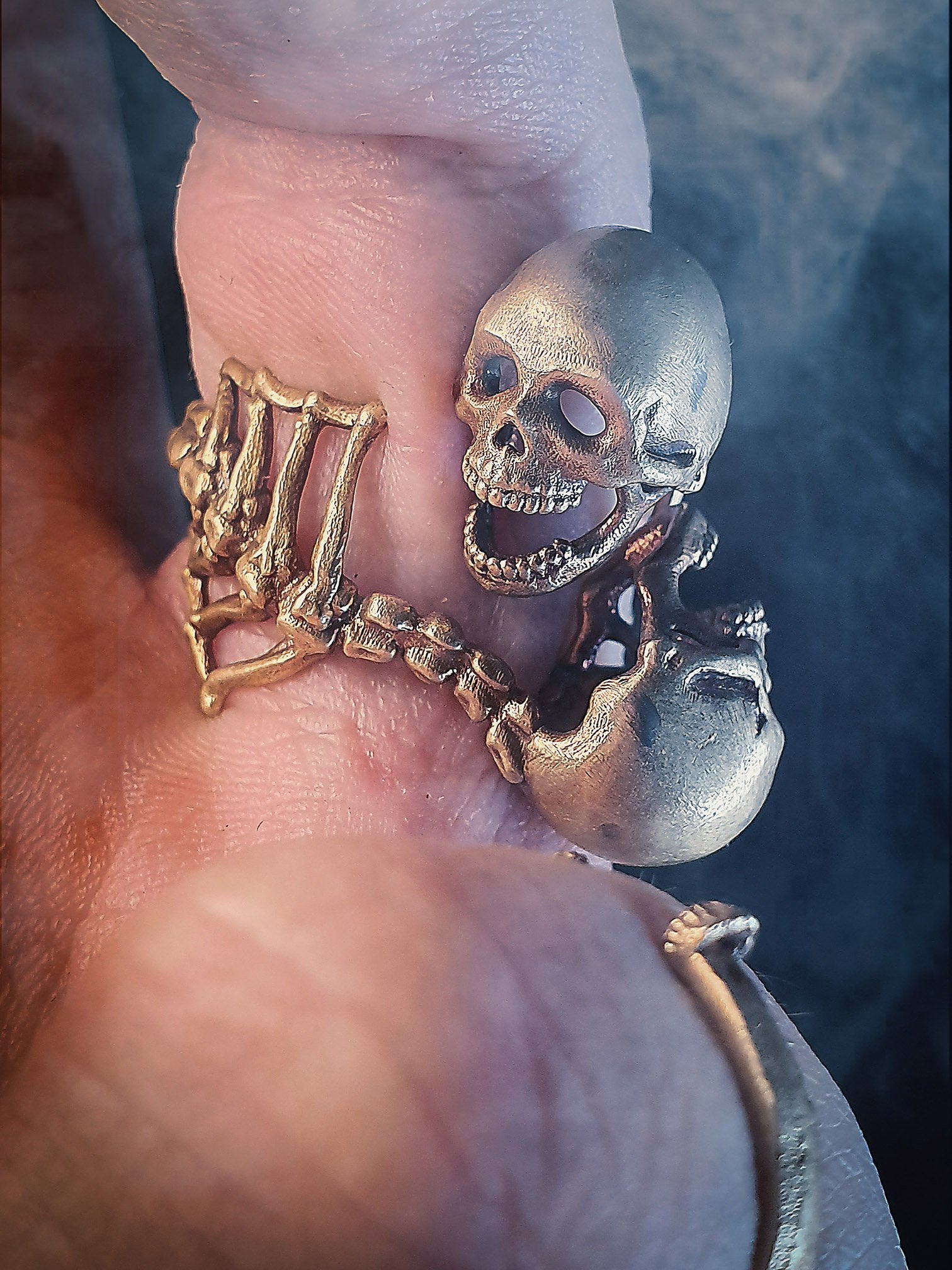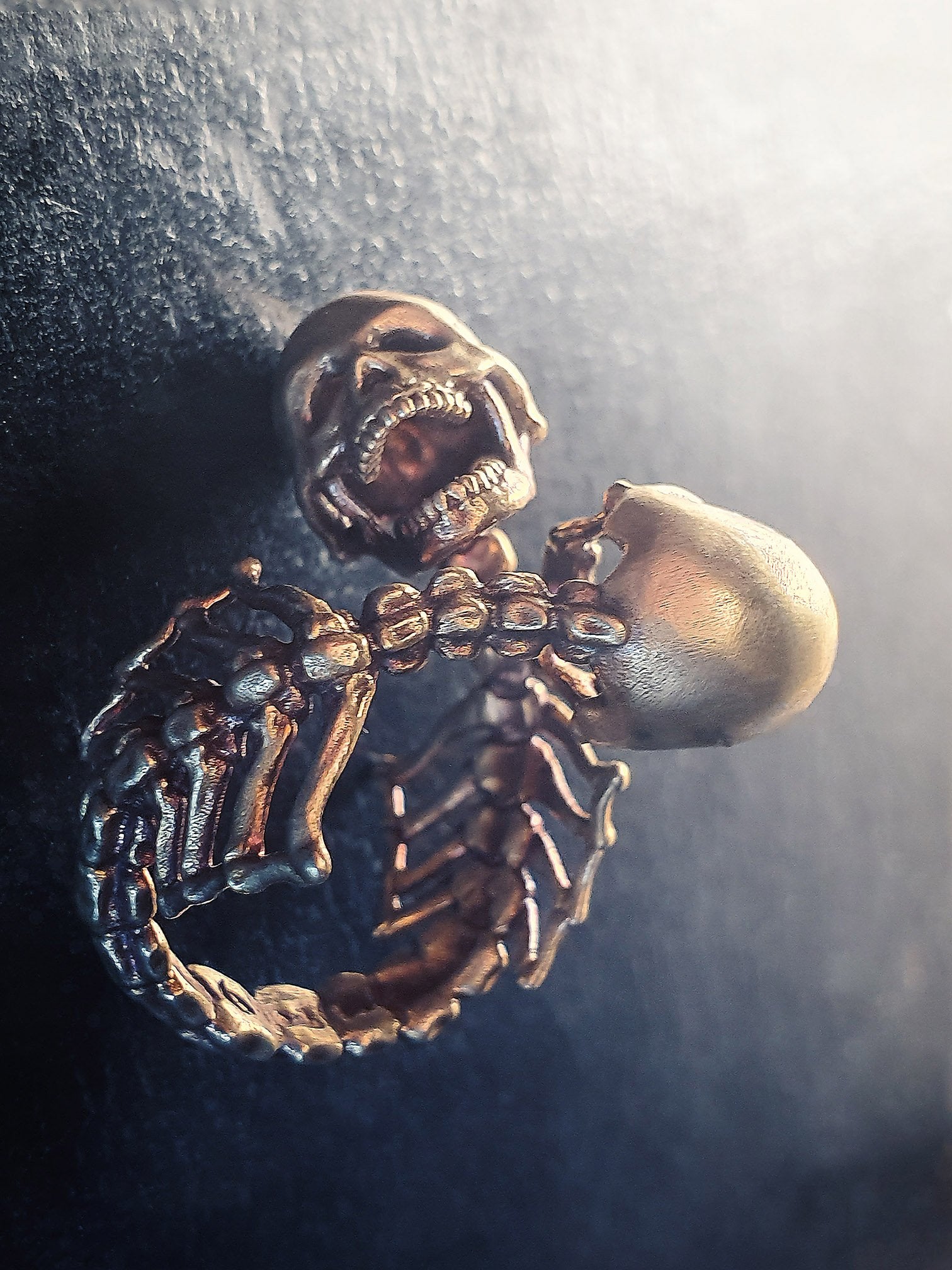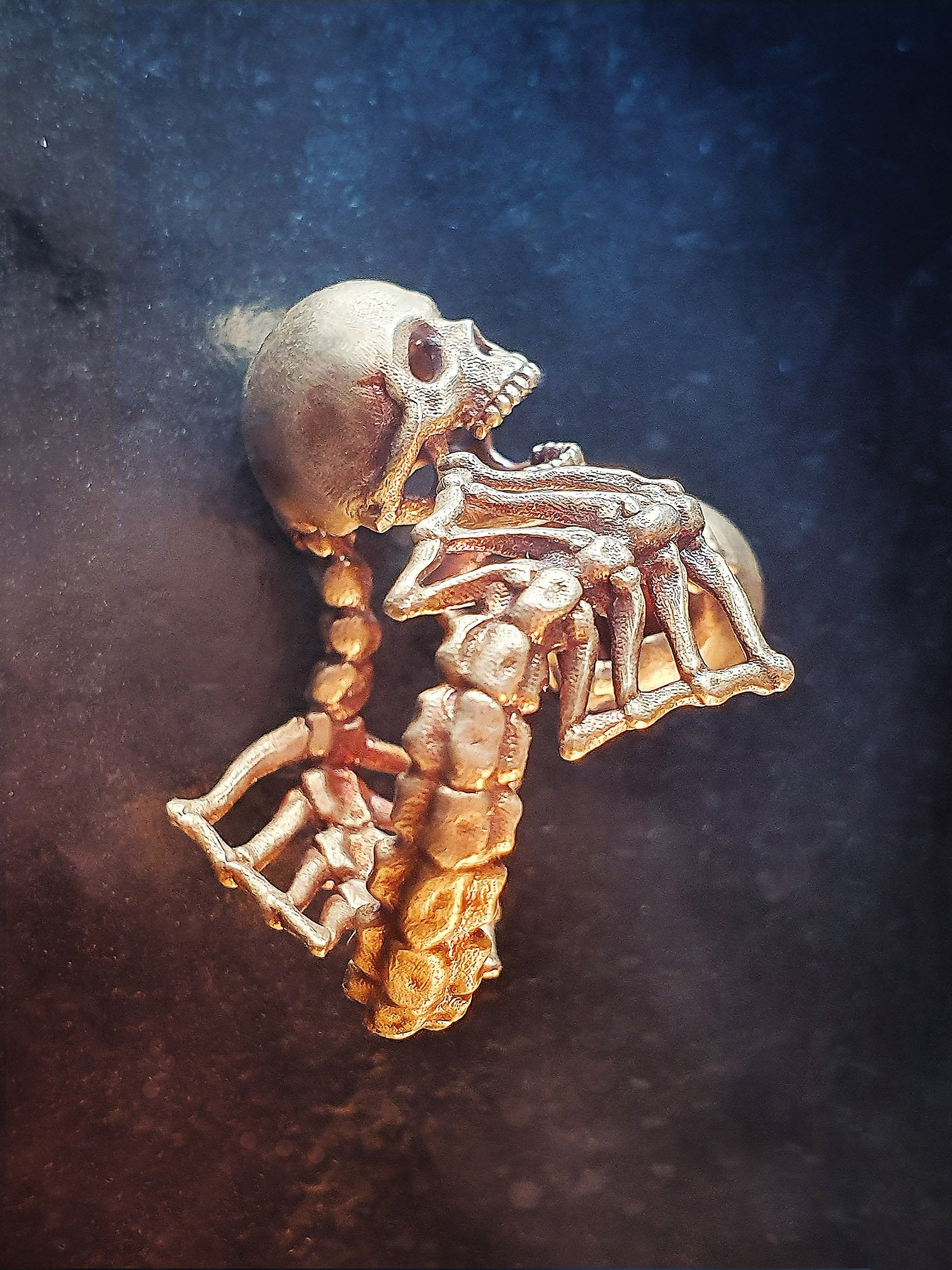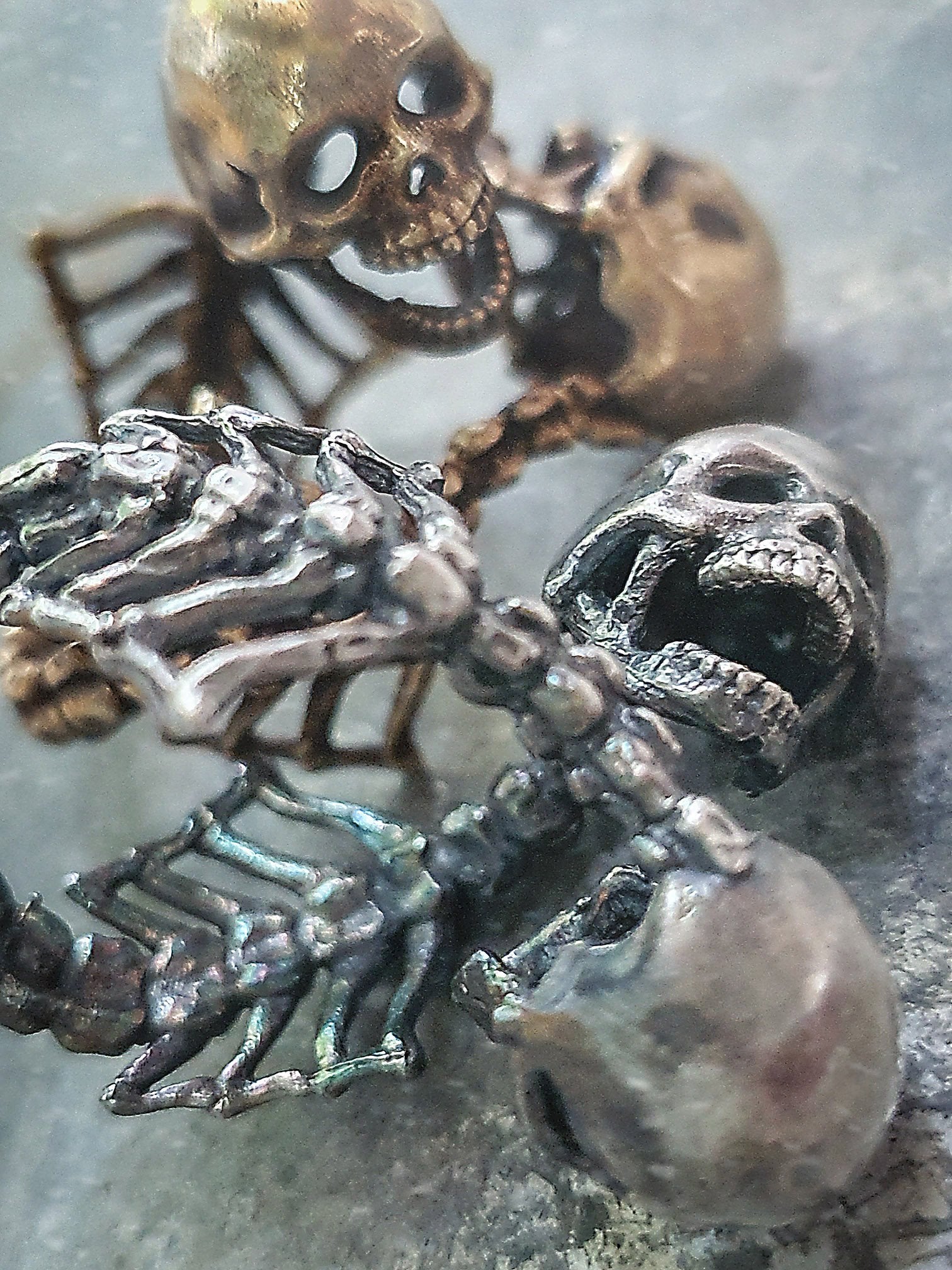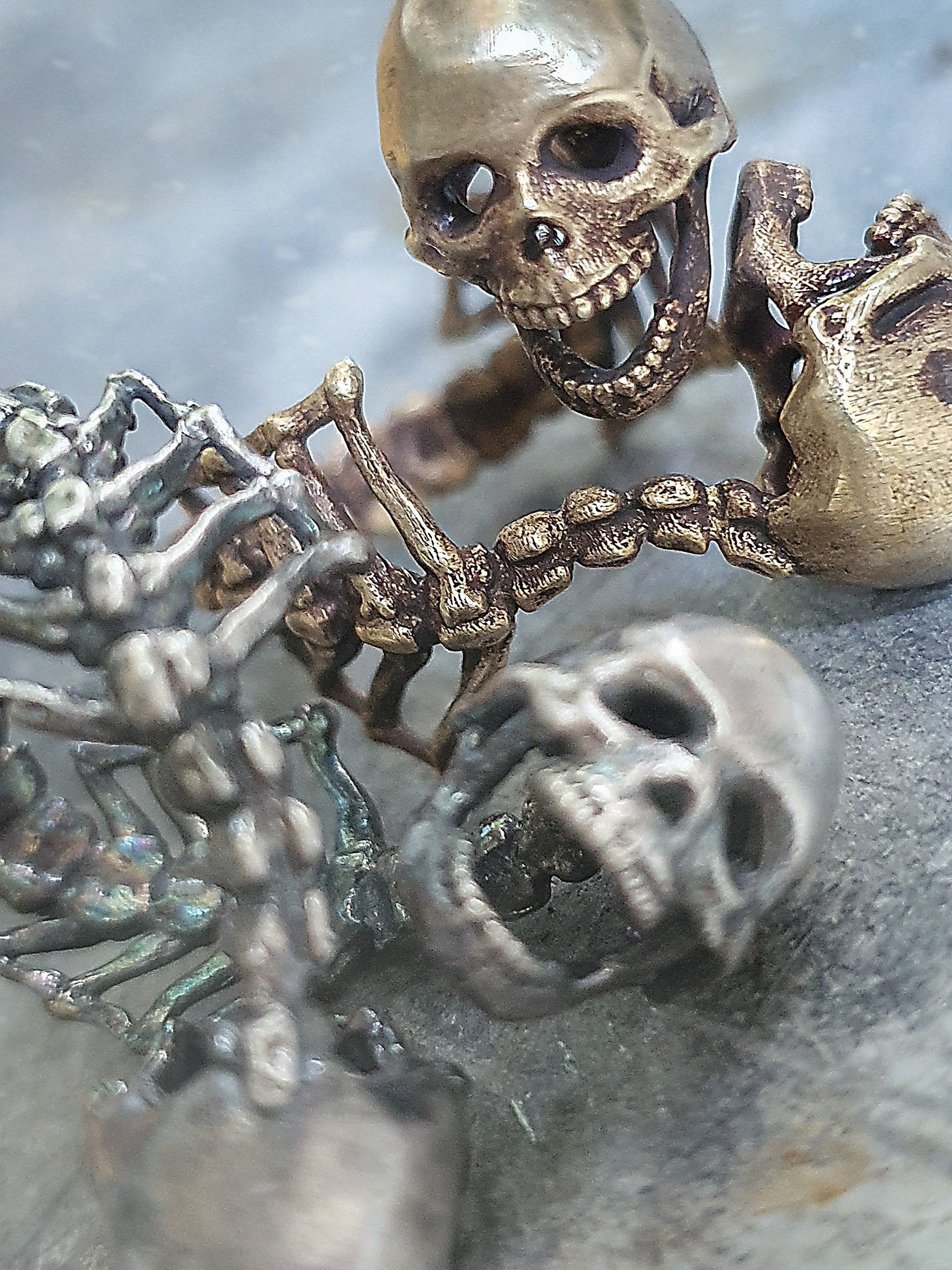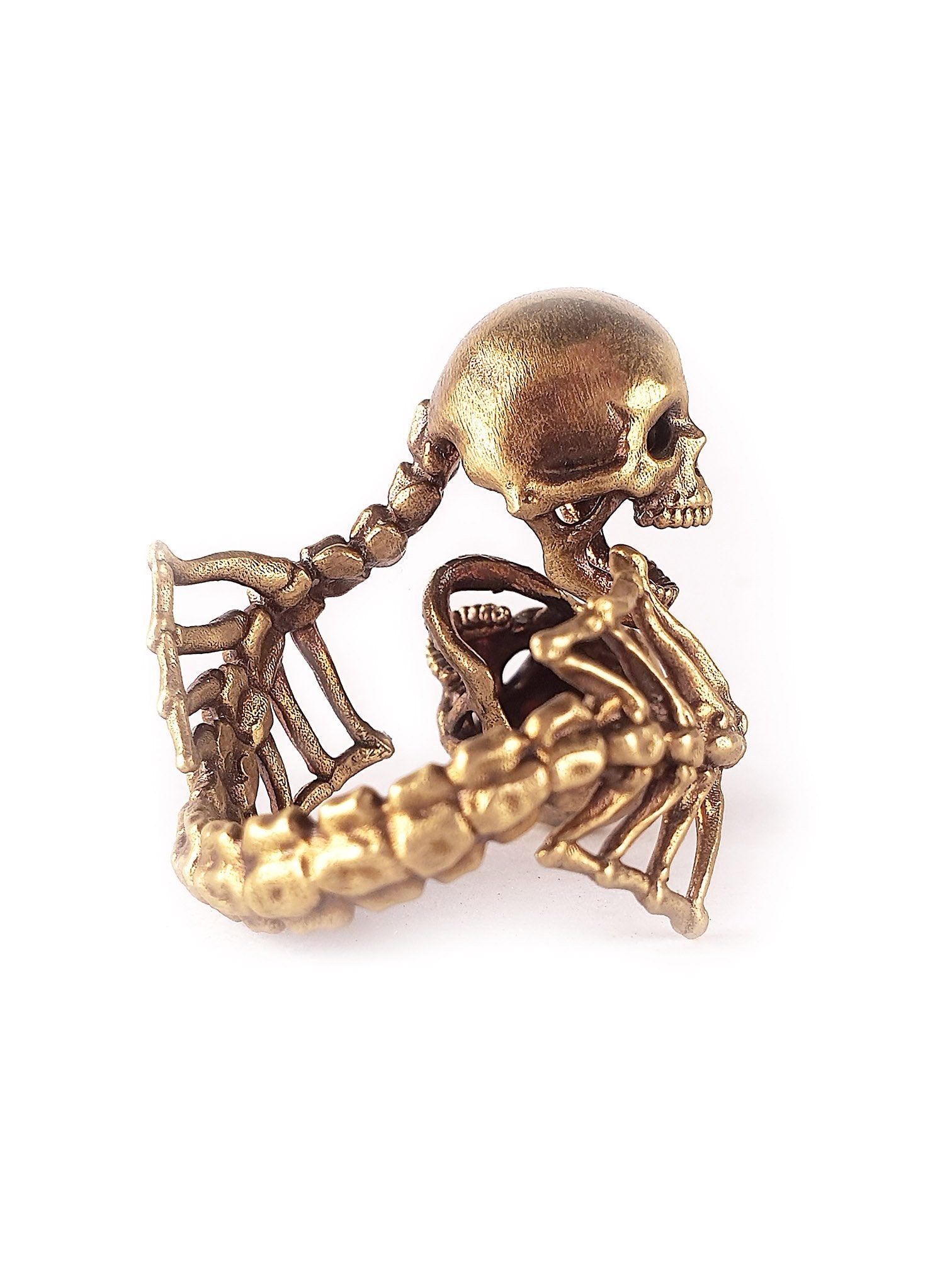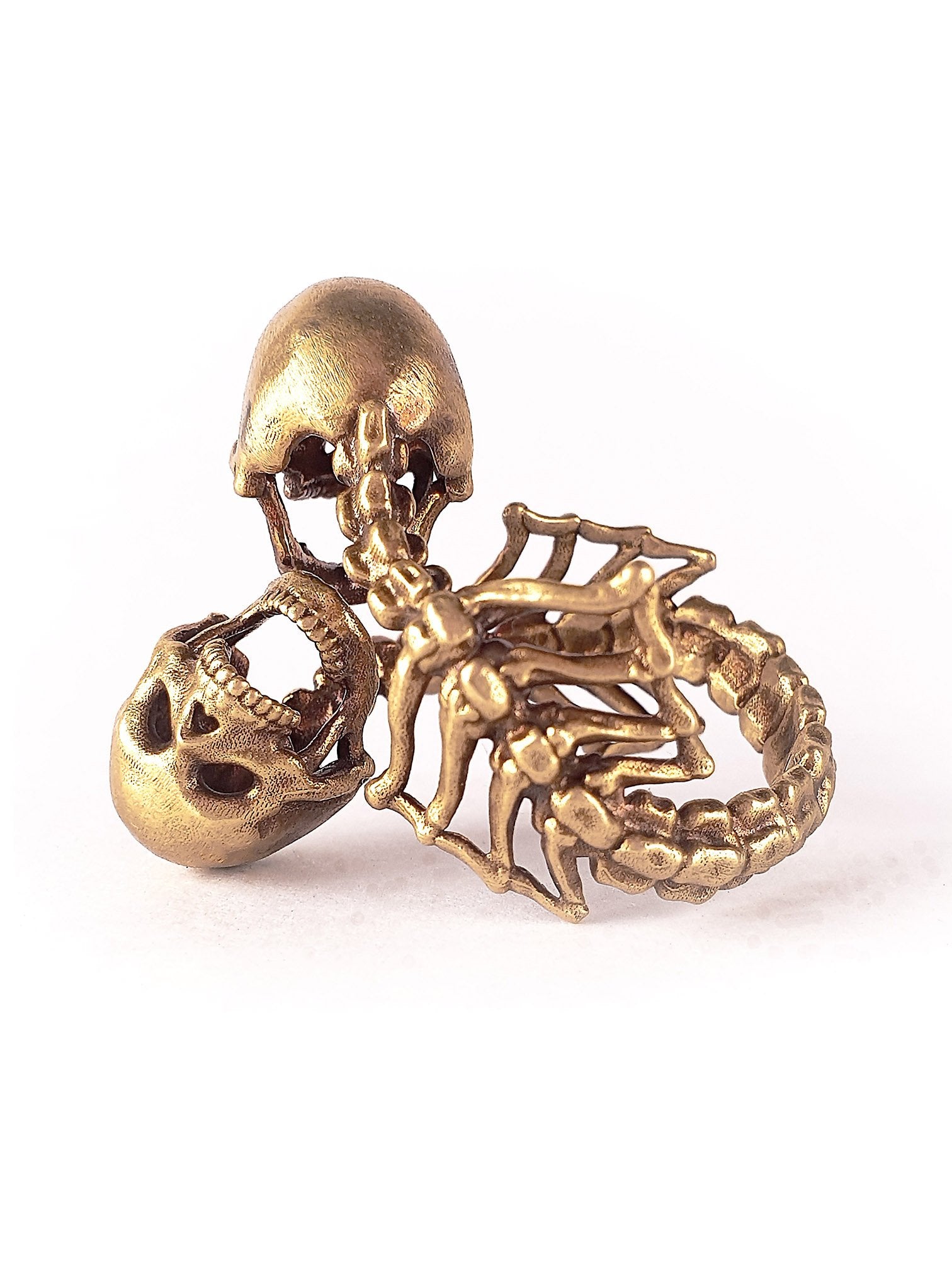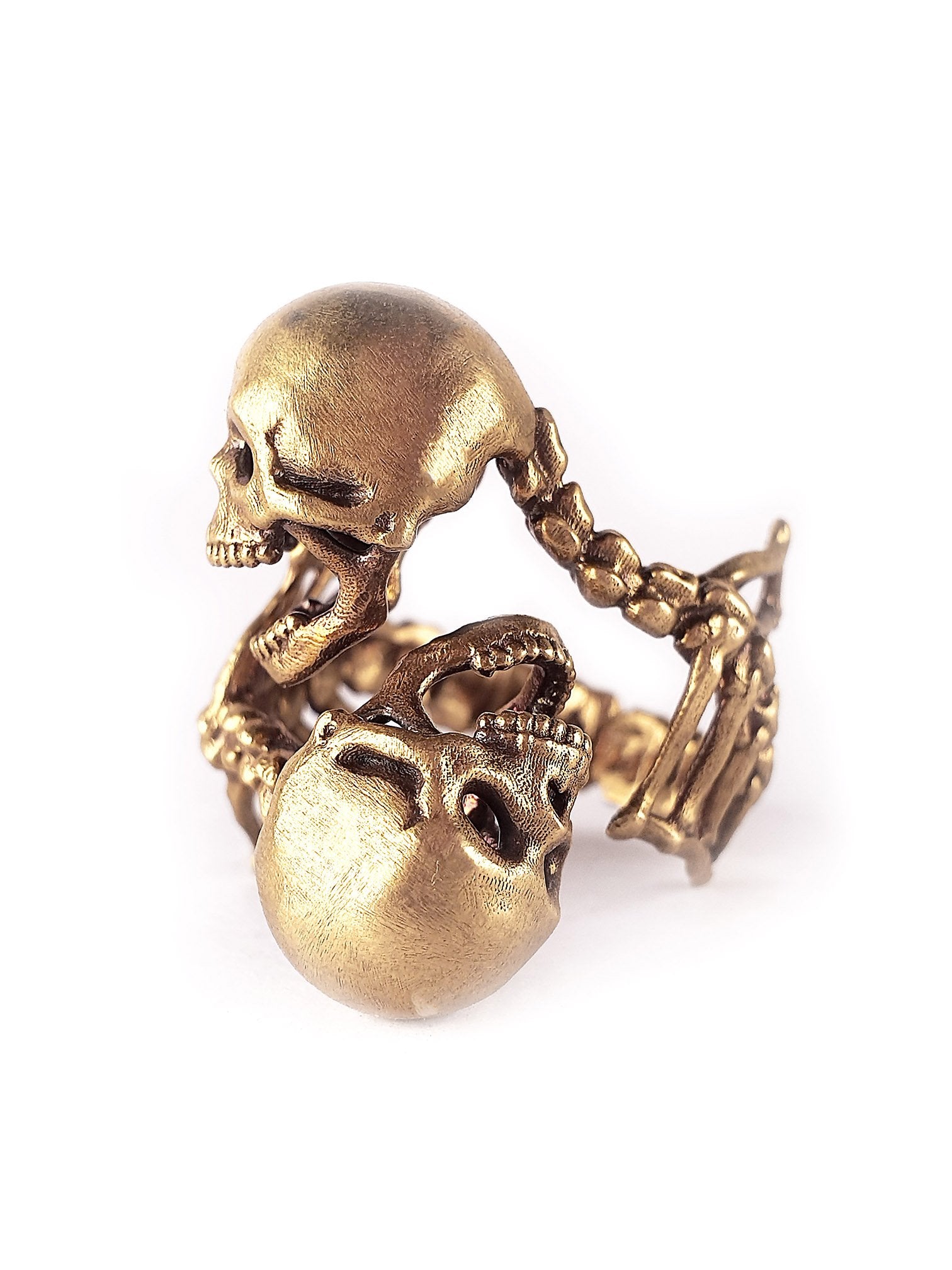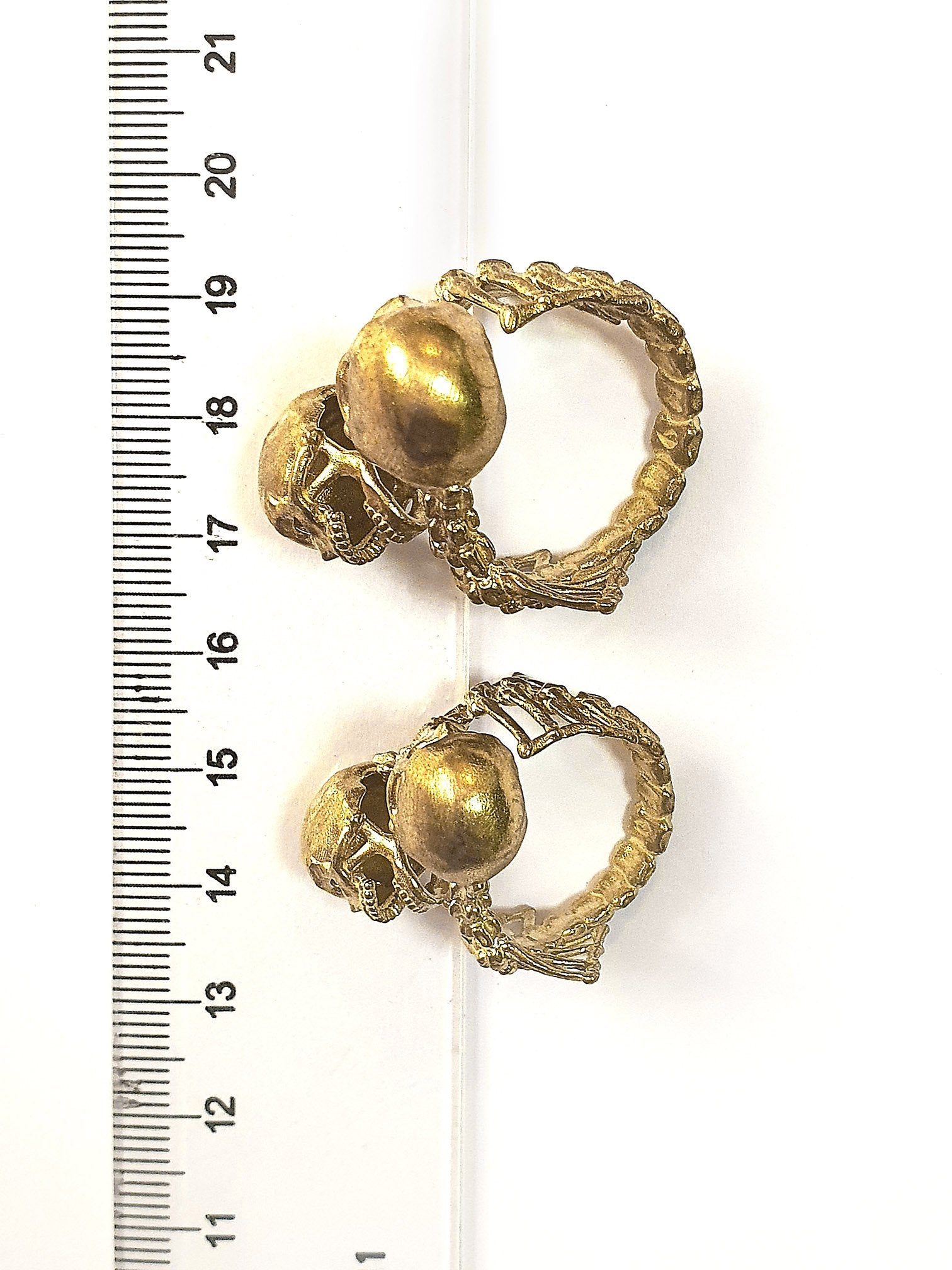 Description
We loved with a love that was more than love.
~Edgar Allan Poe
Universal and unambiguous, the Embrace is an act of endearment that is well understood across communities and creed.  Without the use of words, the act of embrace signifies Love, Friendship, Trust, Sympathy, Consolation and Affection, all which make us human and happy in this often chaotic and unpredictable world.
Our interpretation of Embrace is to showcase the act as an energy that is existential and infinite beyond an individual's lifetime.  When two individuals come into an embrace, their bond transcended physical boundaries and sometimes, such memories last beyond their lifetime as captured in films and photography. 
This is a daring piece that take the challenges of traditional structure of rings in jewellery making.  It shows two person in the form of their skeletons locked in embrace forever with the skull attached to the spine, spreading out to the rib cage and attached to another in symmetry with another skeleton in a term of endearment.
Grim as it can be, it actually celebrates the human spirit of life and love.
Sizes
This is an adjustable ring
For Small size, the default size is 7. Adjustable from size 6 -9. Can go lower than size 6 - 4 but the skull heads will be resting on the other skeletons shoulder.

For Large size, the default size is 11. Adjustable from size 10 -13. Can go lower than size 10-8 but the skull heads will be resting on the other skeletons shoulder.
Materials Variation 
1) Raw Brass (Brass)
2) Antique Silver (Sterling Silver with Aging Finishing)
For Rings
We use US sizing as standard. If you have problem converting your local sizing, please check with us.  
We are comfortably handle any sizing from 3-15. If any rings your are interested listed do not offer the sizing you need, you can write in to check with us. 
If you do not know your sizing, we recommend you visit your local jewelry store to get your sizing. But if it is not a variable option, you can DIY by using the following method.
Once you trace your size, place the paper strip against a ruler to measure.
During checkout, you can forward your reading (preferably in mm) so we can convert for you. 
We provide 1 time free ring size adjustment for our products. You just need to send back the item and we will re-adjust for you.  
For Bracelet
Same method as above, but instead of fingers, you measure the most narrow part of your wrist. For wrist, generally we are using inches instead. During purchase, select your correct wrist size measurement. If your wrist is slightly bigger then the sizing given. Choose the next bigger size. 
Example:
- if your wrist is 7 inches, choose 7 inches as your wrist size.
- if your wrist is 8.5 inches, choose 9 inches as your wrist size.
- if you are 9 1/4 inches, choose 10 inches as your wrist size.

Please write to us if you are not sure.