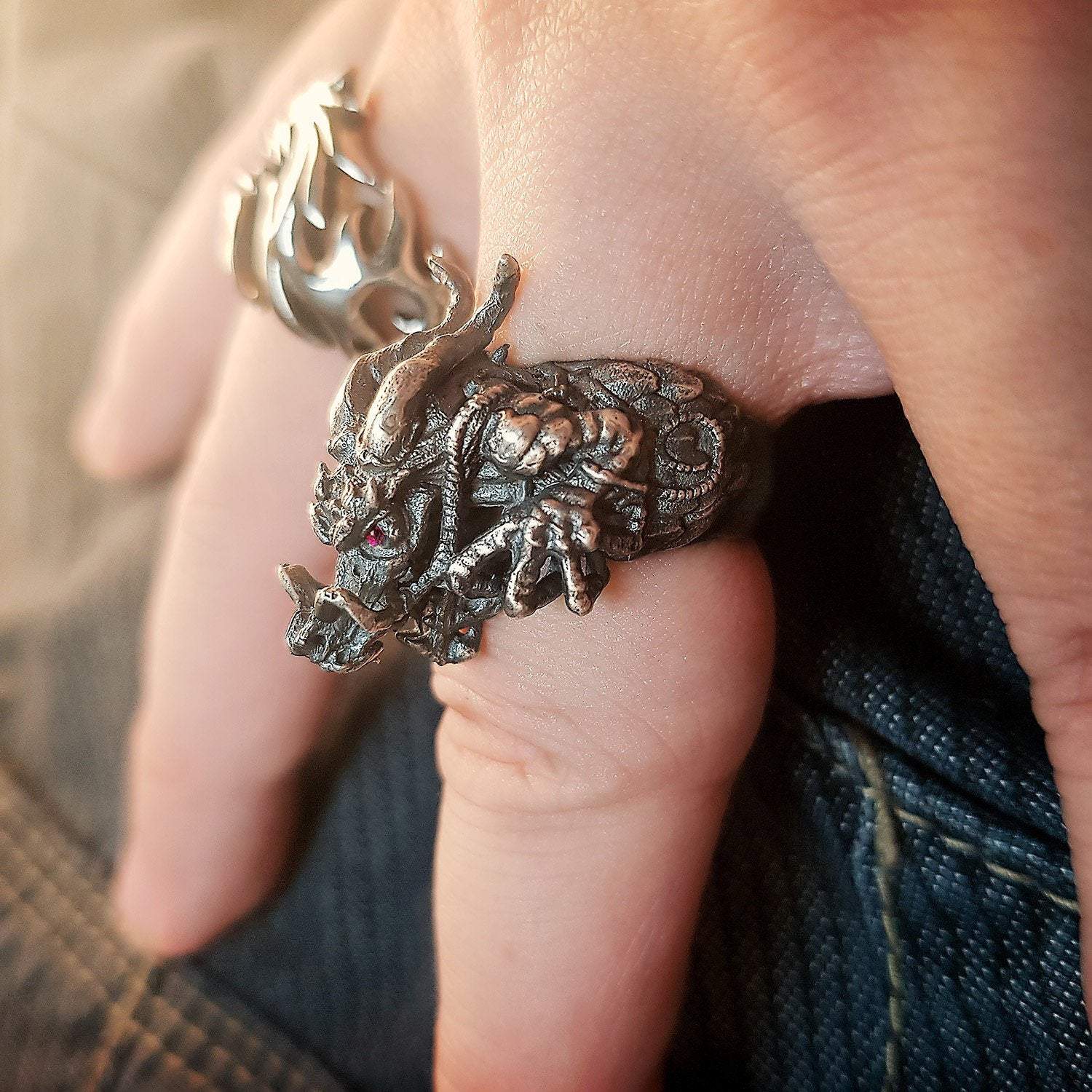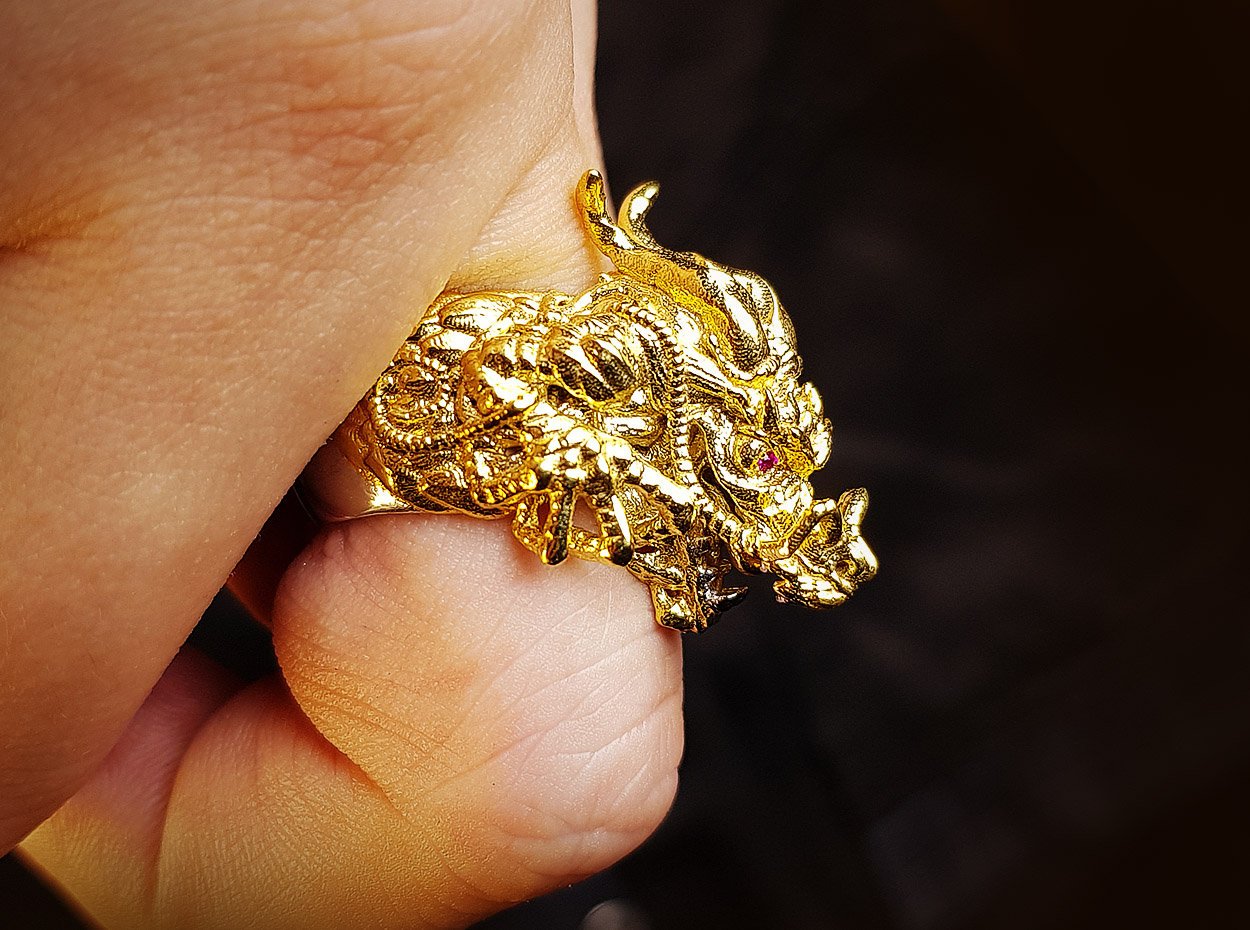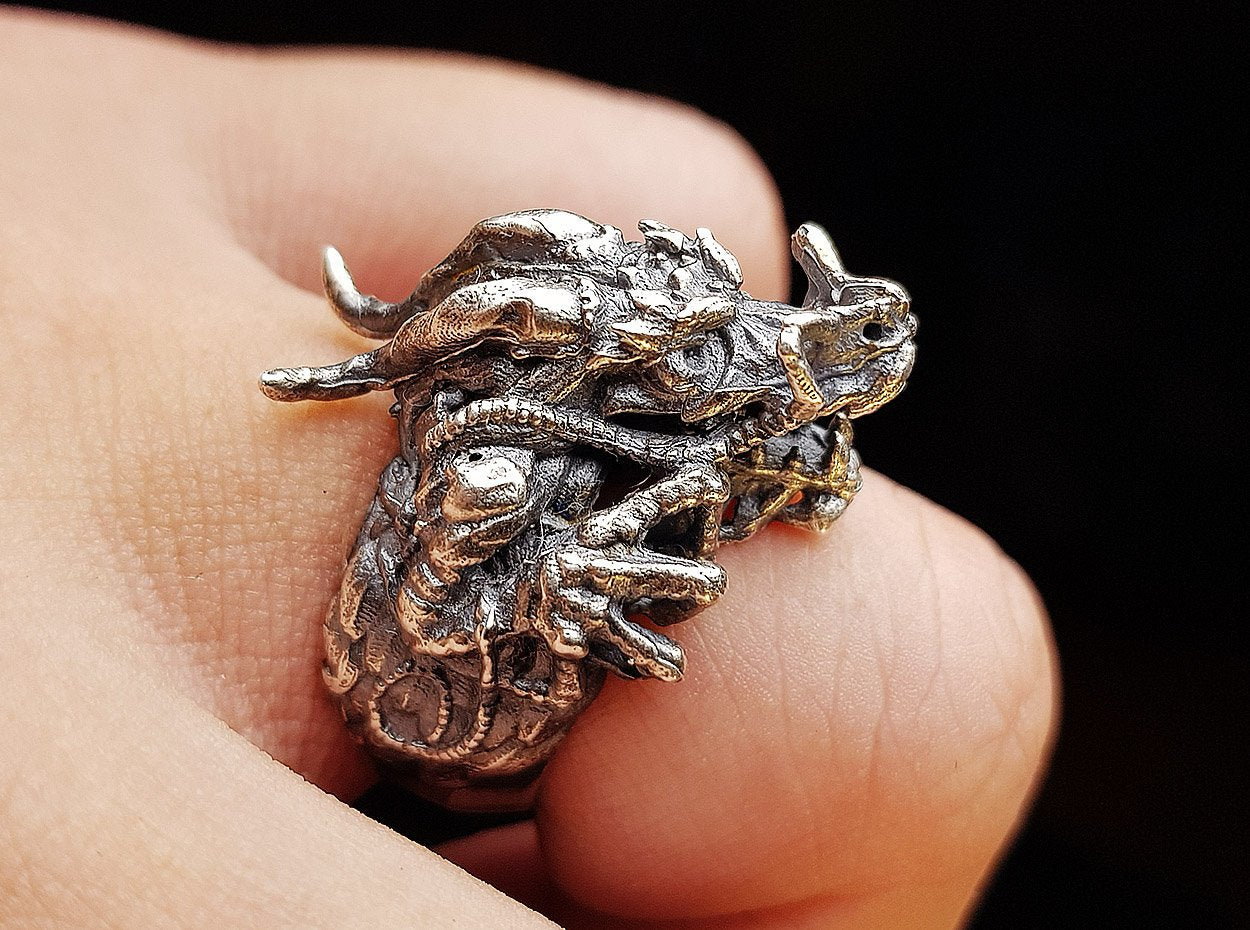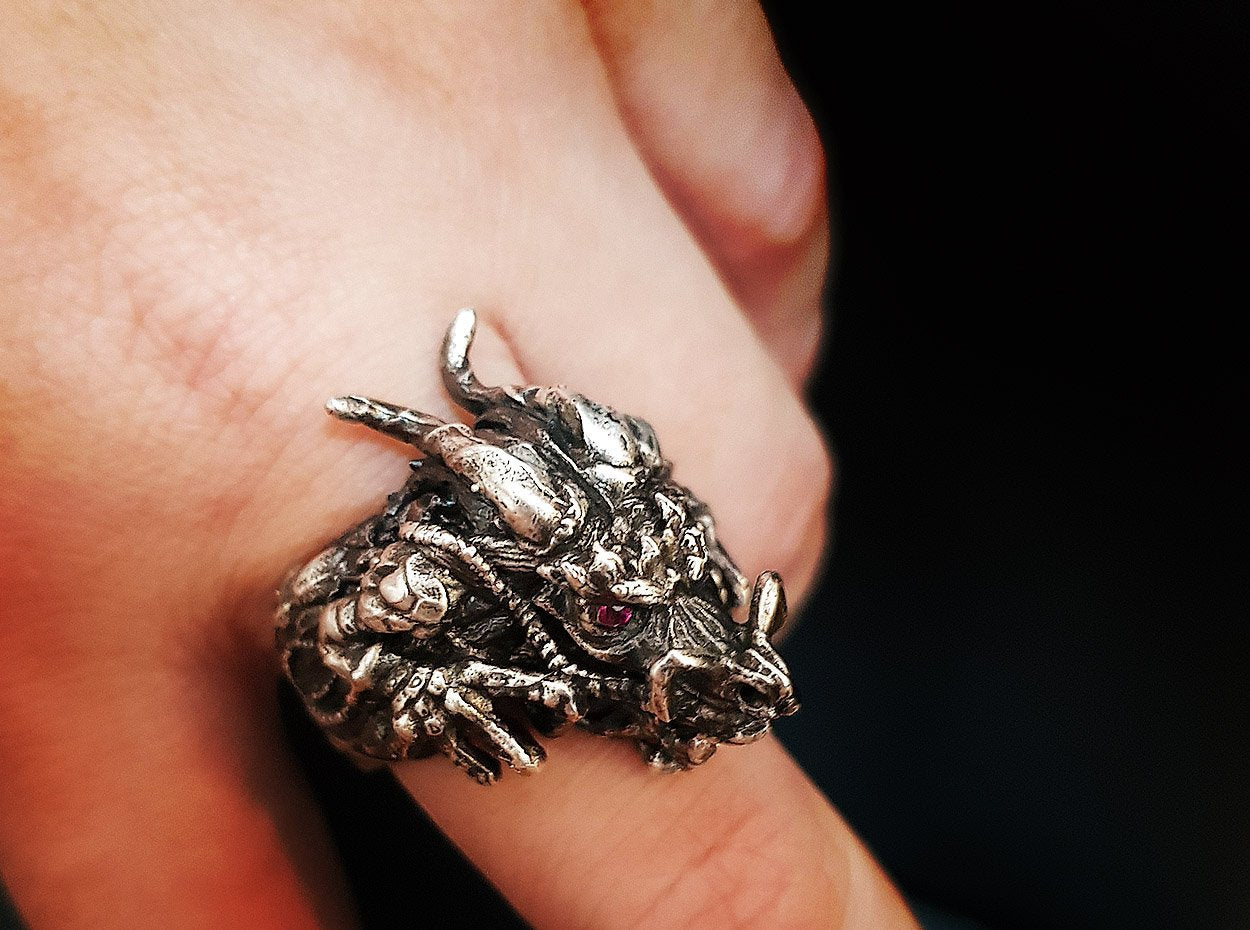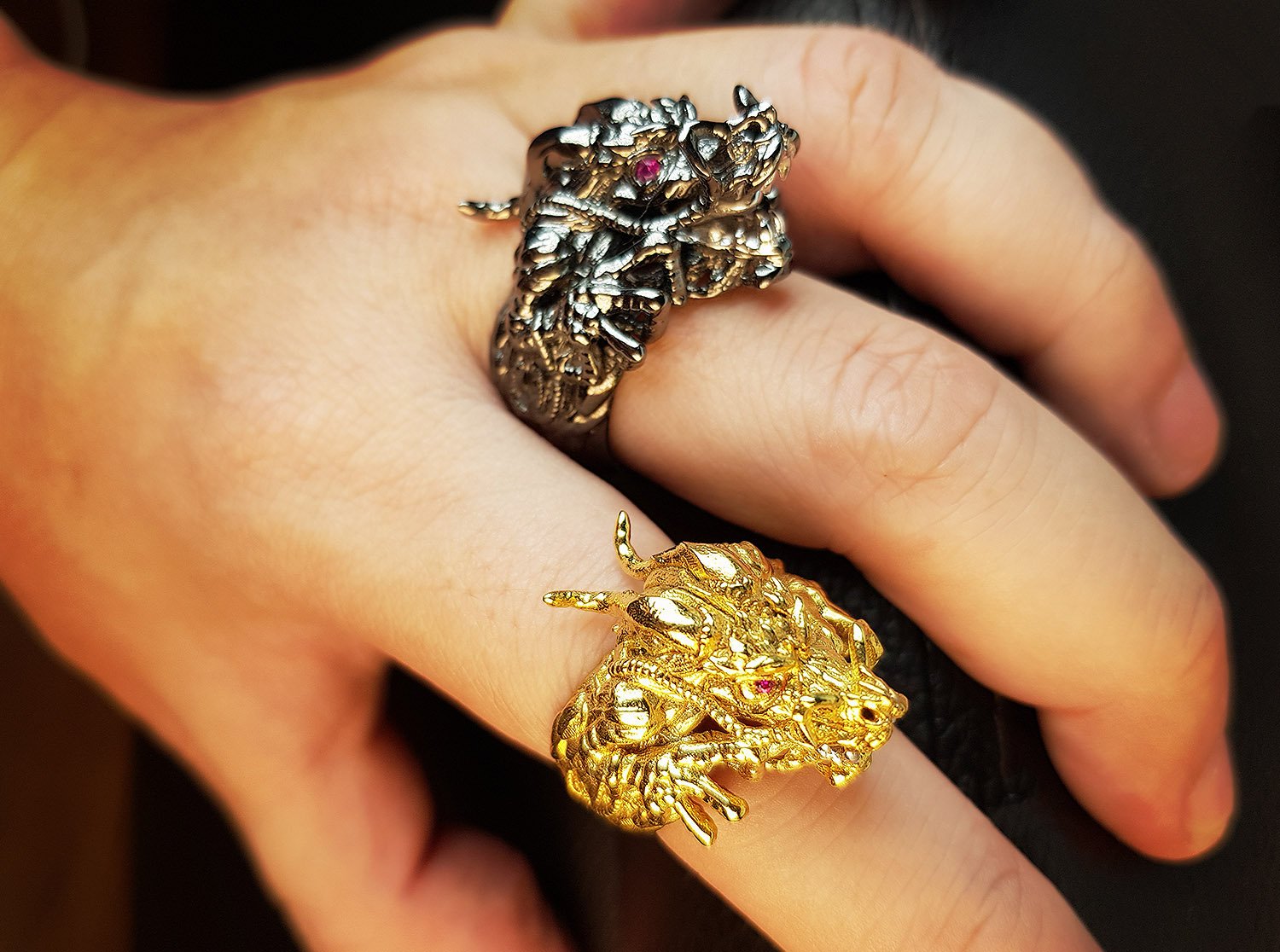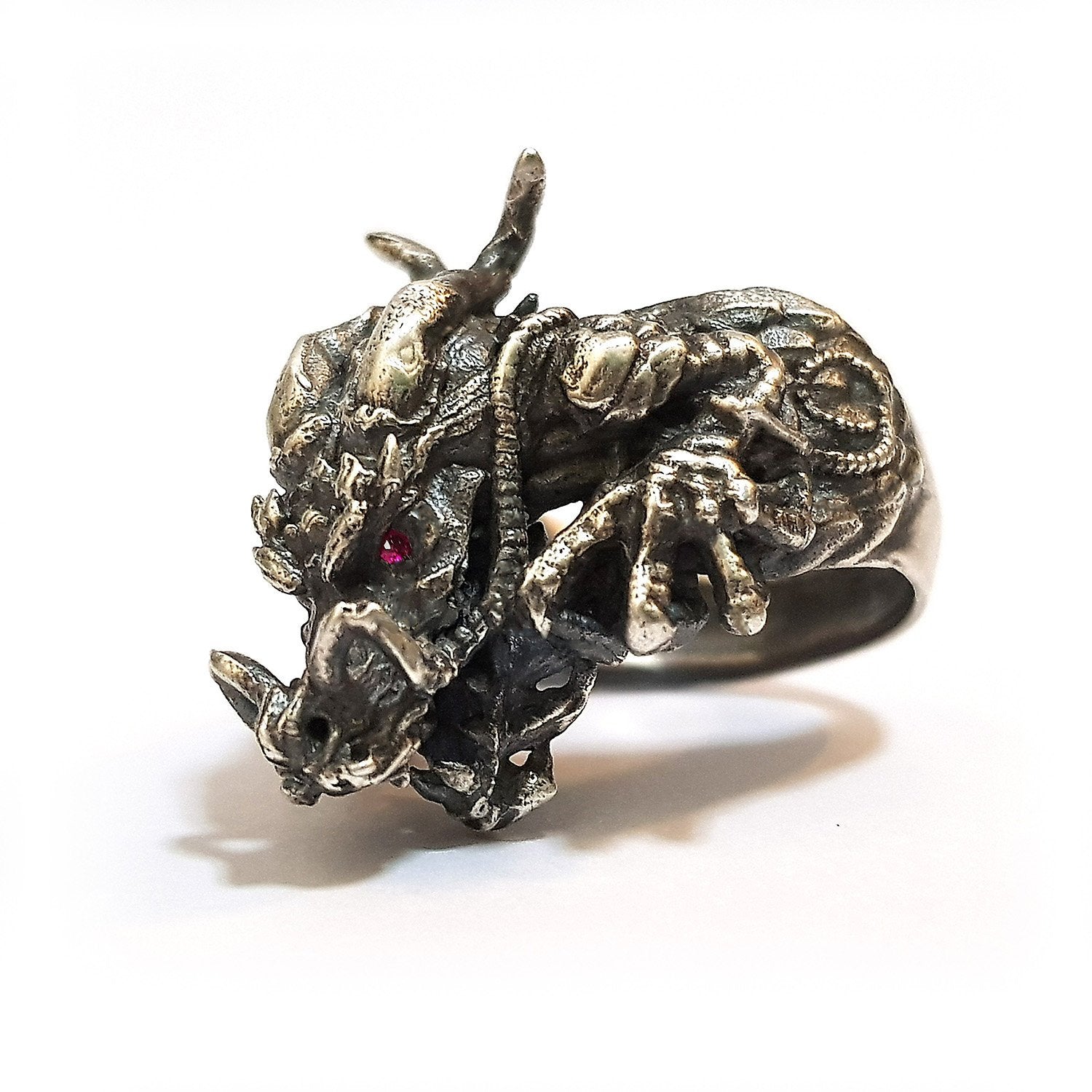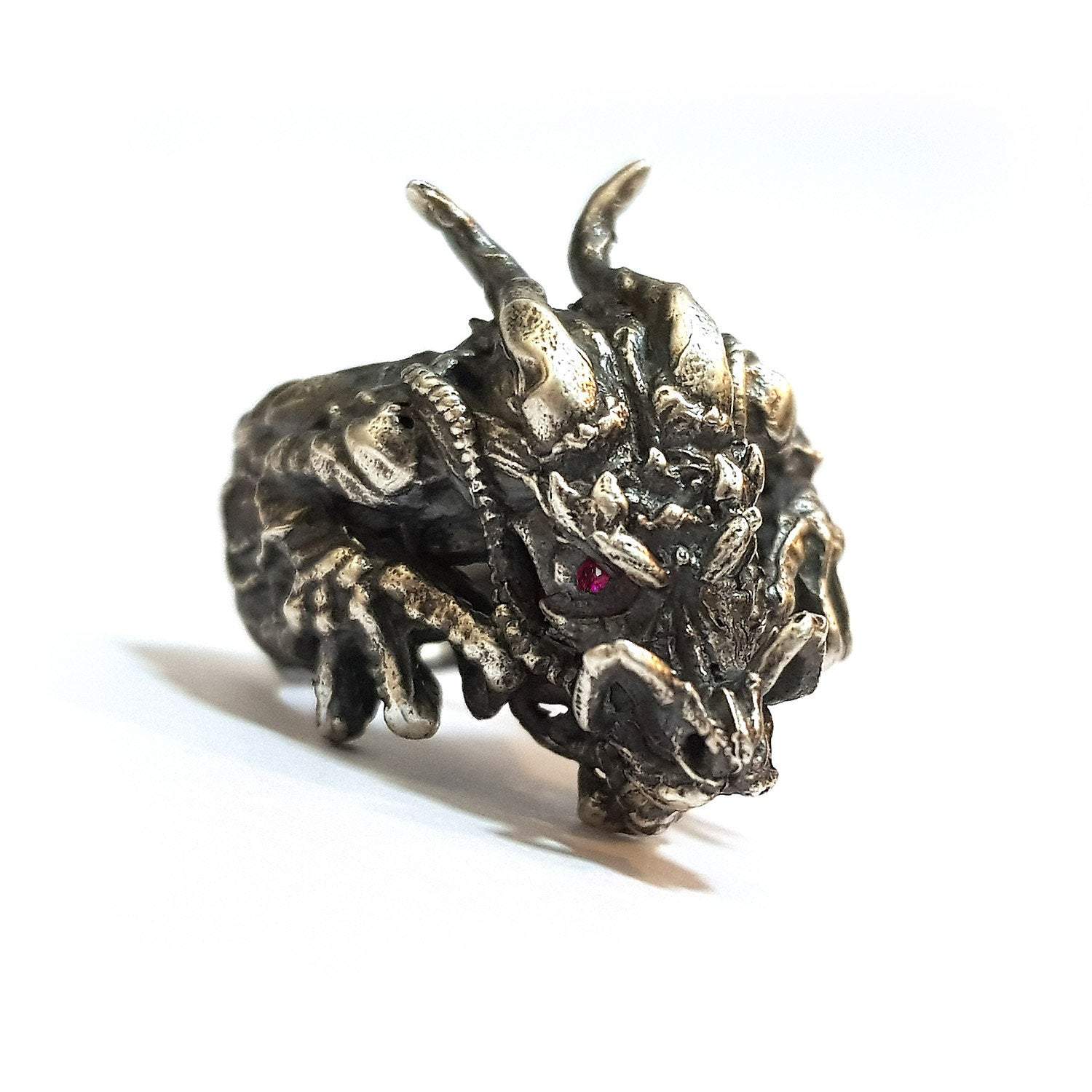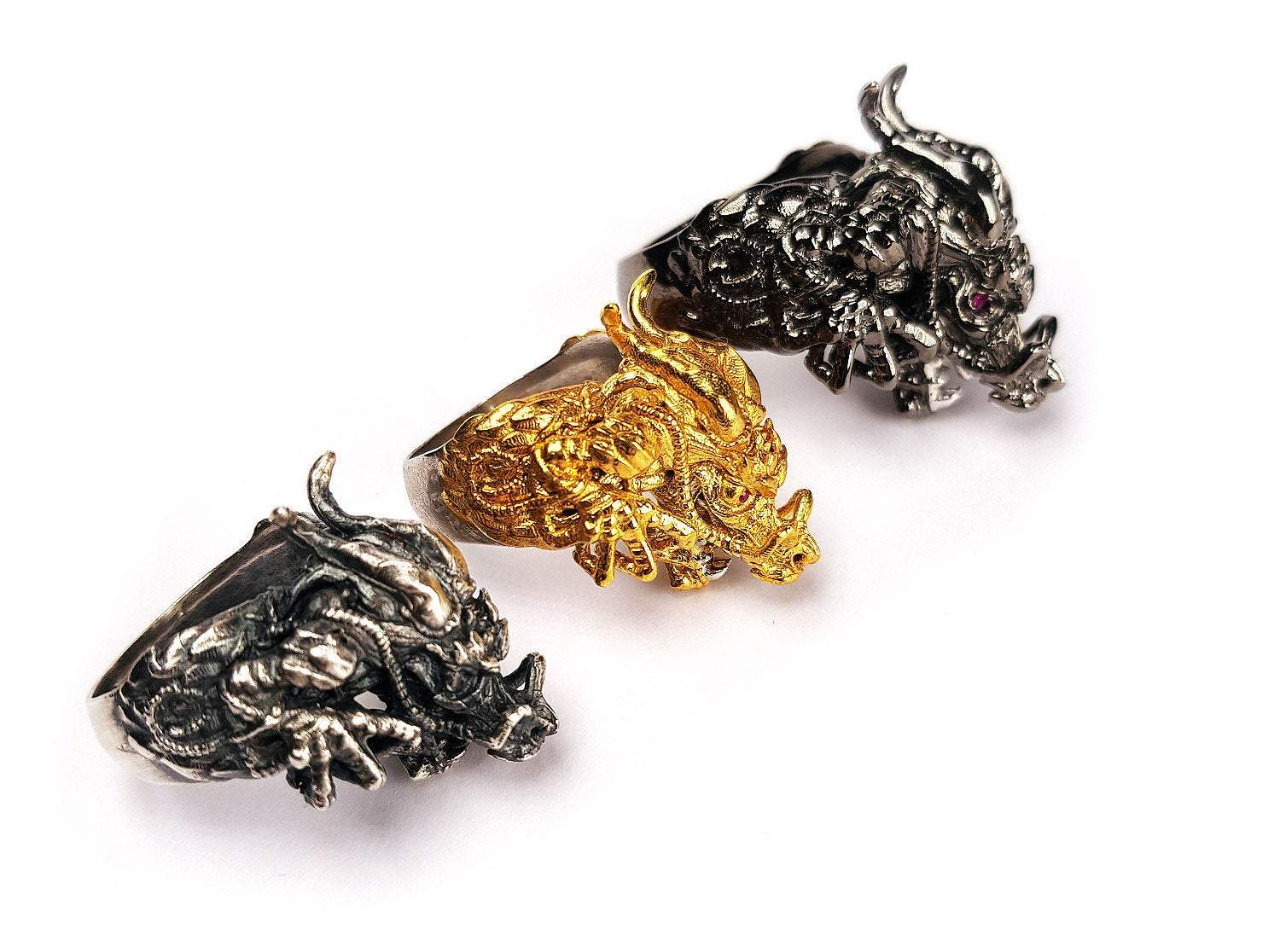 Supreme Mandarin Asian Dragon Ring
This skillfully crafted dragon ring is a tribute to the legendary creatures of East Asian culture. Featuring four claws, it represents the supreme dragon, a symbol of power, strength, and good luck. According to Chinese folklore, only the Emperor of China was worthy of wearing a dragon symbol with five claws, while the next highest ranking dragon, with four claws, was reserved for the prime minister and other honored officials who were bestowed the symbol by the emperor. This dragon ring, with its four claws, is a symbol of prestige and honor.

The intricate design of the ring, inspired by the traditional depictions of Chinese dragons, captures the essence of the mythical creatures and their powerful symbolism. The ring is not only a beautiful piece of jewelry, but it also represents a rich cultural heritage that has been passed down for generations. Whether you're looking for a unique accessory to add to your collection or a special gift for someone who appreciates Chinese culture, this dragon ring is sure to impress. So why wait? Start your own dragon-themed collection today with this magnificent piece of jewelry!
Product Variations:
1) Antique Silver (Sterling Silver with Antique finishing)
2) Antique Silver with Eyes (Red Rubies)
3) GoldPlated with Eyes (Yellow Gold Plating on Dragon/White Gold Plating on Ring Loop and dragon Teeth, eyes framed in Red Rubies)
4) BlackGold with Eyes (Black Rhodium Plating on Dragon/White Gold Plating on Ring Loop and dragon Teeth, eyes framed in Red Rubies)
5) 14k Gold with Rubies (14k Gold with Rubies eyes) 6) 18k Gold with Rubies (18k Gold with Rubies eyes)
For Rings
We use US sizing as standard. If you have problem converting your local sizing, please check with us.  
We are comfortably handle any sizing from 3-15. If any rings your are interested listed do not offer the sizing you need, you can write in to check with us. 
If you do not know your sizing, we recommend you visit your local jewelry store to get your sizing. But if it is not a variable option, you can DIY by using the following method.
Once you trace your size, place the paper strip against a ruler to measure.
During checkout, you can forward your reading (preferably in mm) so we can convert for you. 
We provide 1 time free ring size adjustment for our products. You just need to send back the item and we will re-adjust for you.  
For Bracelet
Same method as above, but instead of fingers, you measure the most narrow part of your wrist. For wrist, generally we are using inches instead. During purchase, select your correct wrist size measurement. If your wrist is slightly bigger then the sizing given. Choose the next bigger size. 
Example:
- if your wrist is 7 inches, choose 7 inches as your wrist size.
- if your wrist is 8.5 inches, choose 9 inches as your wrist size.
- if you are 9 1/4 inches, choose 10 inches as your wrist size.

Please write to us if you are not sure.