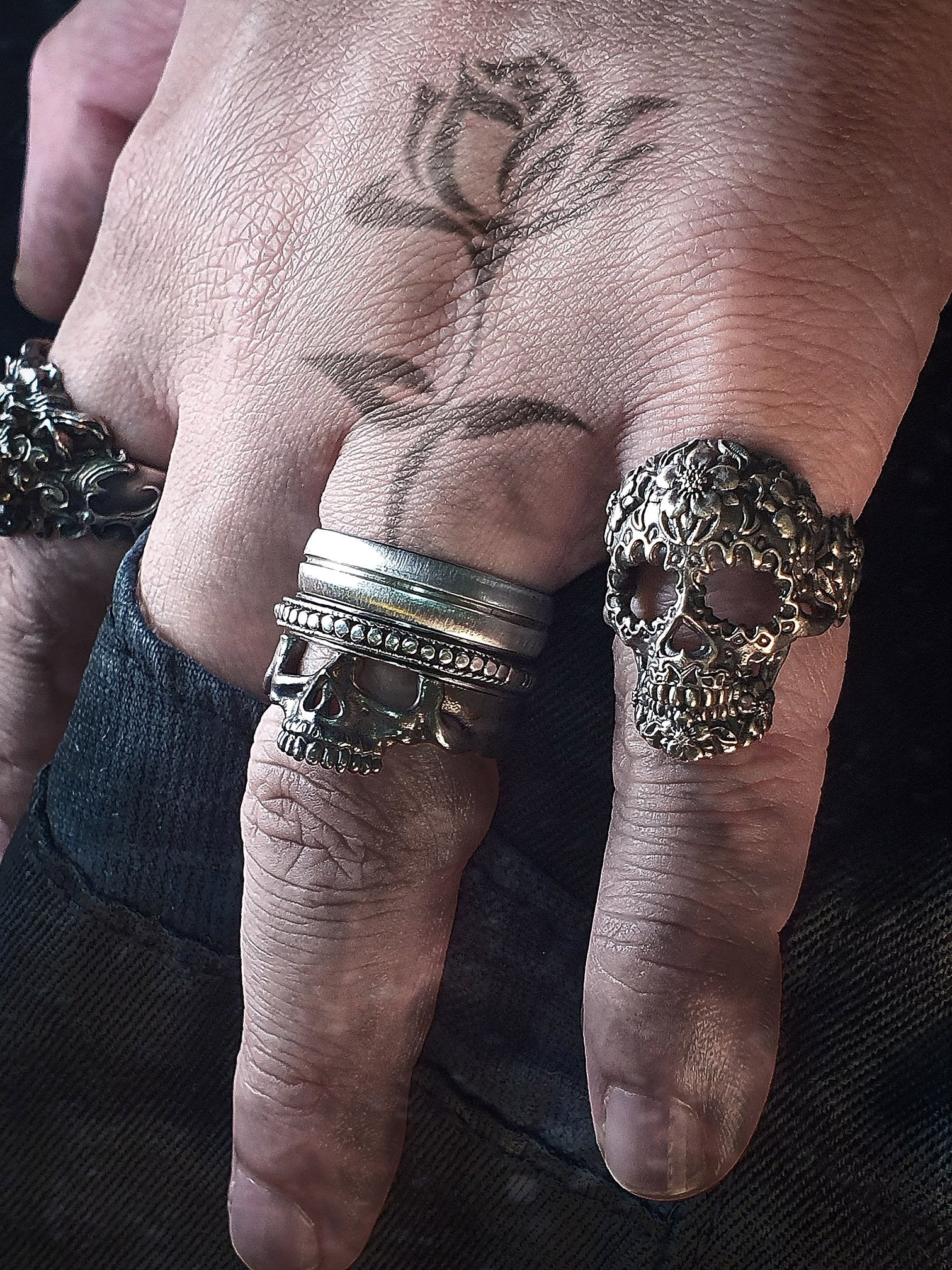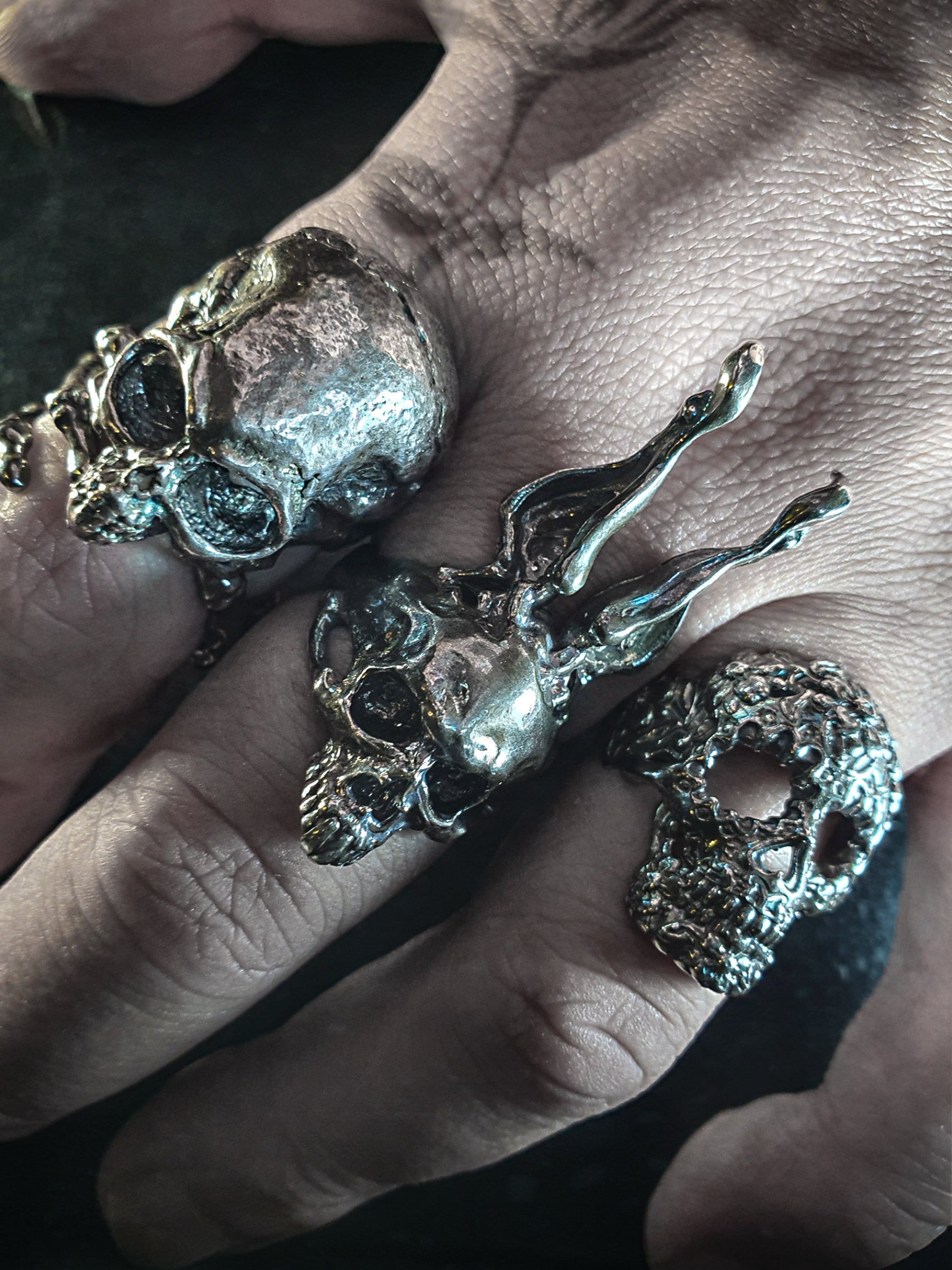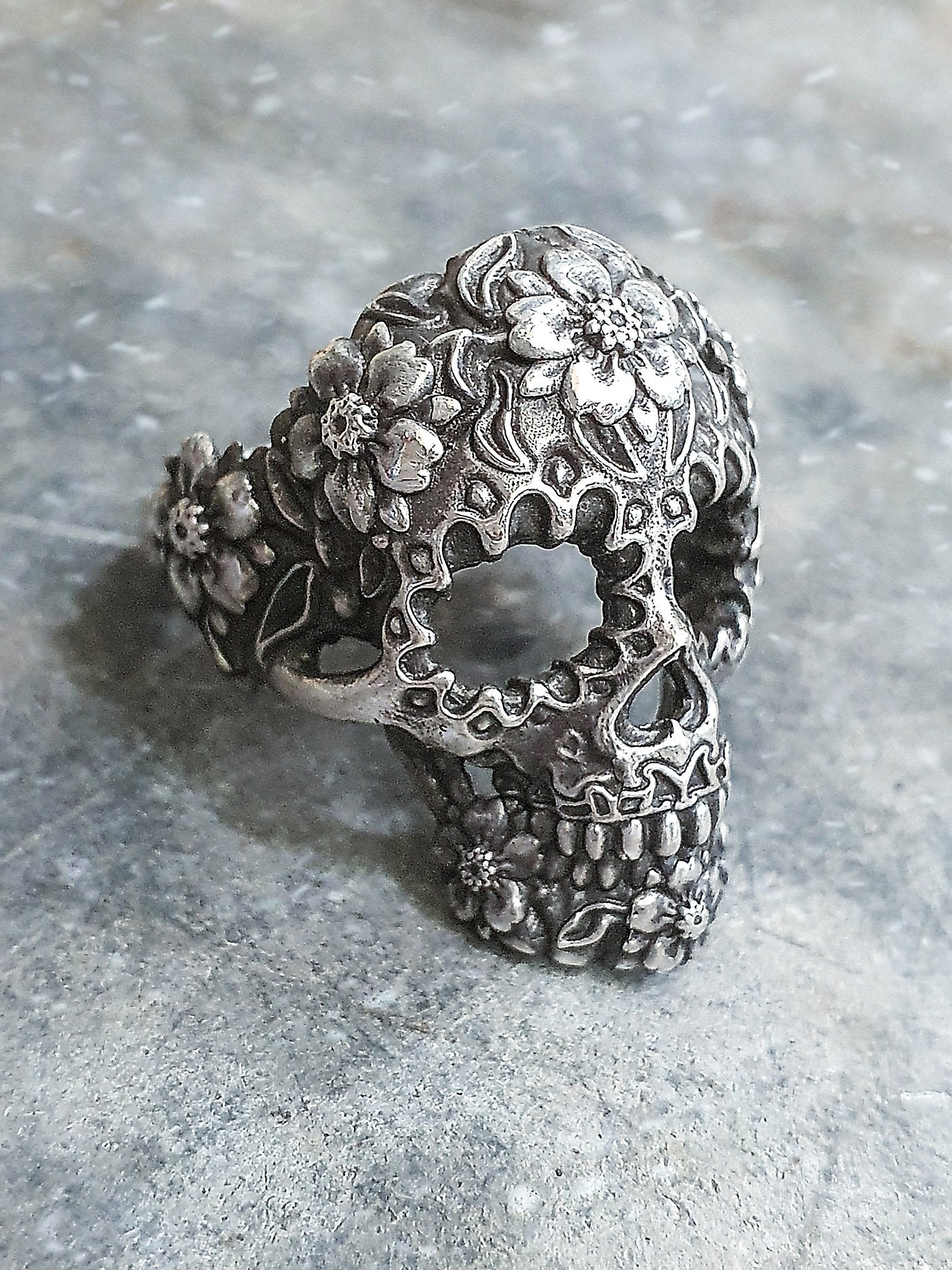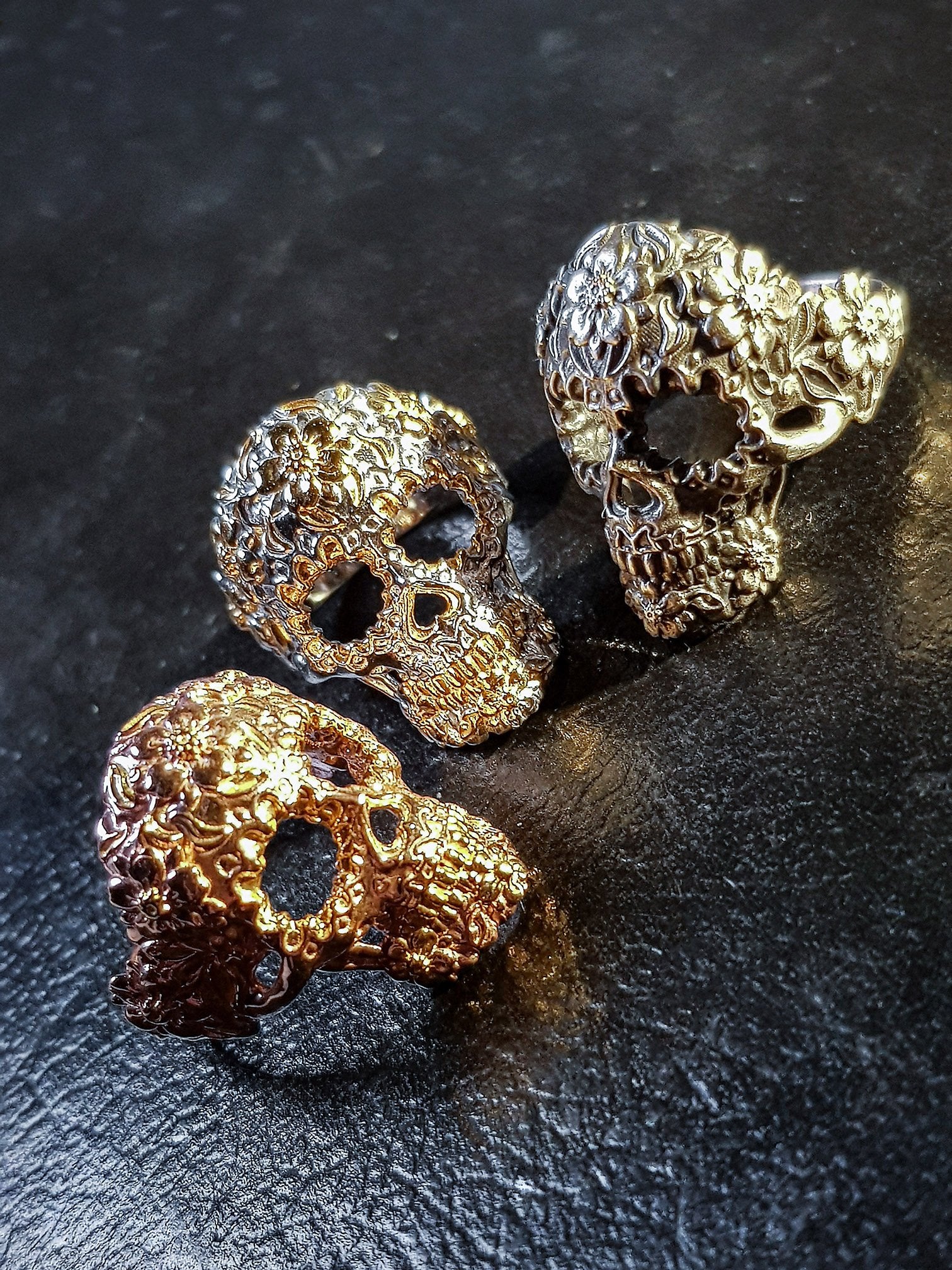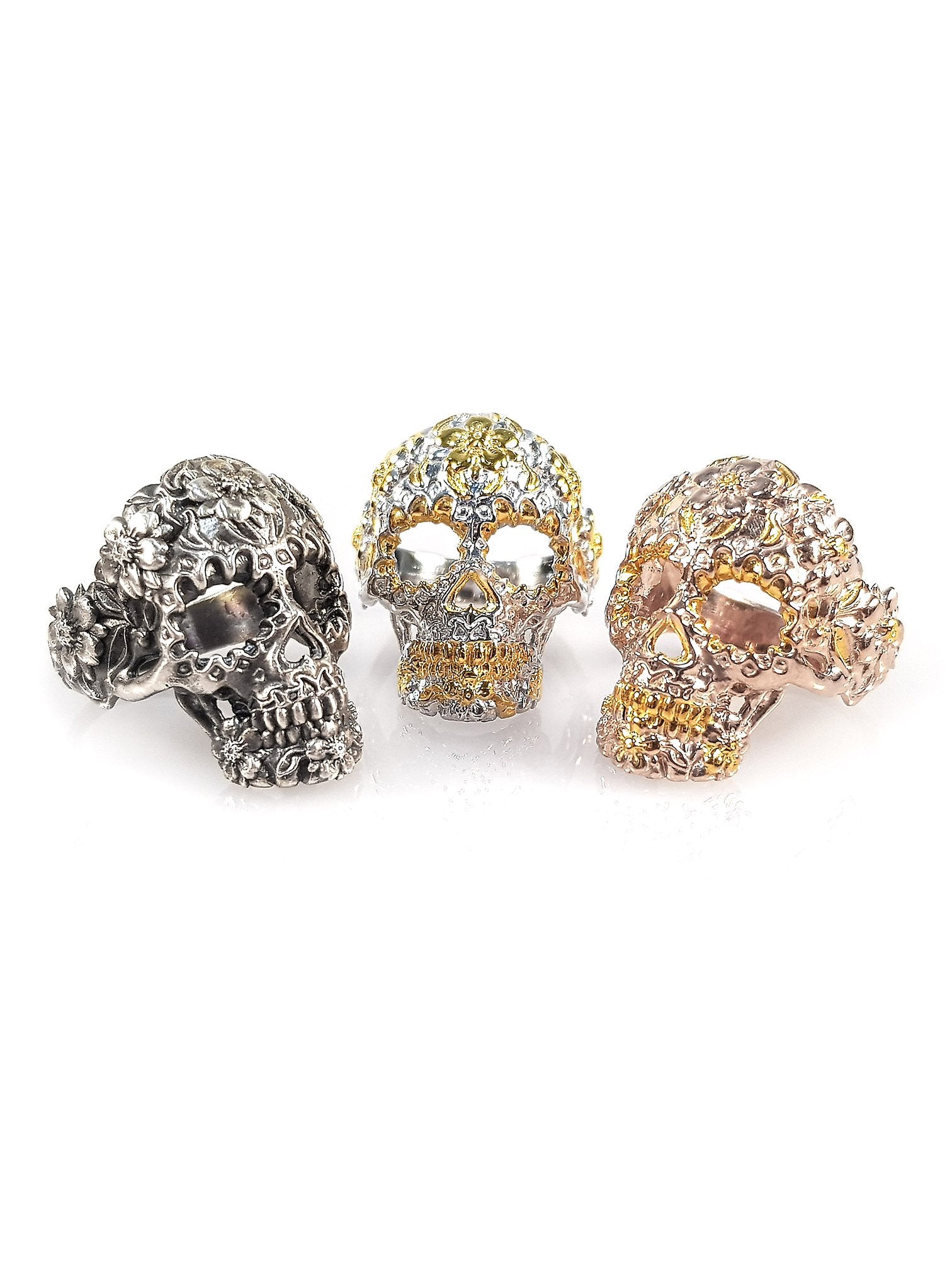 Dia De Los Muertos | Day of the Dead | Sugar Skull
She's all the flowers into one.
~Claude Bessette
Introducing this Sugar Skull Ring - a stunning piece of jewelry that is sure to turn heads. This ring is beautifully crafted with an unmatched level of detail, showcasing the intricate designs and patterns of traditional sugar skulls. Beauty as it is in Silver, it can also be gold plated in - white, yellow, or rose - providing a range of options to suit different preferences and styles. The gold plating adds a touch of glamour and shine to the already eye-catching design, making it a perfect statement piece that is sure to grab attention.

The Sugar Skull Ring is a decent size, standing at a height of about 25mm. This makes it a perfect fit for those who prefer bold and fashionable accessories that stand out from the crowd. The level of craftsmanship in this ring is remarkable, with every detail carefully considered to create a truly unique and striking design. This ring is perfect for those who appreciate the beauty and artistry of traditional sugar skulls and want to add a touch of edginess and personality to their style.

Wear this Sugar Skull Ring on its own or combine it with other accessories to create a bold and fashionable look. Let this ring serve as a reminder to embrace your individuality and express your unique style with confidence. Whether you're dressing up for a special occasion or simply want to add some personality to your everyday look, this ring is the perfect choice.
Material Variations
1) Antique Silver (Sterling silver with aging finishing) +For Causal attention  🔥🔥👍👍
2) RoseGold w Yellow (Sterling Silver with Rose Gold Base Plating and Yellow Gold highlight) + For Lady-like Glittering 🔥👍
3) WhiteGold w Yellow (Sterling Silver with White Gold Base Plating and Yellow Gold highlight) + For Glamour Glittering 👍
4) 18K Gold (18K Solid Gold with raw finishing)
🔥 Popular among buyers. 

👍 Recommended by Altejewellers.
Designer Notes
Initially, this ring is designed for the ladies but it has been gathering some attention from guys too. I am not surprised as a guy, I really like how this ring matched with my other rings. Preferred to wear on the smaller fingers which it will for sure gather some attention.
Check out the Product Video 
For Rings
We use US sizing as standard. If you have problem converting your local sizing, please check with us.  
We are comfortably handle any sizing from 3-15. If any rings your are interested listed do not offer the sizing you need, you can write in to check with us. 
If you do not know your sizing, we recommend you visit your local jewelry store to get your sizing. But if it is not a variable option, you can DIY by using the following method.
Once you trace your size, place the paper strip against a ruler to measure.
During checkout, you can forward your reading (preferably in mm) so we can convert for you. 
We provide 1 time free ring size adjustment for our products. You just need to send back the item and we will re-adjust for you.  
For Bracelet
Same method as above, but instead of fingers, you measure the most narrow part of your wrist. For wrist, generally we are using inches instead. During purchase, select your correct wrist size measurement. If your wrist is slightly bigger then the sizing given. Choose the next bigger size. 
Example:
- if your wrist is 7 inches, choose 7 inches as your wrist size.
- if your wrist is 8.5 inches, choose 9 inches as your wrist size.
- if you are 9 1/4 inches, choose 10 inches as your wrist size.

Please write to us if you are not sure.