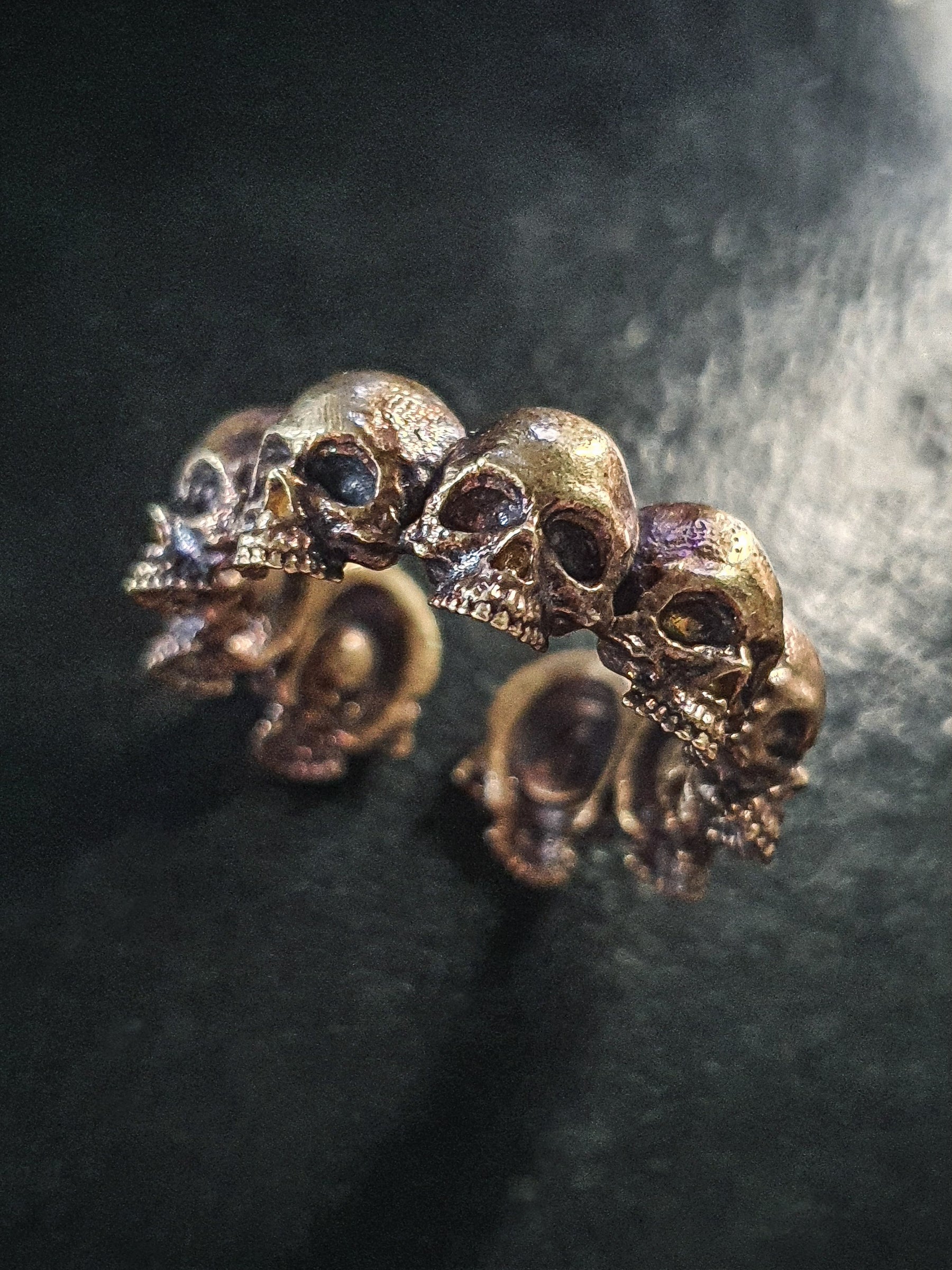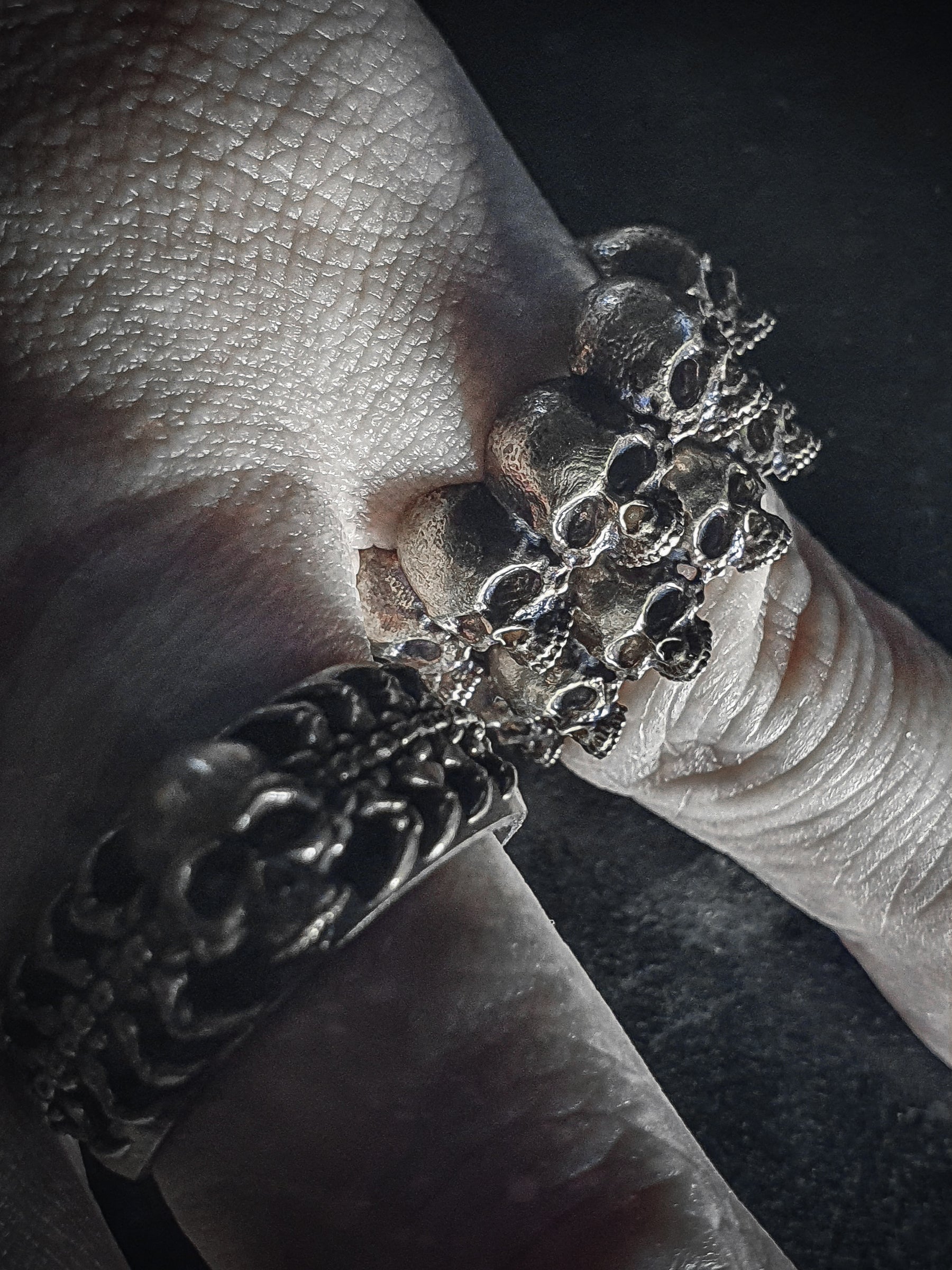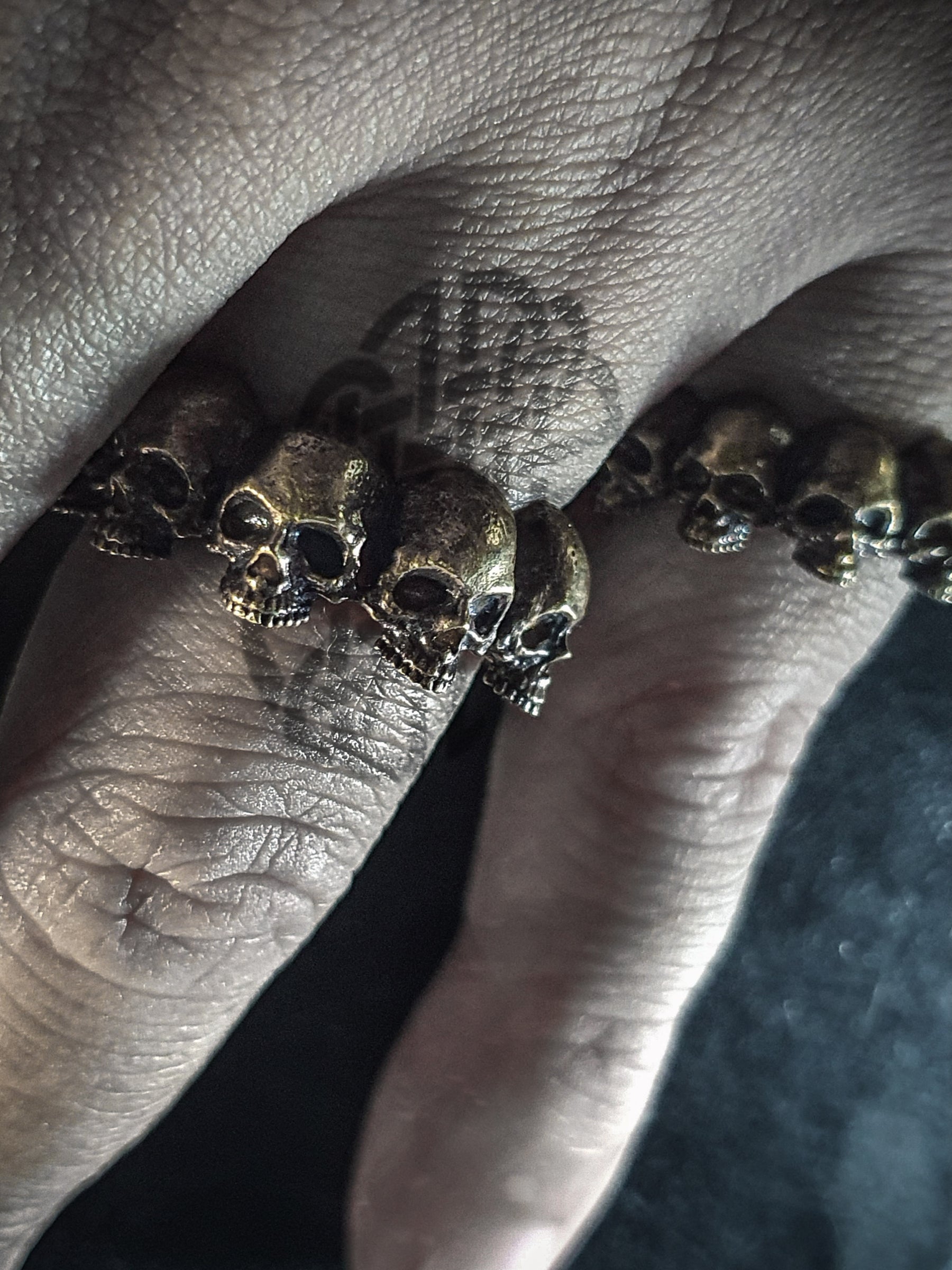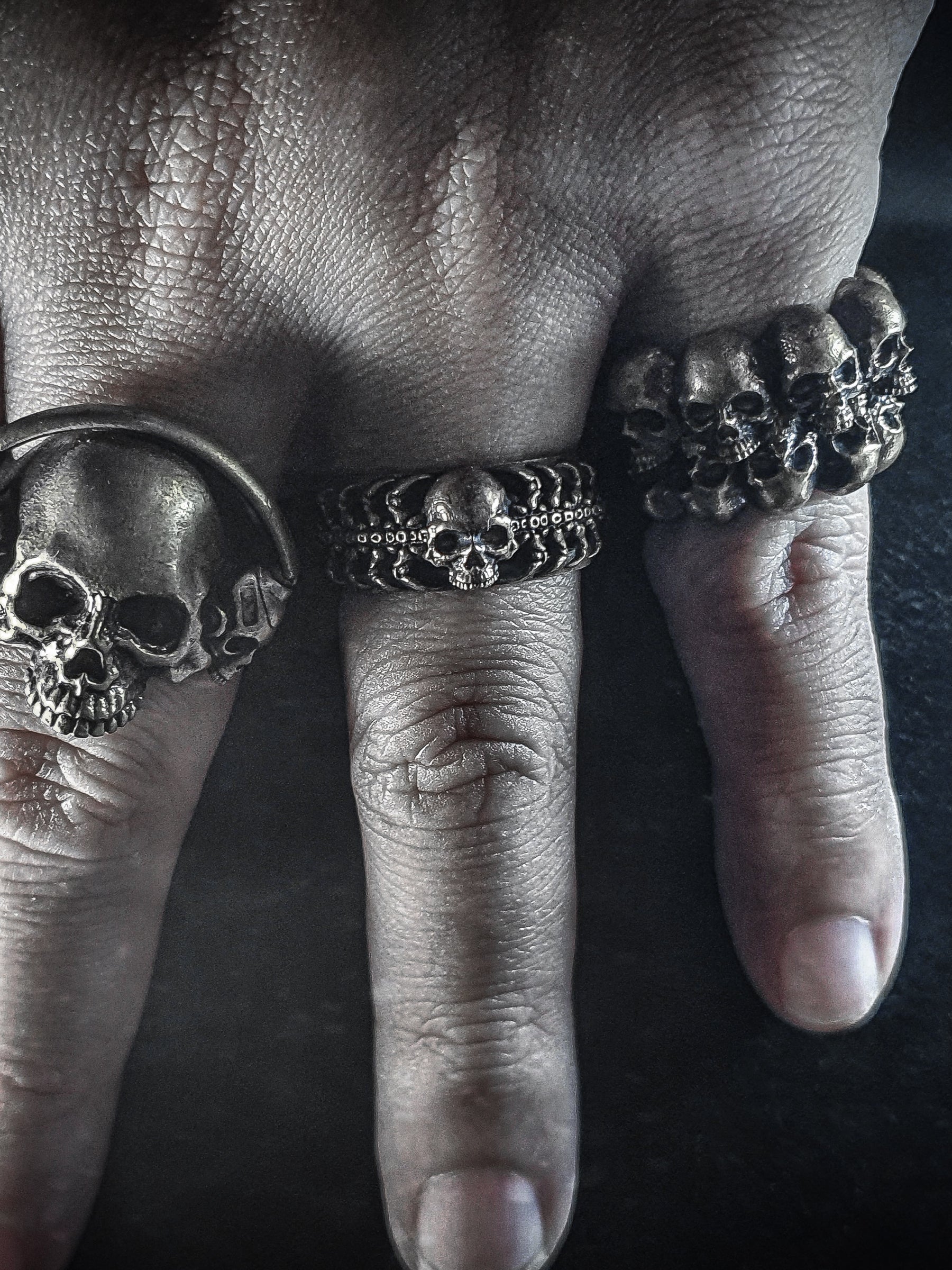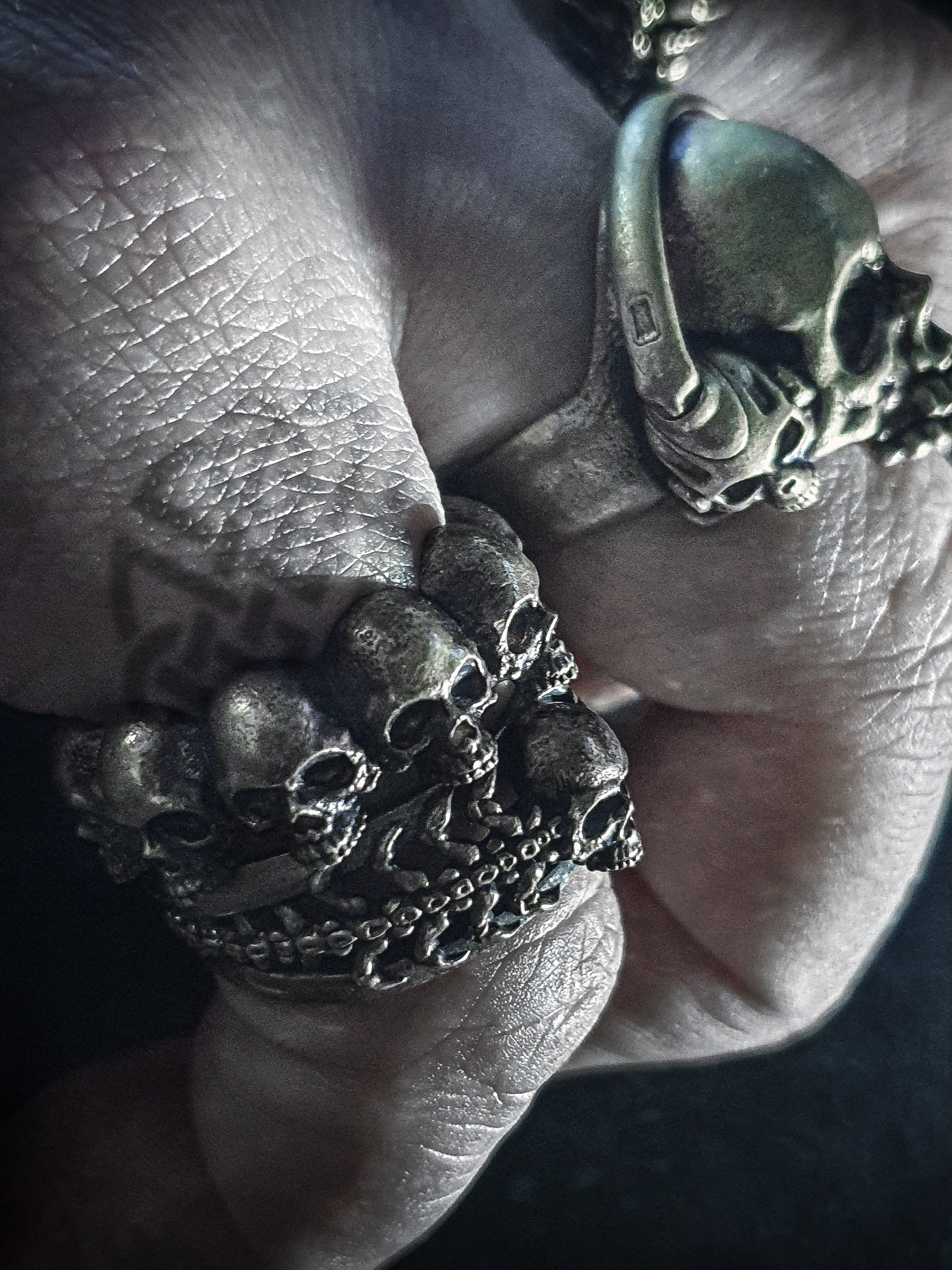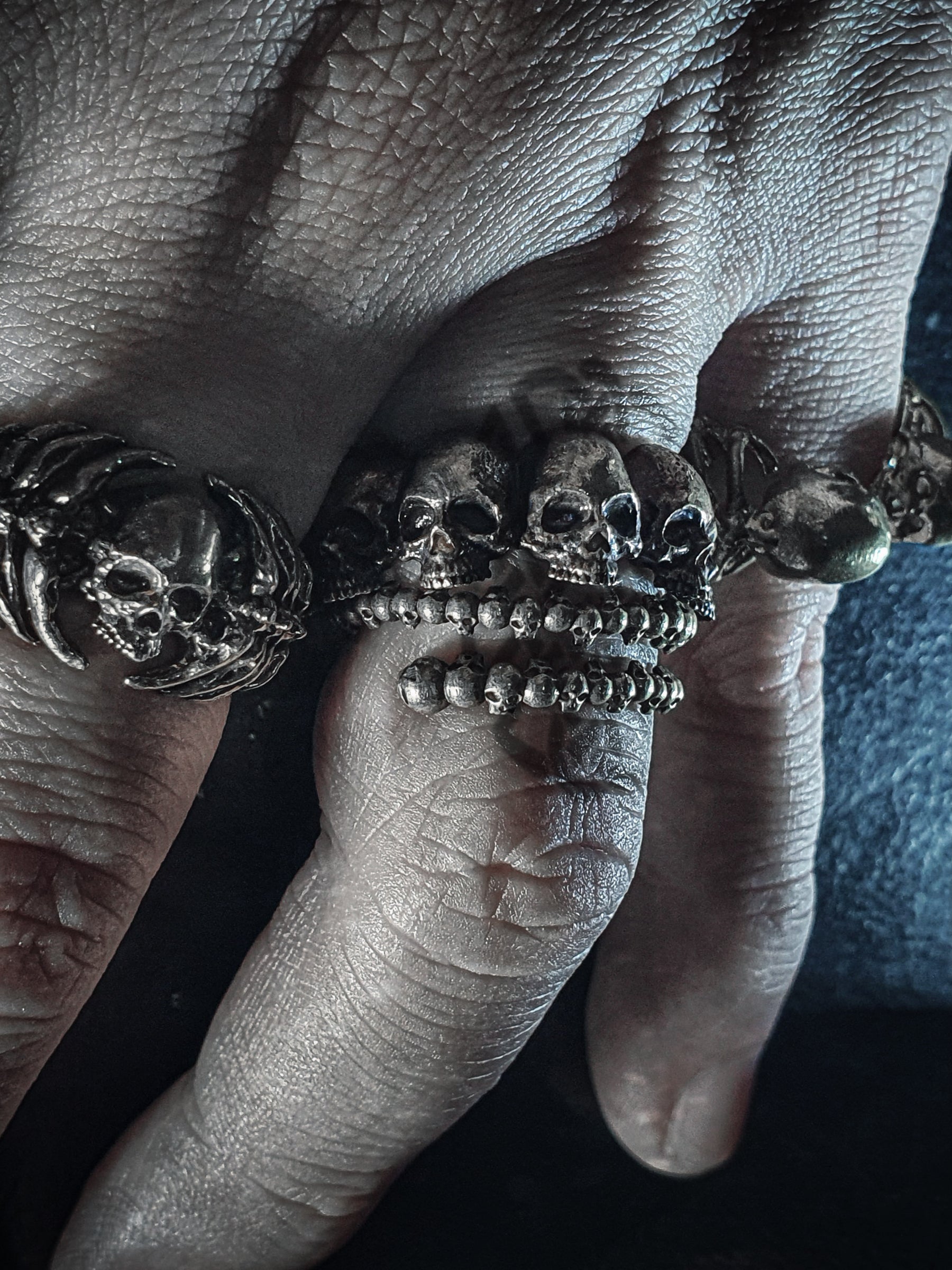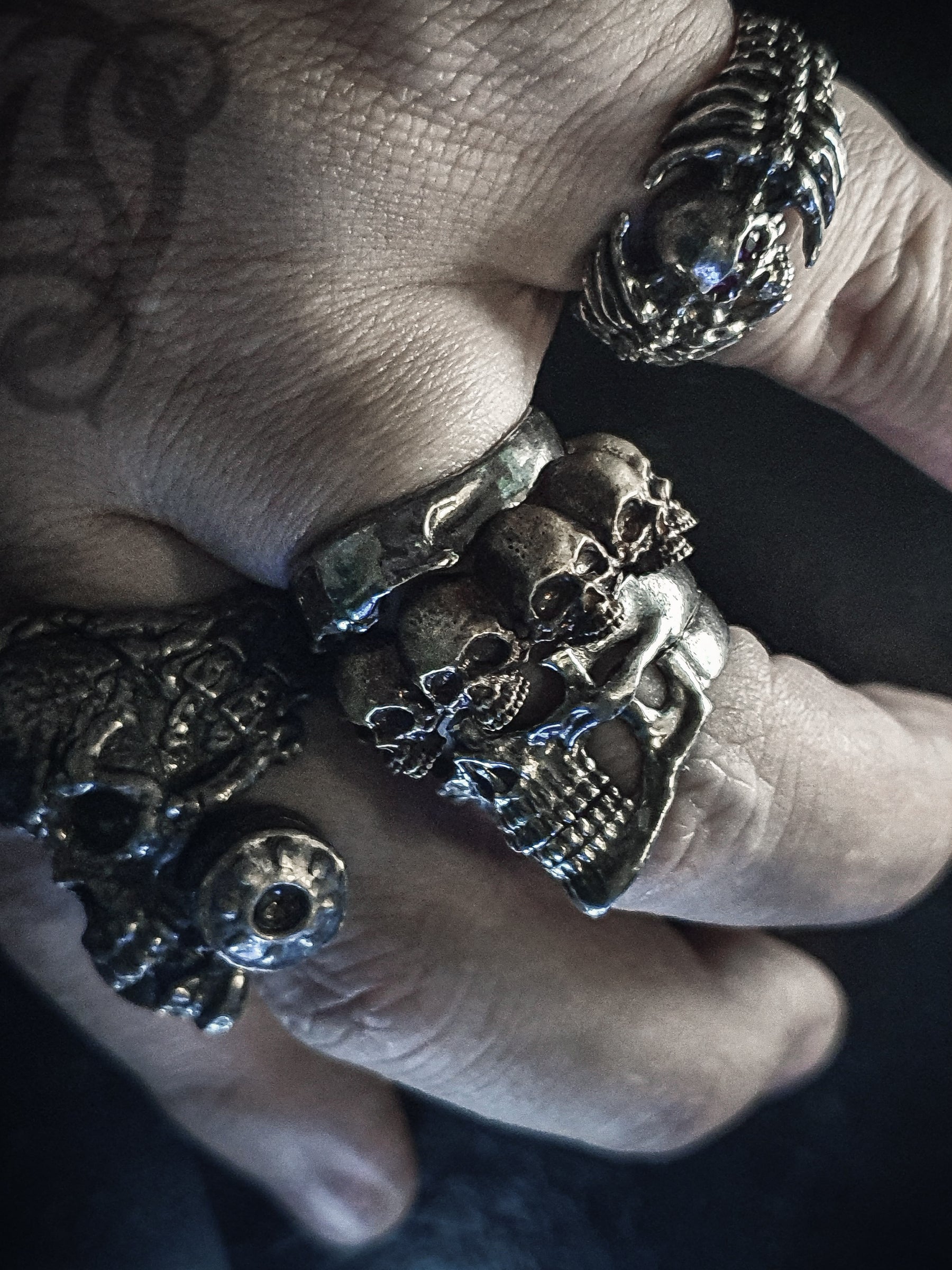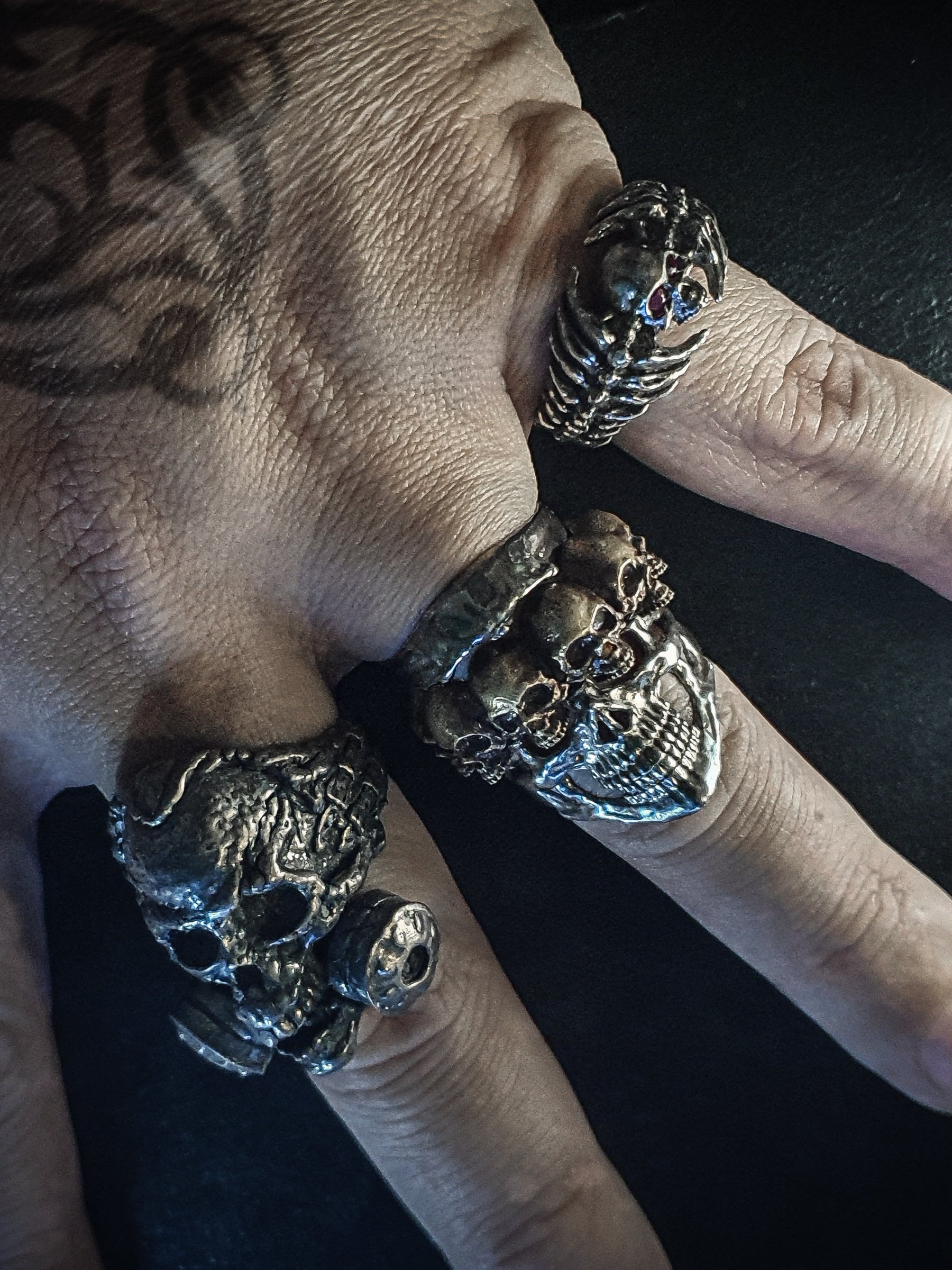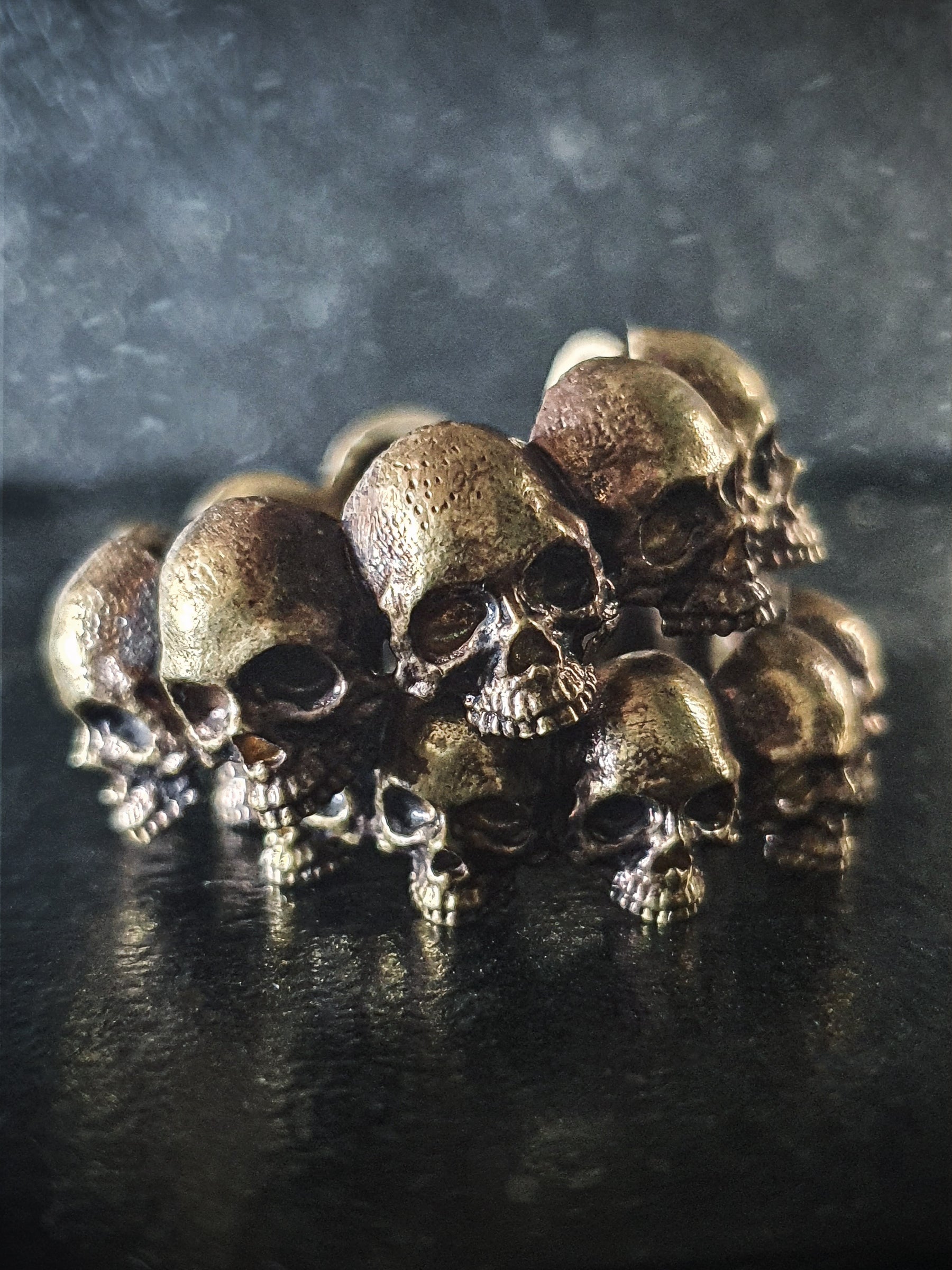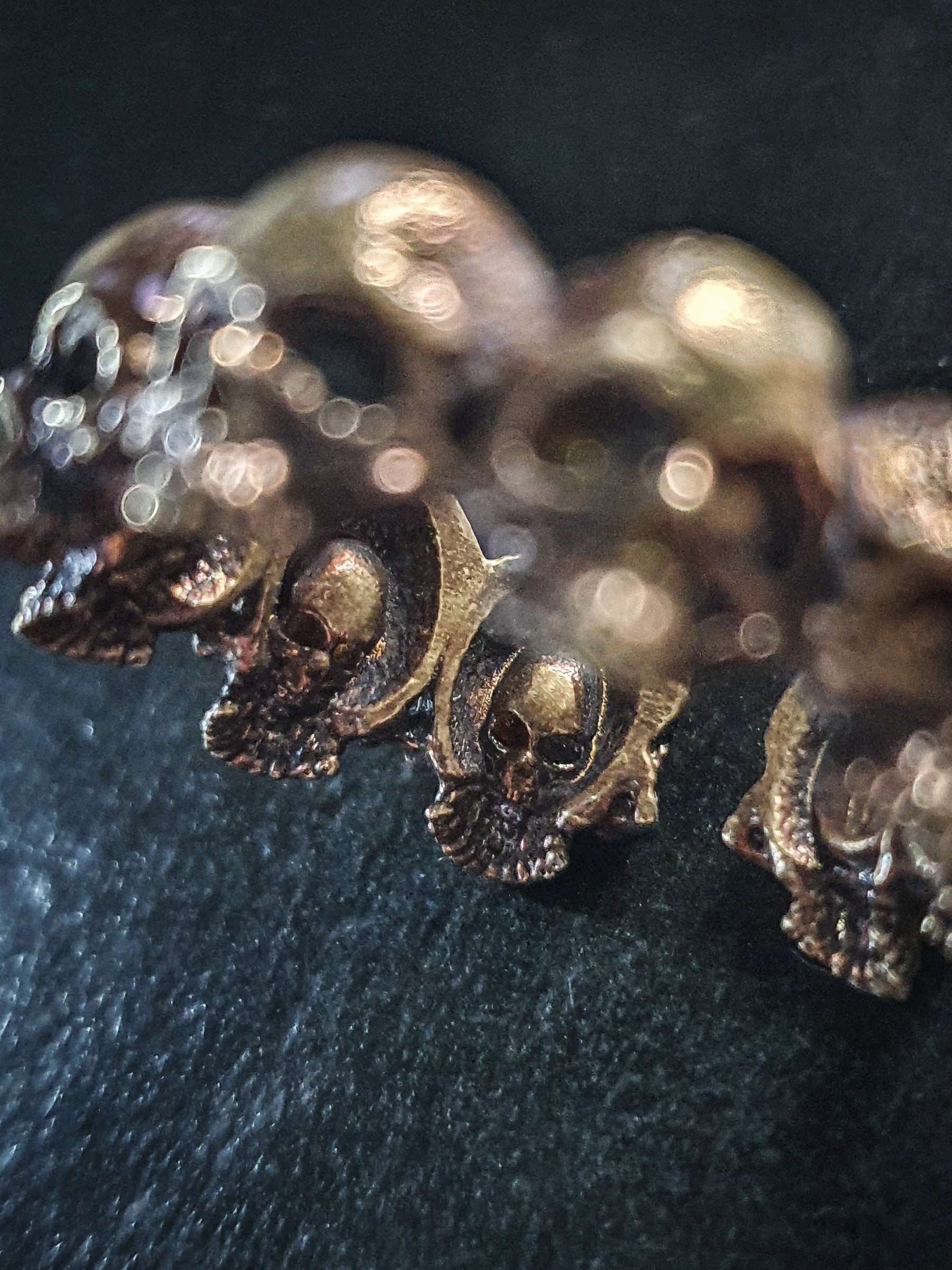 Skull Ring | Nine head adjustable Stacker
Nine is a formidable Number in Asia, it represent power and eternality. In ancient china, only Emperor, the son of heaven is worthy to be associate with this number.

This skull ring is made of 9 skull heads. Each skull is structure next to another to form a power loop supporting one another reinforces the idea of strength and unity. They are position looking outwards to form a ring with a open end (adjustable). Inside individual Skull head is another skull looking inwards adds a personal and introspective aspect. They representing meditative soul looking inwards towards oneself.

This ring can be wear alone but it is extreme easy to style and layered with other rings. With the half skull and extruding teeth, you can easily stack and overlap another ring band underneath it, makes it a practical and stylish piece of jewelry.
VARIATIONS

1) Raw Brass (Brass)
2) Antique Silver (Sterling Silver with Aging Finishing)
SIZES
Small: Default size 7.  Adjustable from size 5- 8
Large: Default size 10. Adjustable from size 9 -13
Ring width: 9mm (small) 10mm (large)
For Rings
We use US sizing as standard. If you have problem converting your local sizing, please check with us.  
We are comfortably handle any sizing from 3-15. If any rings your are interested listed do not offer the sizing you need, you can write in to check with us. 
If you do not know your sizing, we recommend you visit your local jewelry store to get your sizing. But if it is not a variable option, you can DIY by using the following method.
Once you trace your size, place the paper strip against a ruler to measure.
During checkout, you can forward your reading (preferably in mm) so we can convert for you. 
We provide 1 time free ring size adjustment for our products. You just need to send back the item and we will re-adjust for you.  
For Bracelet
Same method as above, but instead of fingers, you measure the most narrow part of your wrist. For wrist, generally we are using inches instead. During purchase, select your correct wrist size measurement. If your wrist is slightly bigger then the sizing given. Choose the next bigger size. 
Example:
- if your wrist is 7 inches, choose 7 inches as your wrist size.
- if your wrist is 8.5 inches, choose 9 inches as your wrist size.
- if you are 9 1/4 inches, choose 10 inches as your wrist size.

Please write to us if you are not sure.