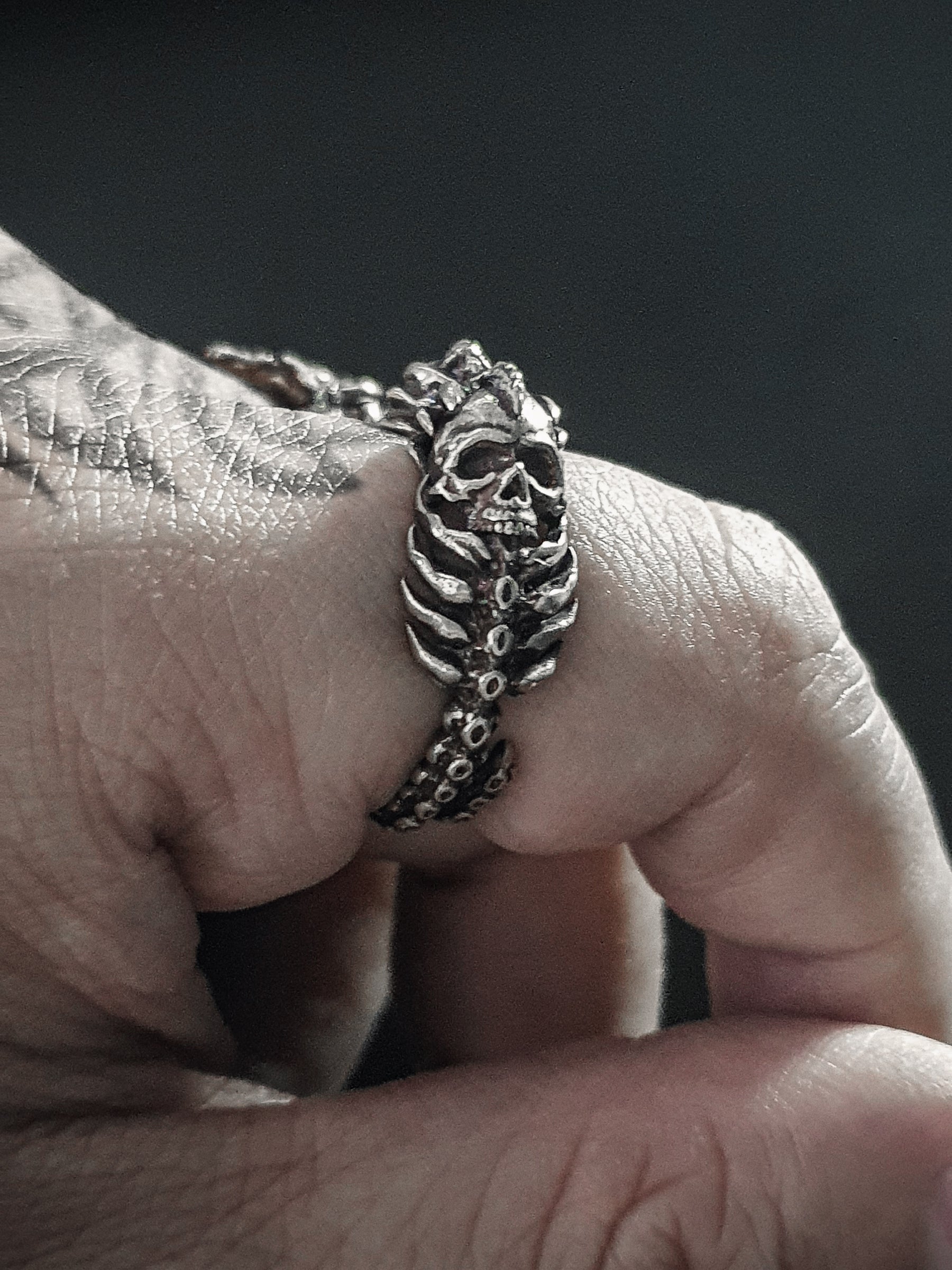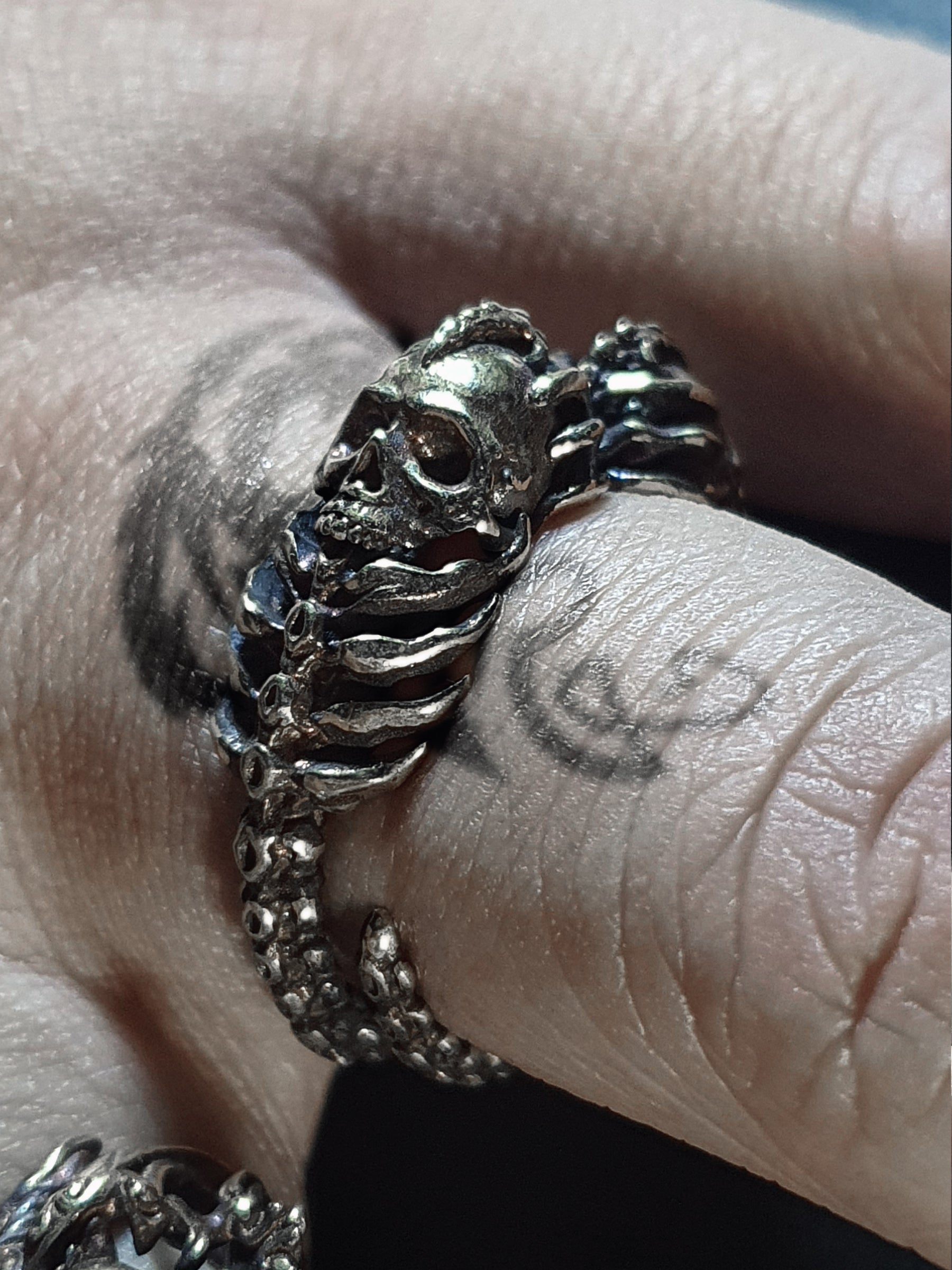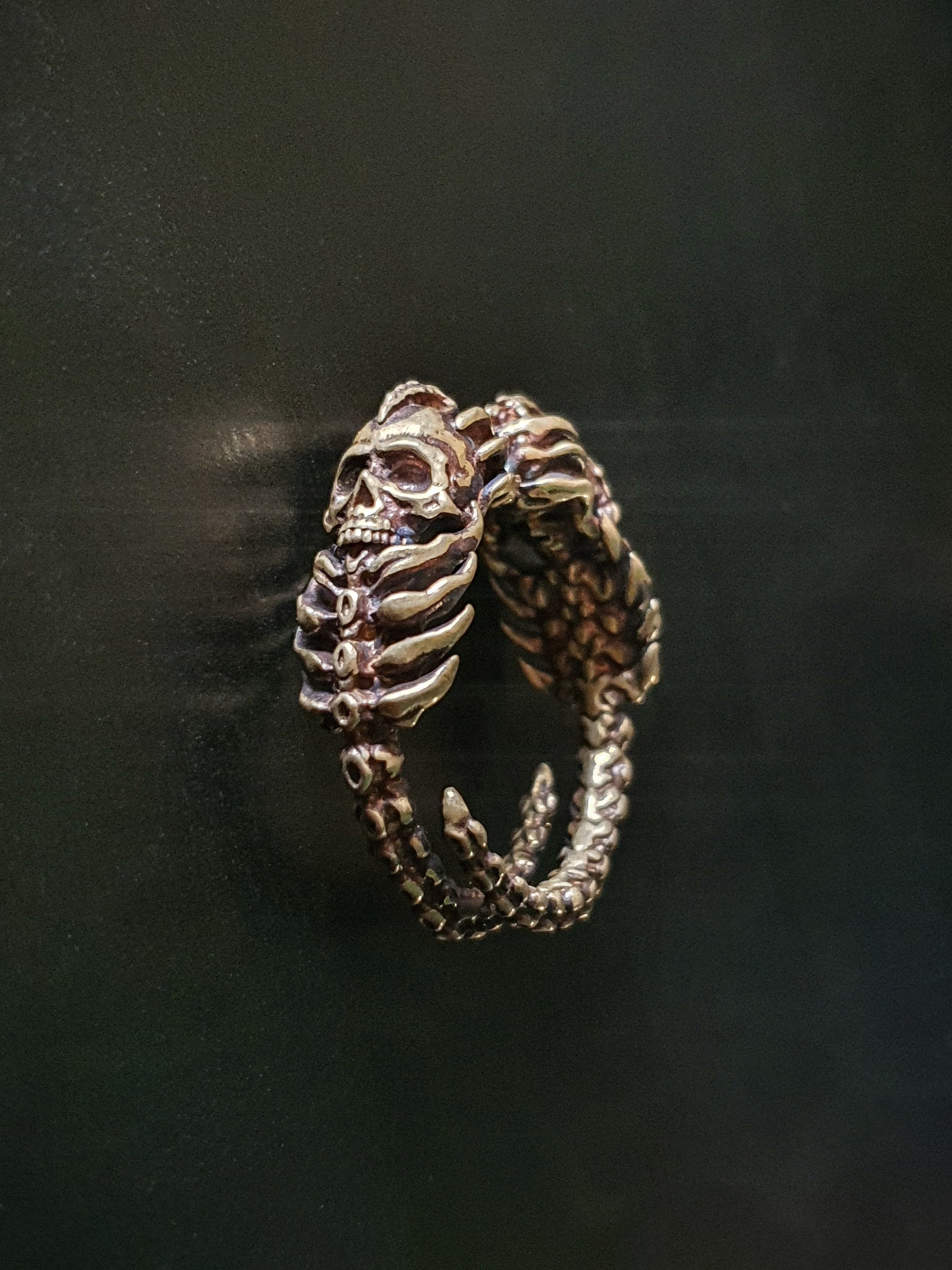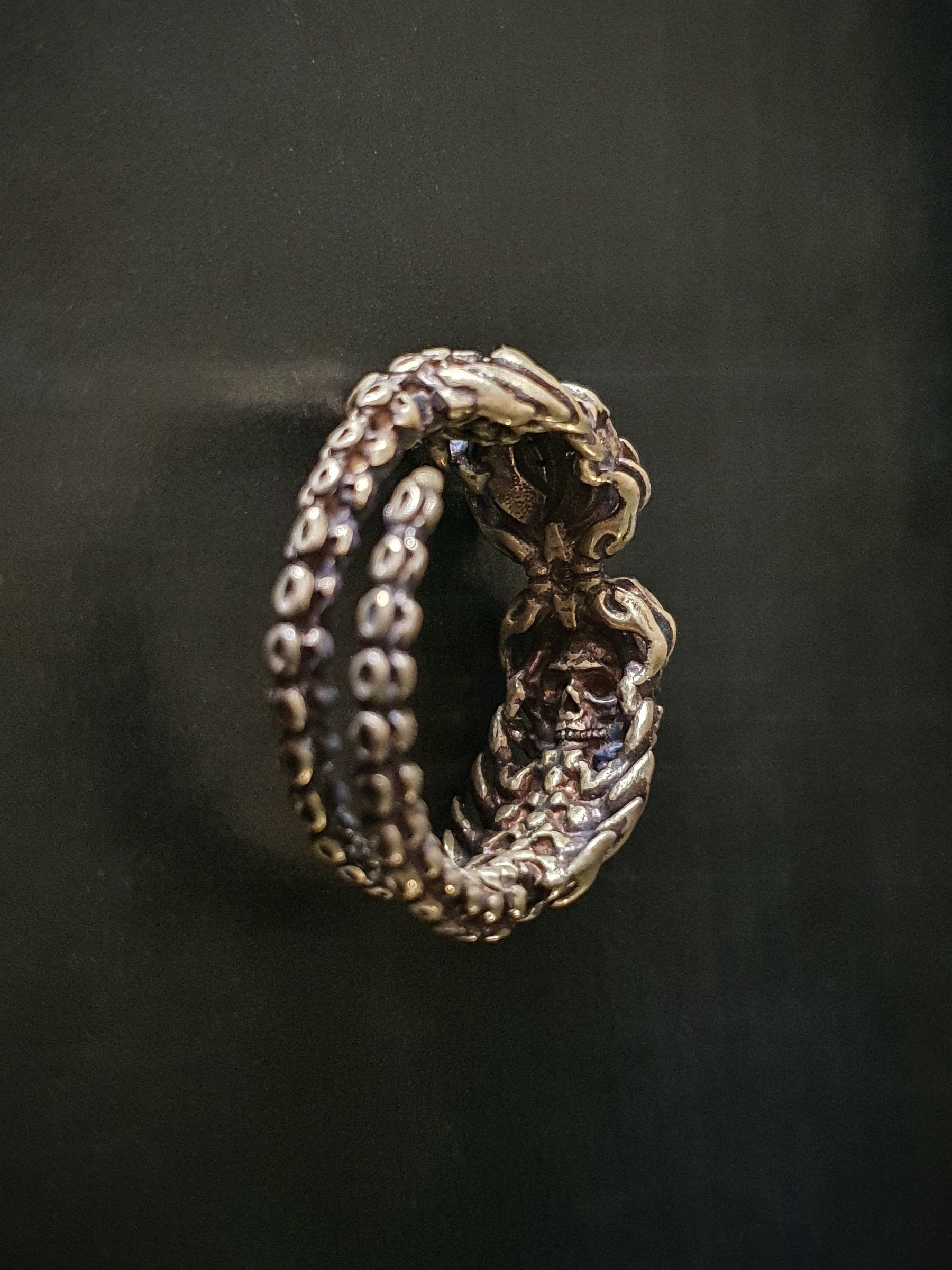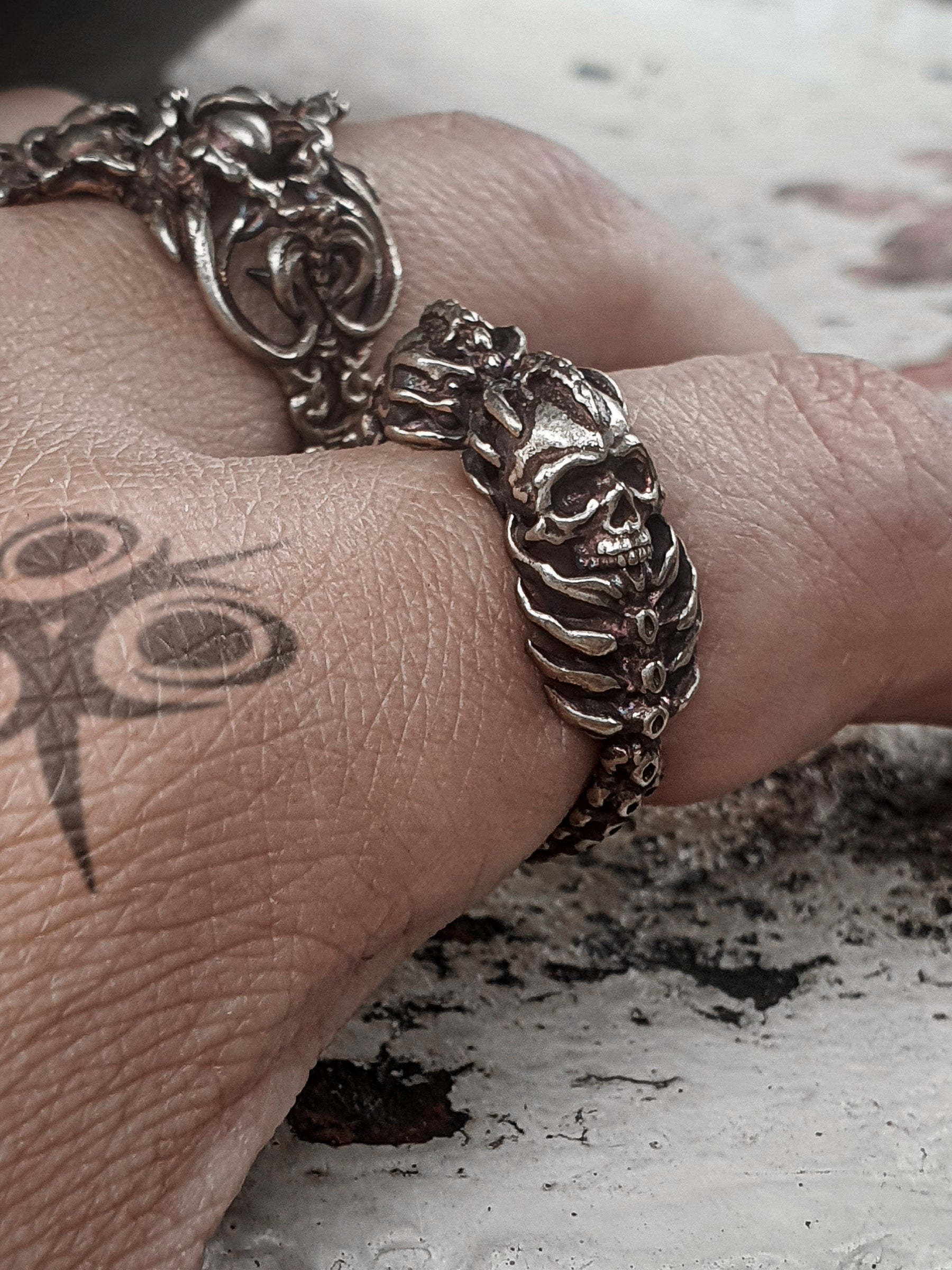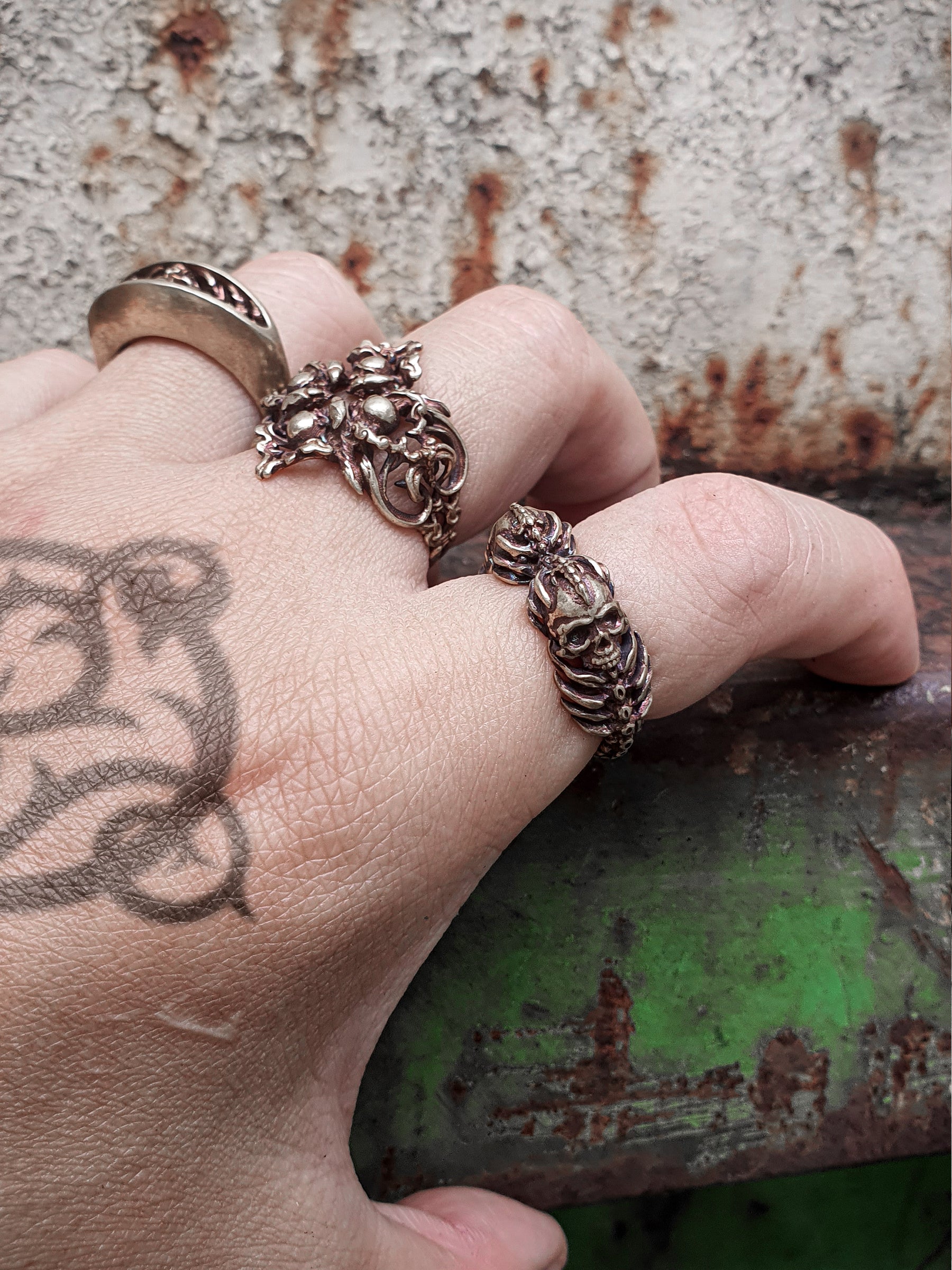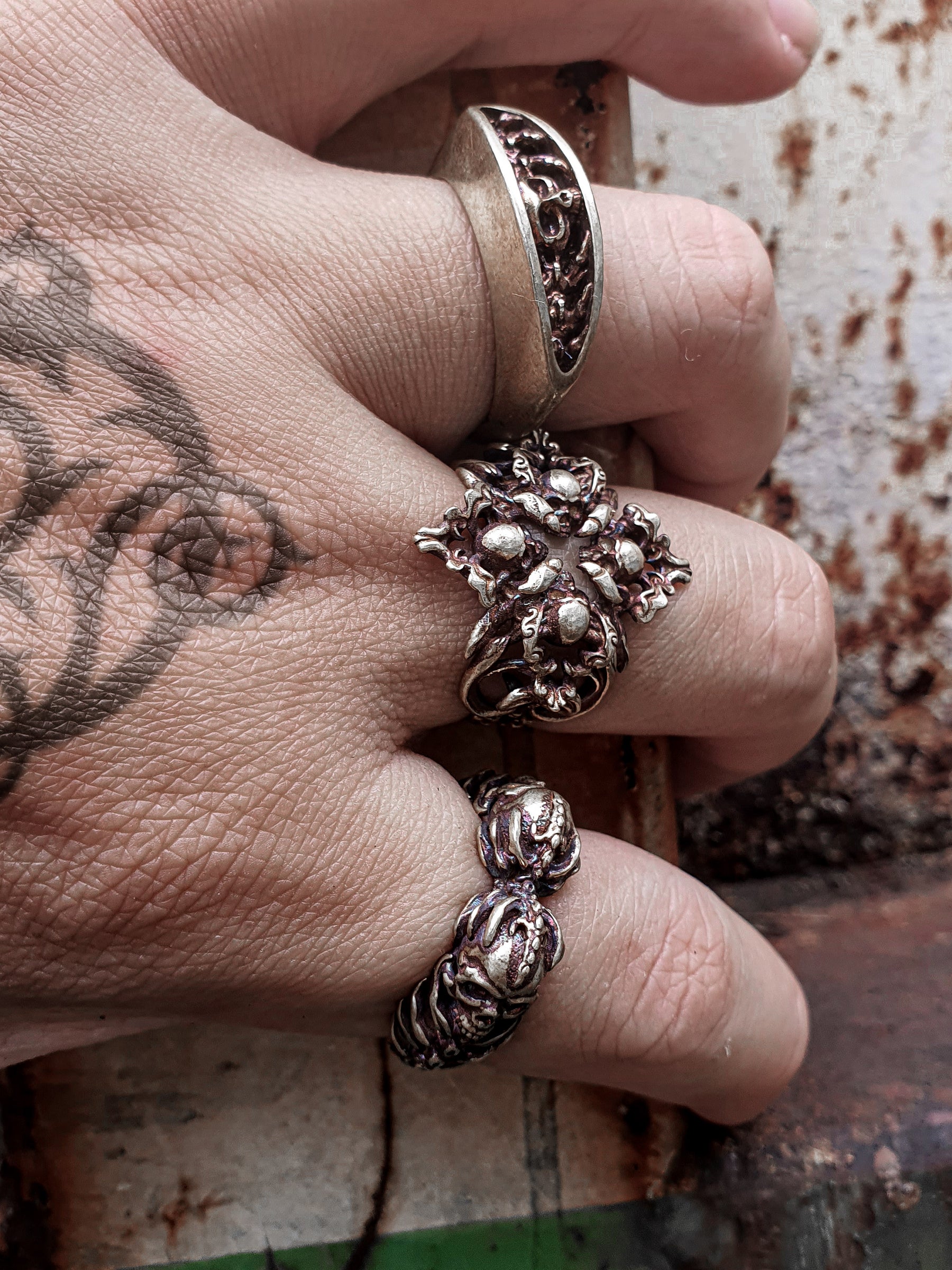 Skull Ring | Gothic Twin Skull Head Adjustable Ring with Ribcage
This adjustable skull ring features two intricately identical designed skull heads facing outwards, each is have their own detailed ribcage formed and twirl into a circular spine. The skulls are crafted with a high level of detail, with deep eye sockets and intricate etchings that add a touch of edginess to the design.
The ribcage band features a series of interlocking bones, each with its own unique texture and design, creating a visually striking contrast against the smooth, polished finish of the skulls. The ring is made of high-quality, durable silver that is built to last, and the adjustable design ensures a comfortable and secure fit for any wearer.
This skull ring is the perfect accessory for those who appreciate bold, statement pieces that showcase their unique sense of style. Whether worn as a standalone piece or paired with other skull-themed jewelry, this ring is sure to turn heads and make a lasting impression.
Default is size 9. Suitable to adjust from size 5-12.
Material Variations:
1) Brass (Semi-Polished Brass)
2) Brass with Eyes (add 4 x rubies as eyes, can request other color stones)
2) Antique Silver (Sterling Silver with Aging Finishing)🔥🔥👍👍
3) Antique Silver with Eyes (add 4 x rubies as eyes, can request other color stones)🔥🔥👍👍
🔥 Popular among buyers. 

👍 Recommended by AlteJewellers.
All our stones are natural, Red Ruby can change to the following below at no extra cost, please write a note during checkout to request:
1) Citrine (Yellow)
2) Sapphire (Blue)
3) Emerald (Green)
4) Quartz (Transparent white)
5) Spinel (Black)
This is an original work copyright © AlteJewellers
For Rings
We use US sizing as standard. If you have problem converting your local sizing, please check with us.  
We are comfortably handle any sizing from 3-15. If any rings your are interested listed do not offer the sizing you need, you can write in to check with us. 
If you do not know your sizing, we recommend you visit your local jewelry store to get your sizing. But if it is not a variable option, you can DIY by using the following method.
Once you trace your size, place the paper strip against a ruler to measure.
During checkout, you can forward your reading (preferably in mm) so we can convert for you. 
We provide 1 time free ring size adjustment for our products. You just need to send back the item and we will re-adjust for you.  
For Bracelet
Same method as above, but instead of fingers, you measure the most narrow part of your wrist. For wrist, generally we are using inches instead. During purchase, select your correct wrist size measurement. If your wrist is slightly bigger then the sizing given. Choose the next bigger size. 
Example:
- if your wrist is 7 inches, choose 7 inches as your wrist size.
- if your wrist is 8.5 inches, choose 9 inches as your wrist size.
- if you are 9 1/4 inches, choose 10 inches as your wrist size.

Please write to us if you are not sure.