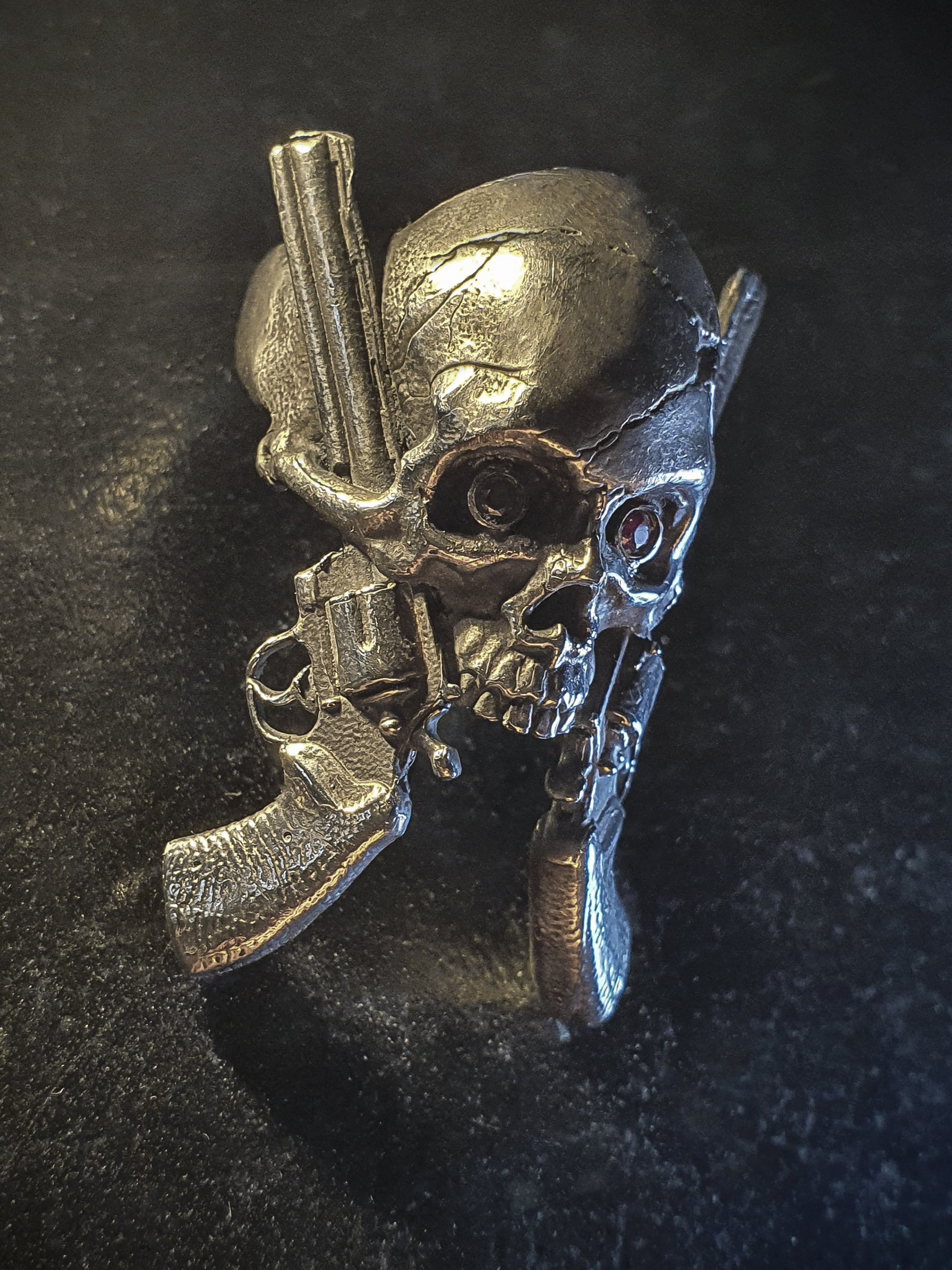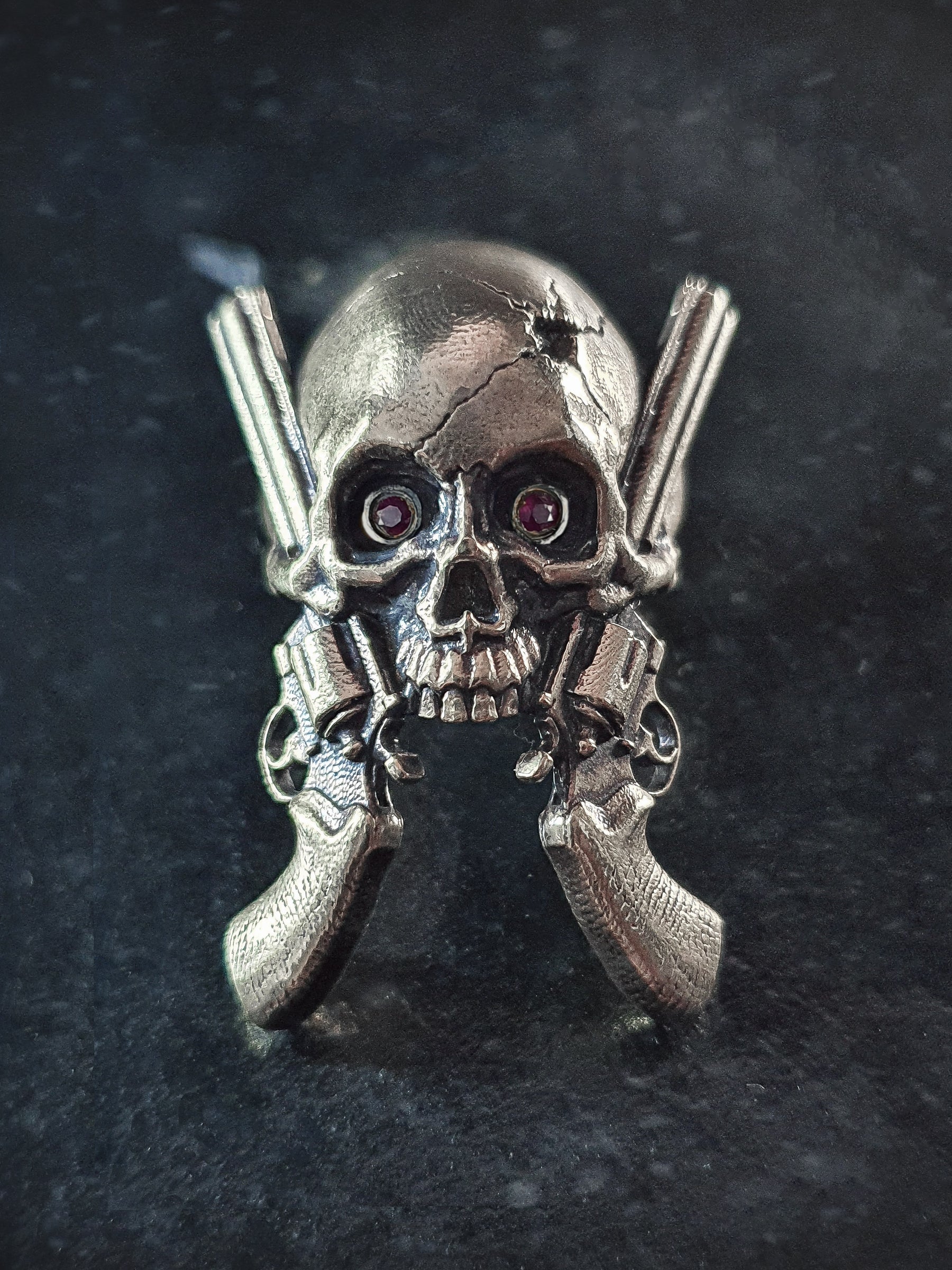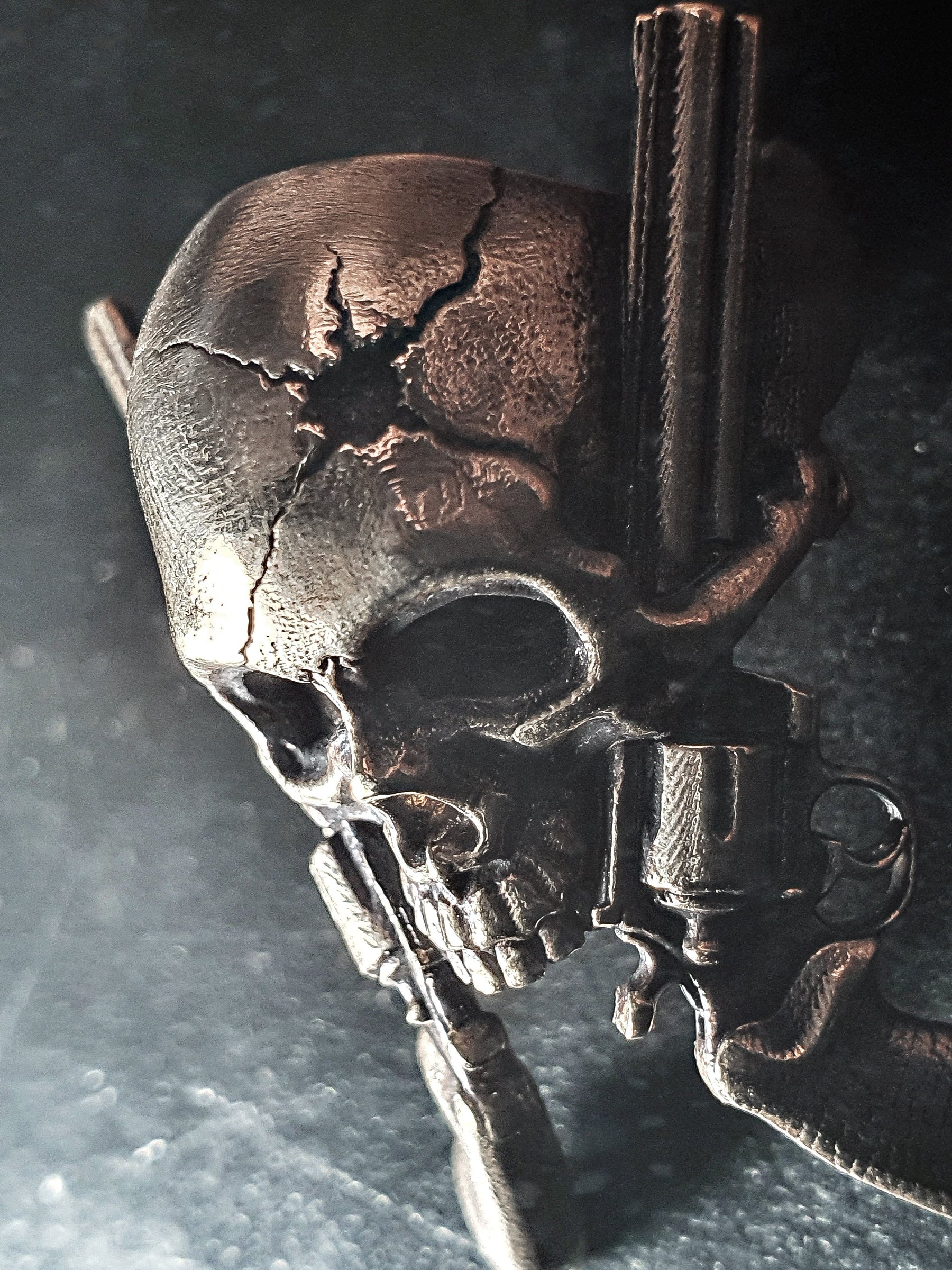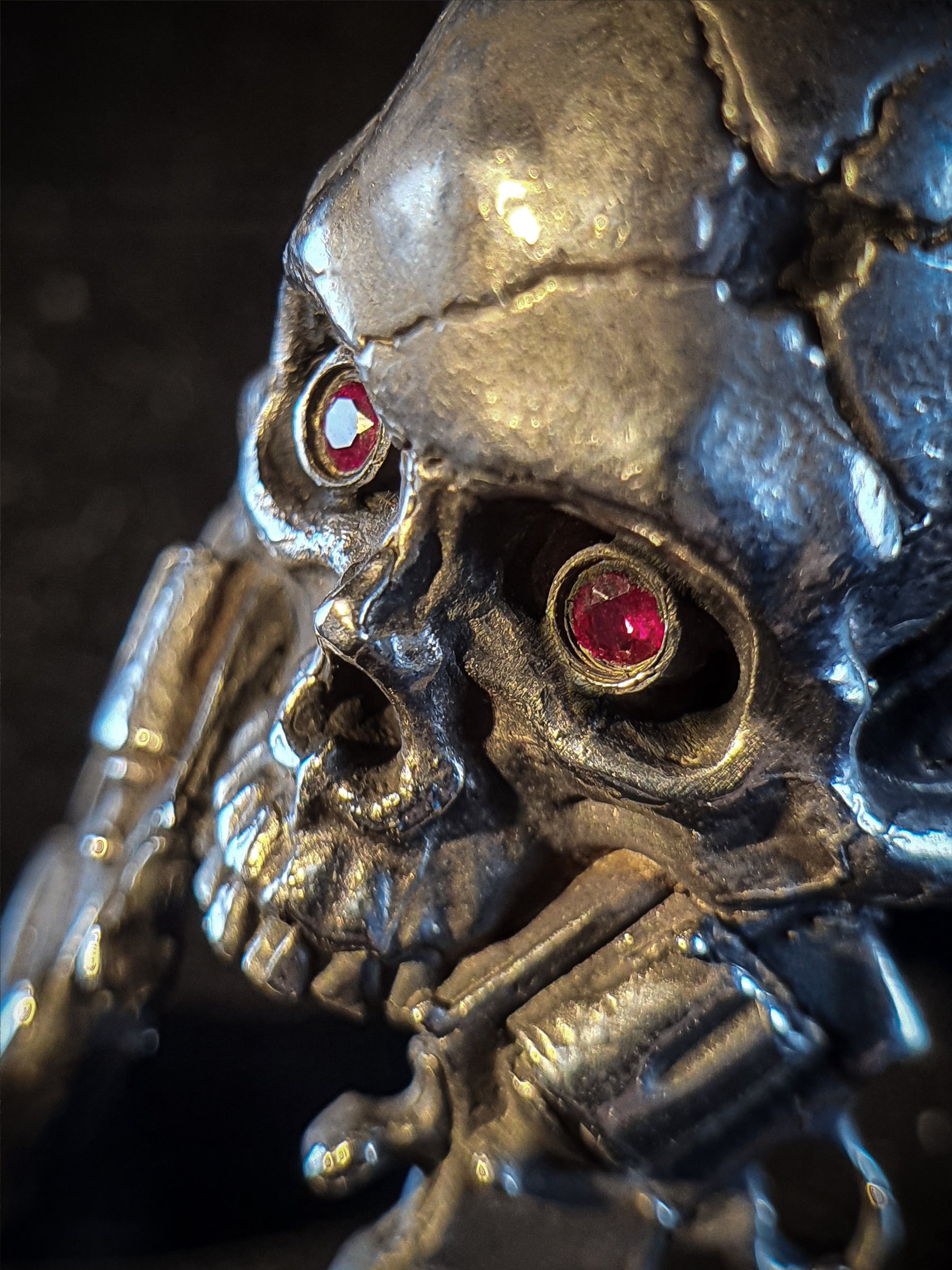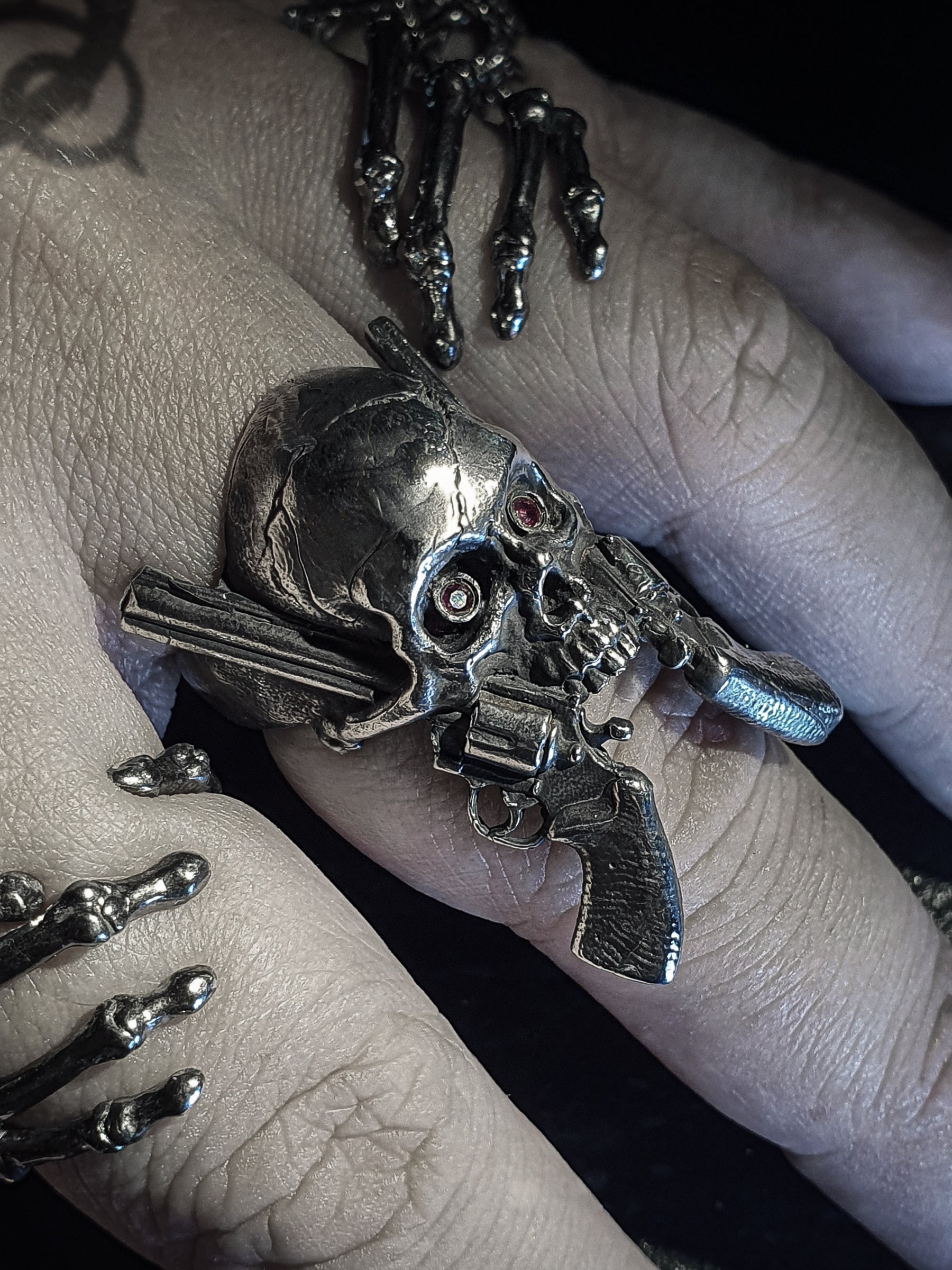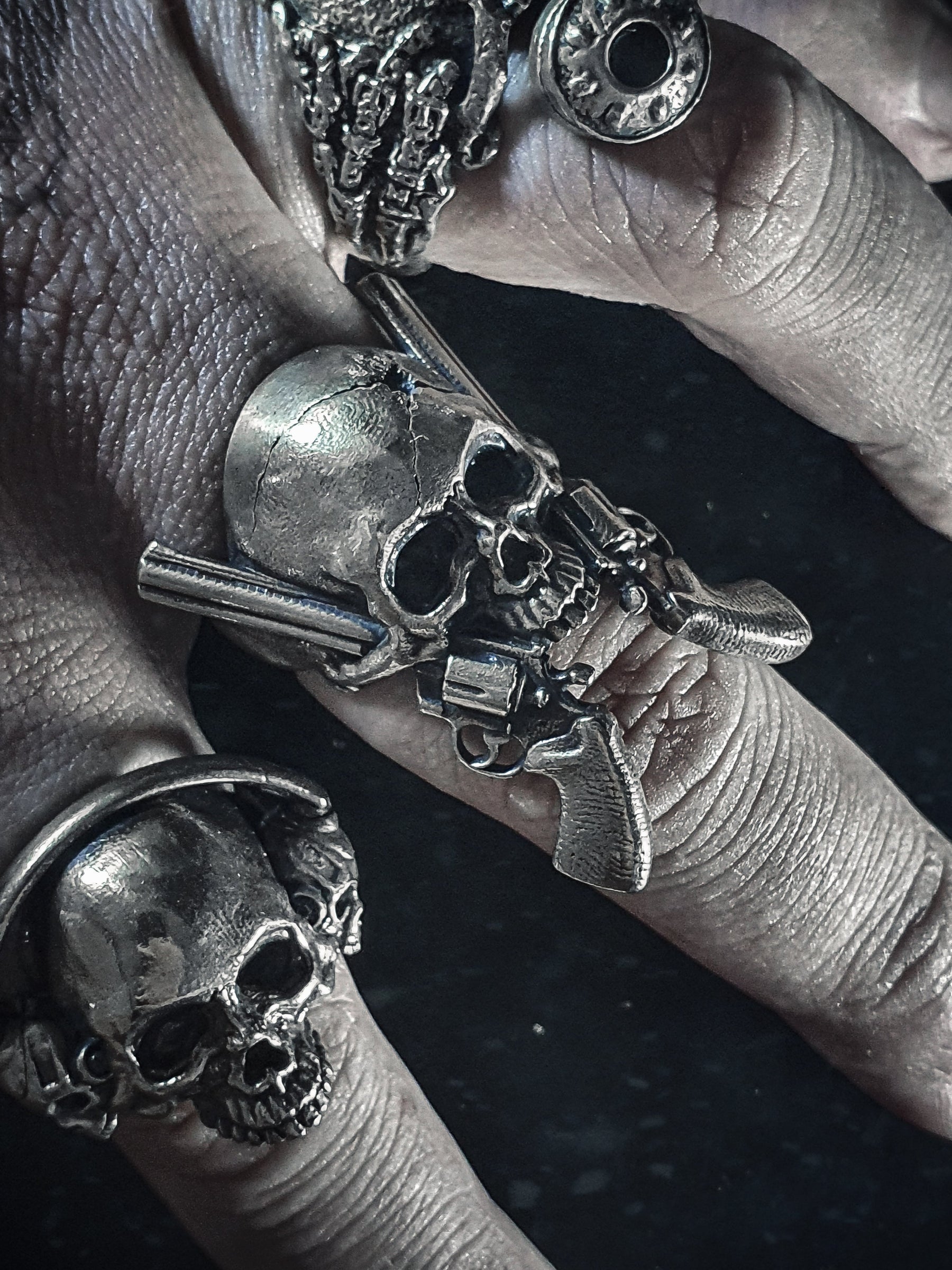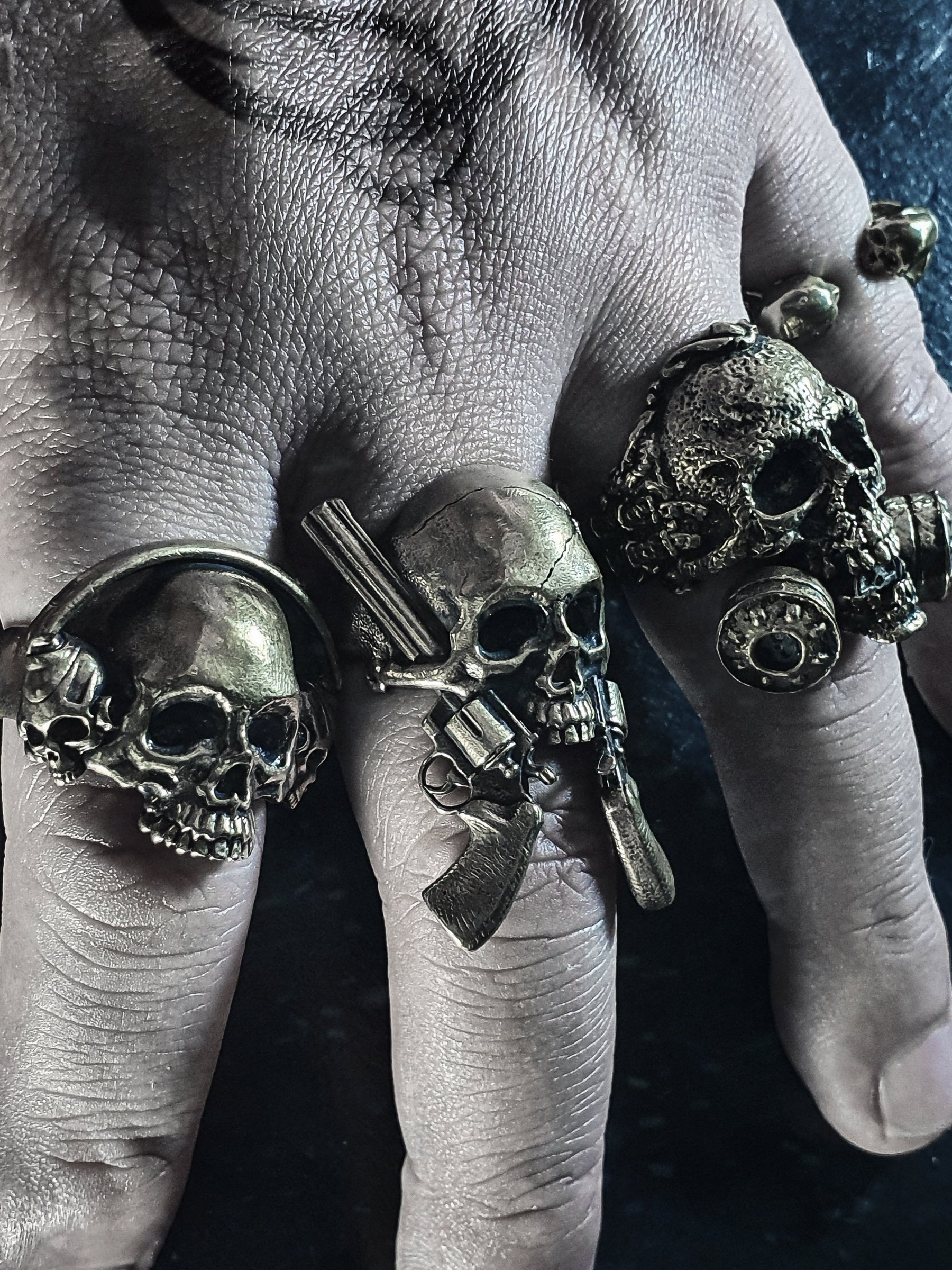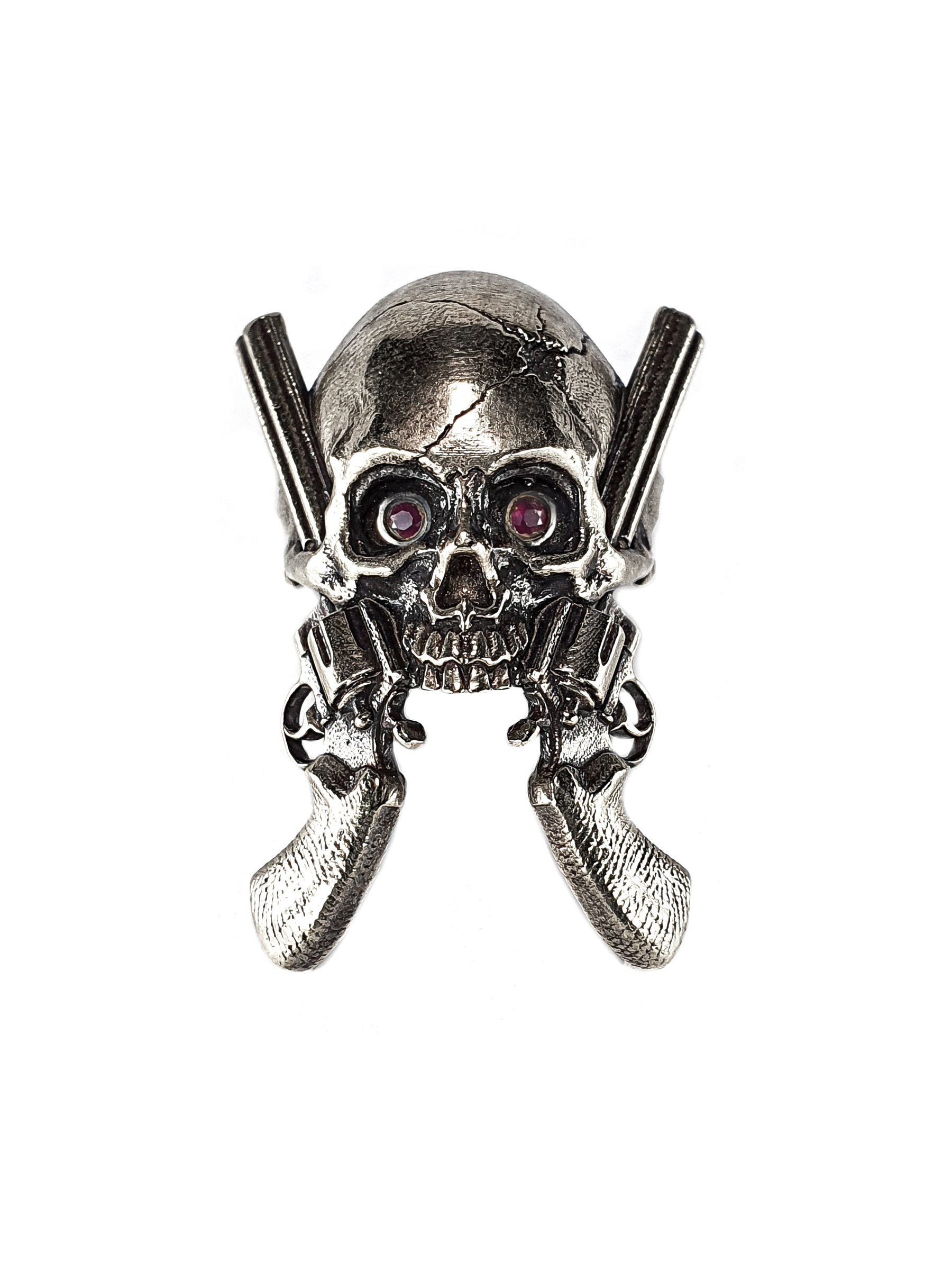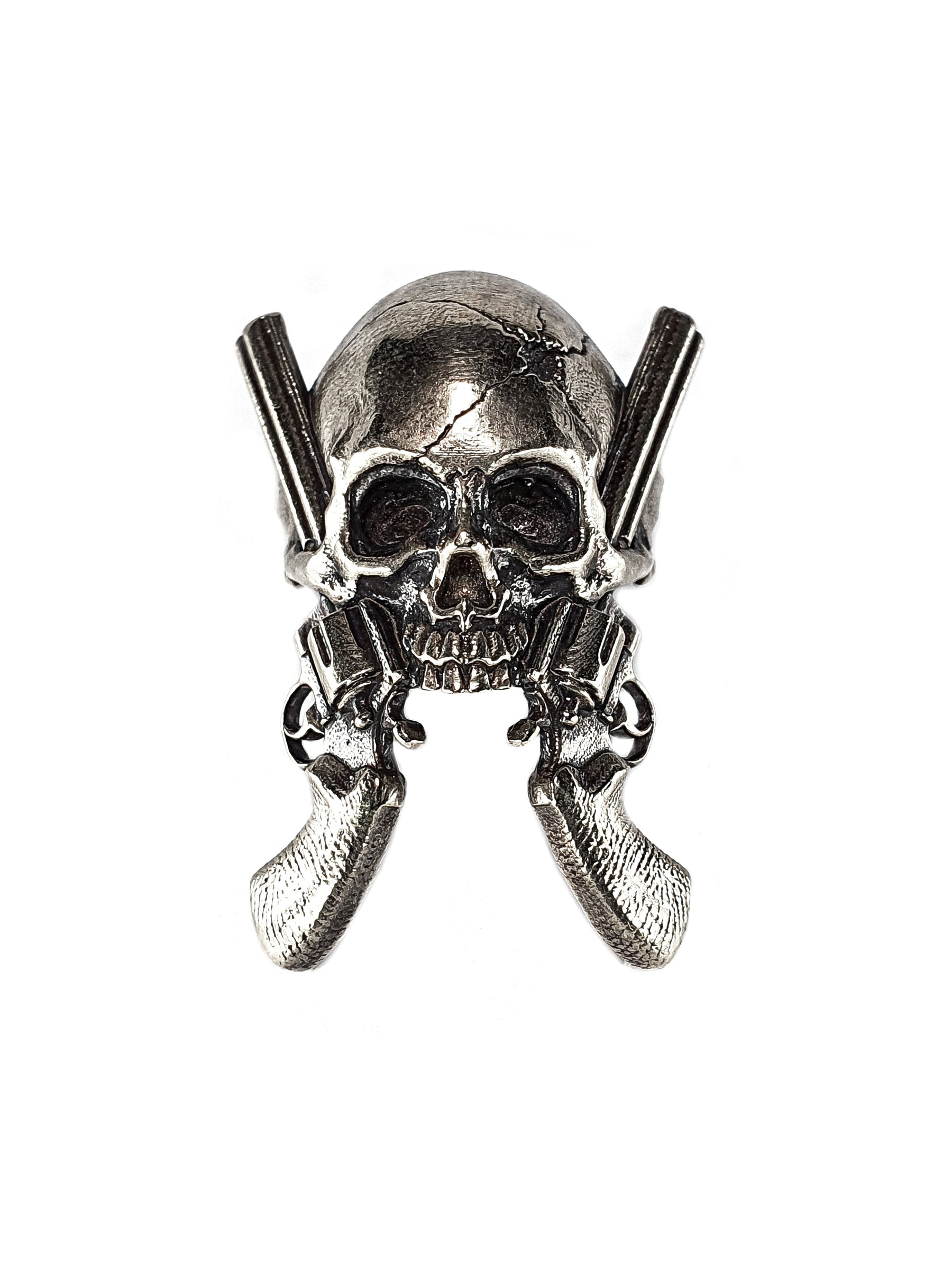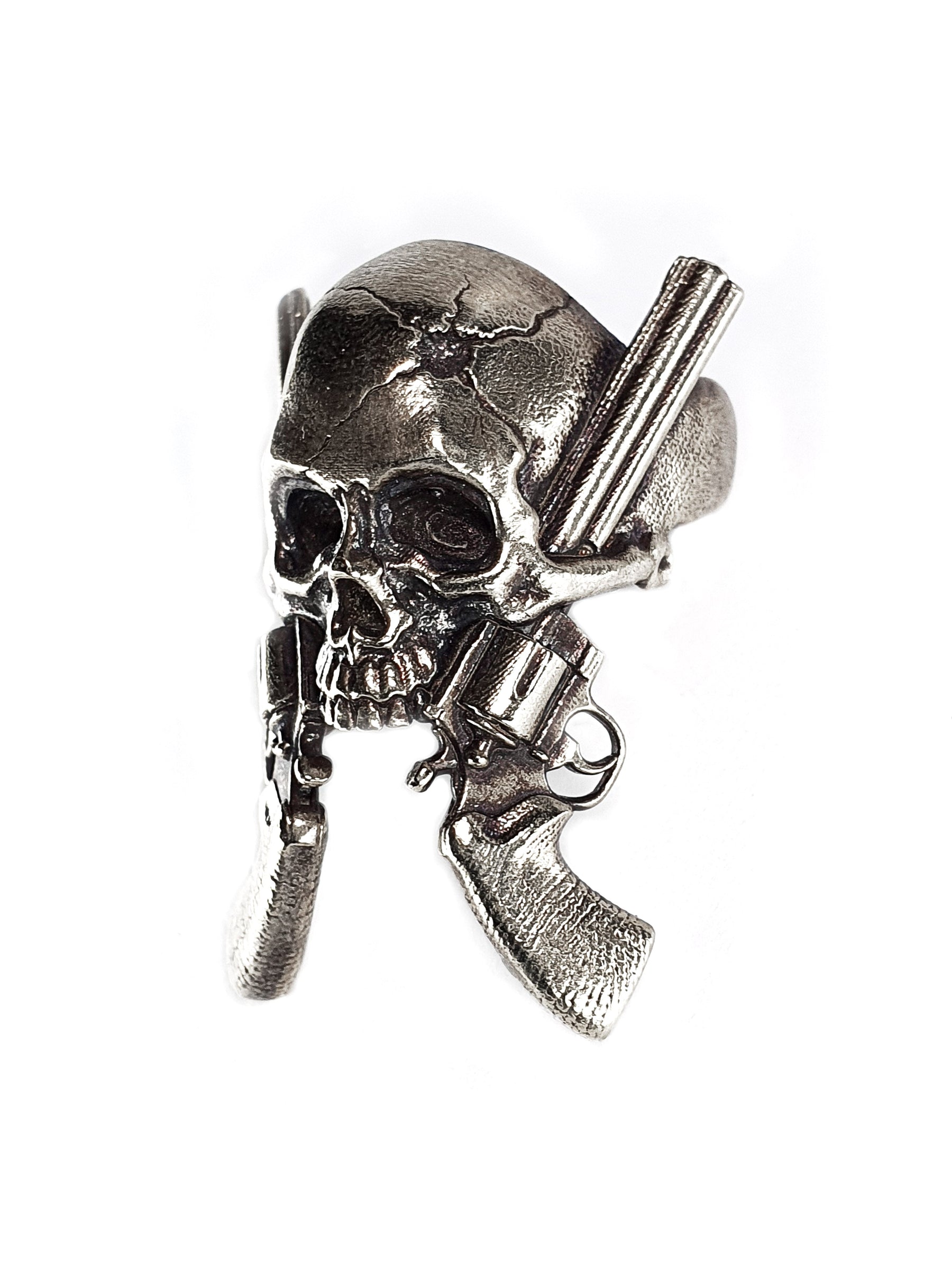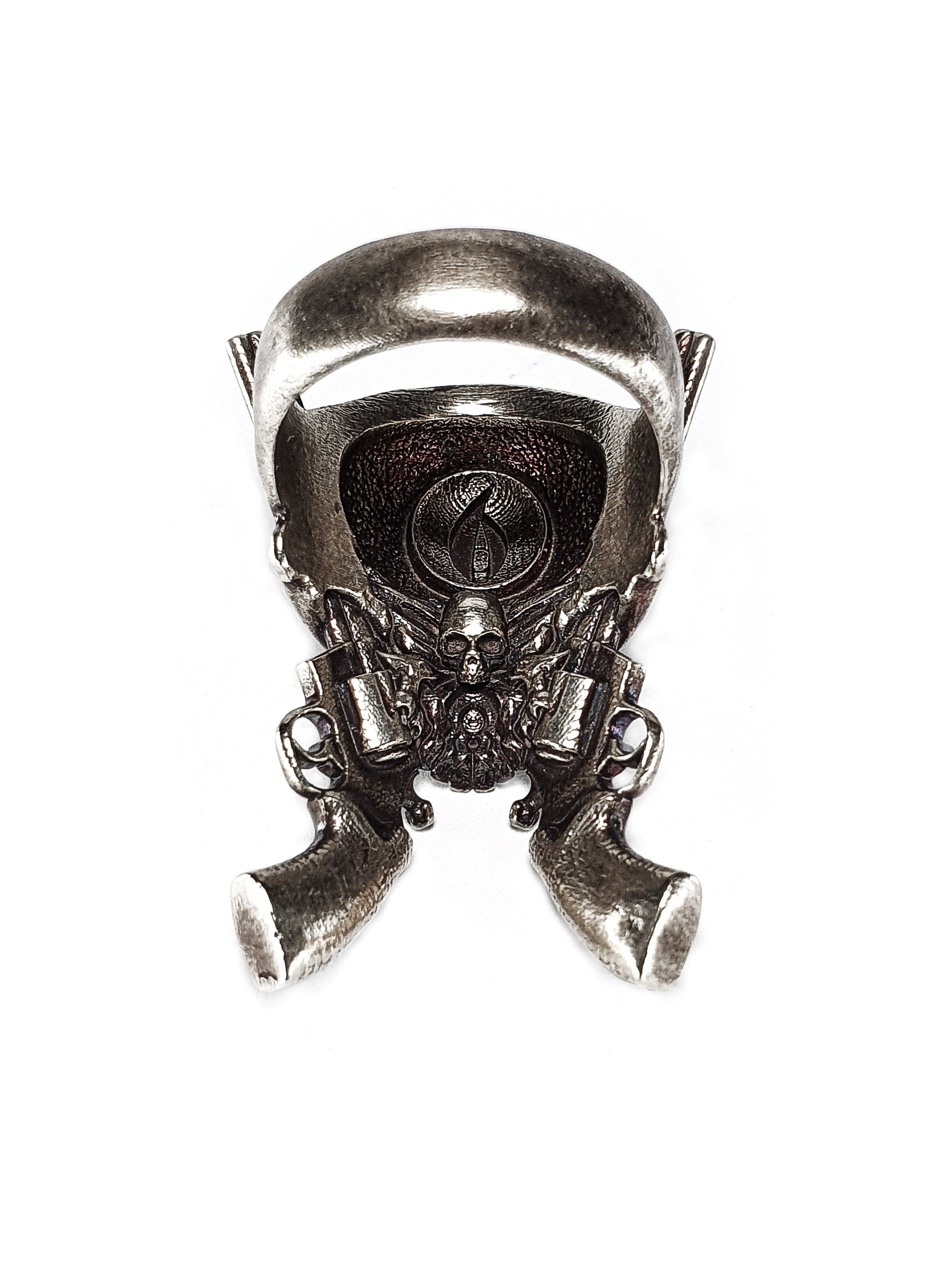 Skull Ring | Colt Revolver Gunslinger
DESCRIPTION
Live by the gun die by the gun
A skull ring with an added twist - two colt revolver by the sides and a bullet hole on the skull. The inclusion of the revolvers and bullet hole adds an element of danger and violence to the otherwise traditional skull design, making it a bold and edgy piece of jewelry. The combination of these elements creates a unique and powerful statement piece that is appealing to those who appreciate rugged and unconventional styles. The ring is sure to grab attention and make a lasting impression, whether worn alone or paired with other pieces.
TECHNICAL SPECS
Height: 40mm Width: 30mm 
Material: 925 Sterling Silver
MATERIAL VARIATIONS

1) Antique Silver (Sterling silver with aging finishing)
2) Antique Silver + Eyes (Sterling silver with aging finishing + 2 x Red Ruby)
We use authentic gemstones. The following can replace Ruby (Red) at no extra cost. Please write a note during checkout to request:
Citrine

 

(Yellow)
Sapphire

 

(Blue)
Emerald

 

(Green)
Quartz

 

(Transparent white)
Spinel

 

(Black)
For Rings
We use US sizing as standard. If you have problem converting your local sizing, please check with us.  
We are comfortably handle any sizing from 3-15. If any rings your are interested listed do not offer the sizing you need, you can write in to check with us. 
If you do not know your sizing, we recommend you visit your local jewelry store to get your sizing. But if it is not a variable option, you can DIY by using the following method.
Once you trace your size, place the paper strip against a ruler to measure.
During checkout, you can forward your reading (preferably in mm) so we can convert for you. 
We provide 1 time free ring size adjustment for our products. You just need to send back the item and we will re-adjust for you.  
For Bracelet
Same method as above, but instead of fingers, you measure the most narrow part of your wrist. For wrist, generally we are using inches instead. During purchase, select your correct wrist size measurement. If your wrist is slightly bigger then the sizing given. Choose the next bigger size. 
Example:
- if your wrist is 7 inches, choose 7 inches as your wrist size.
- if your wrist is 8.5 inches, choose 9 inches as your wrist size.
- if you are 9 1/4 inches, choose 10 inches as your wrist size.

Please write to us if you are not sure.