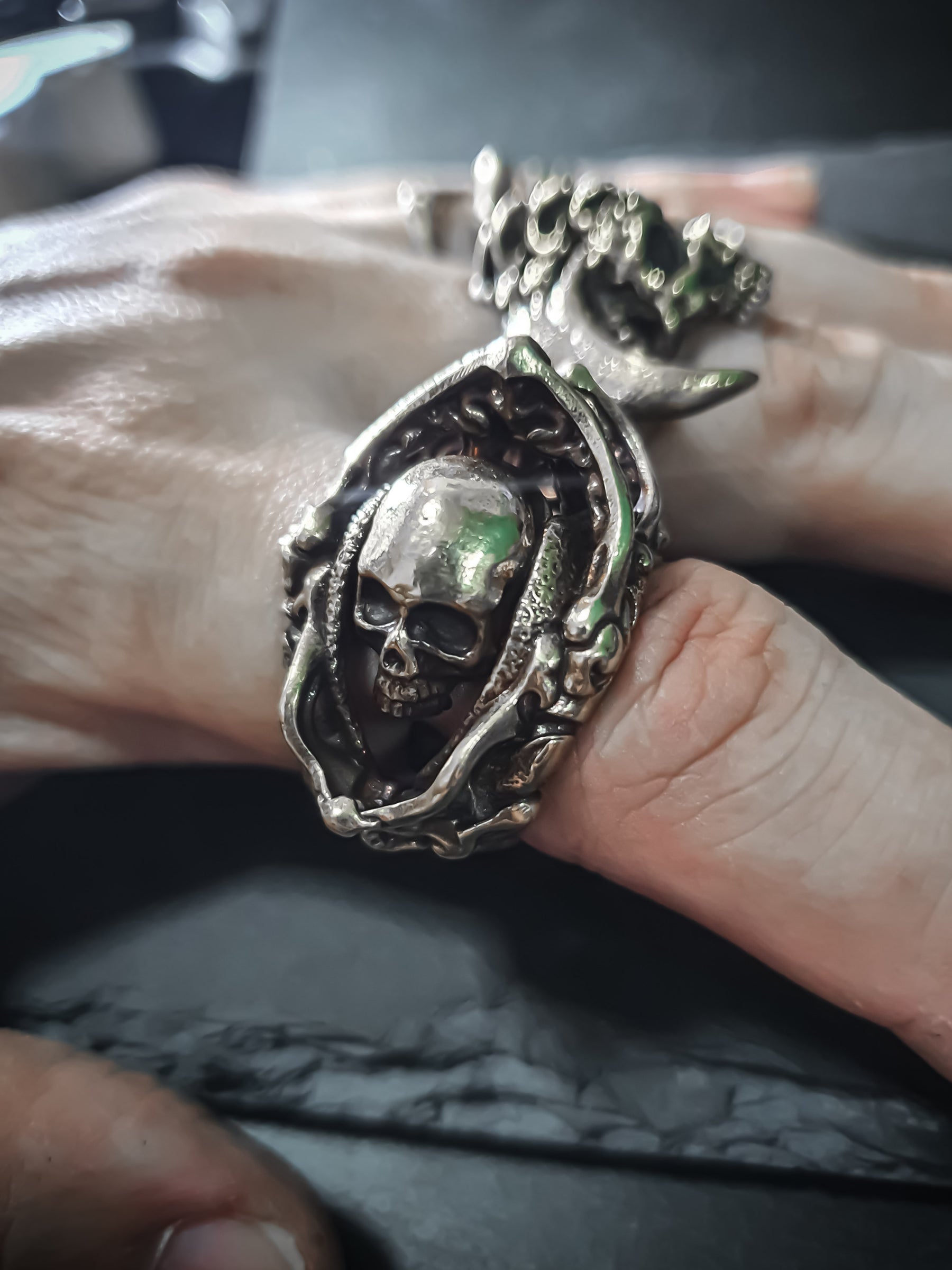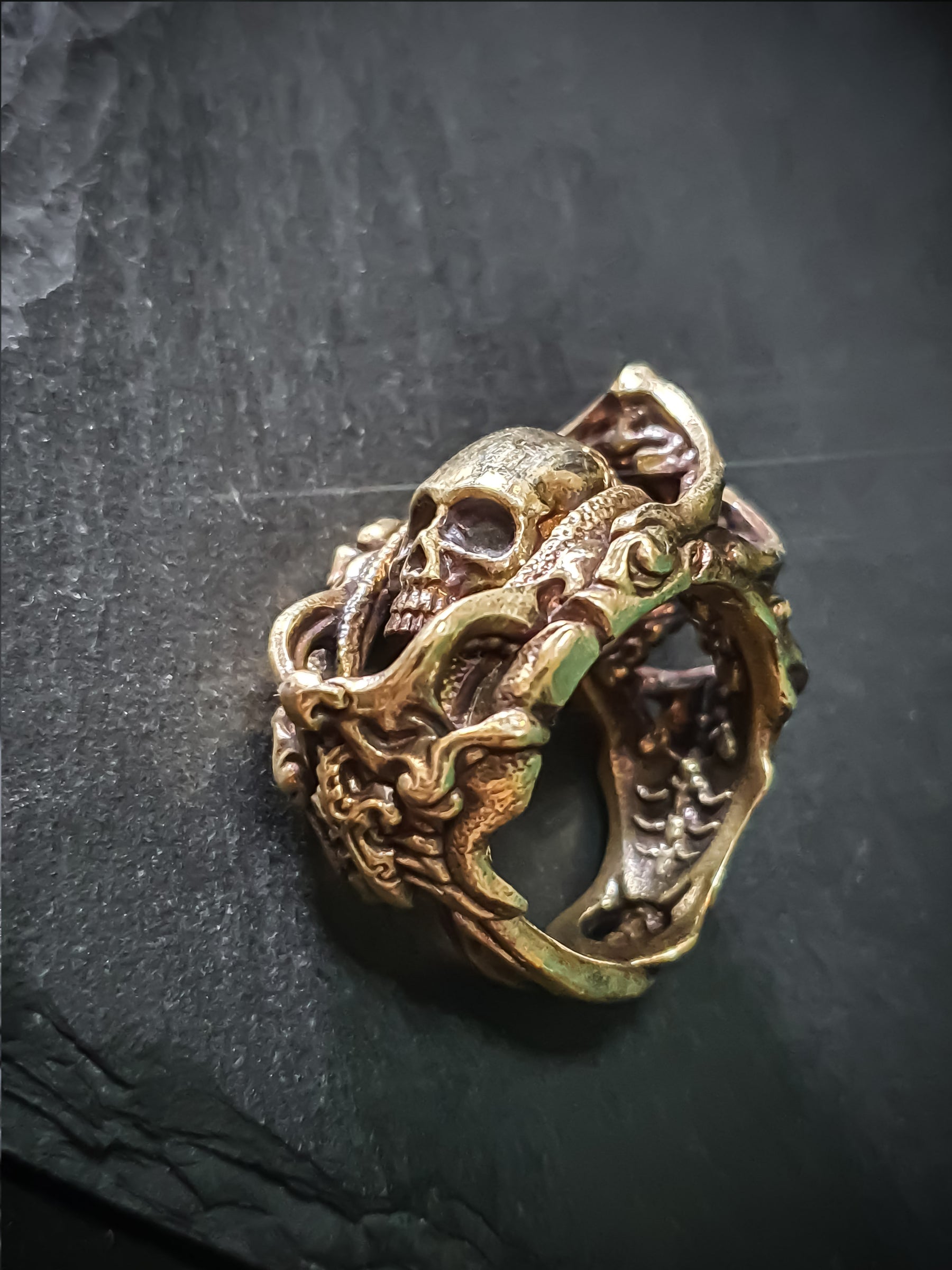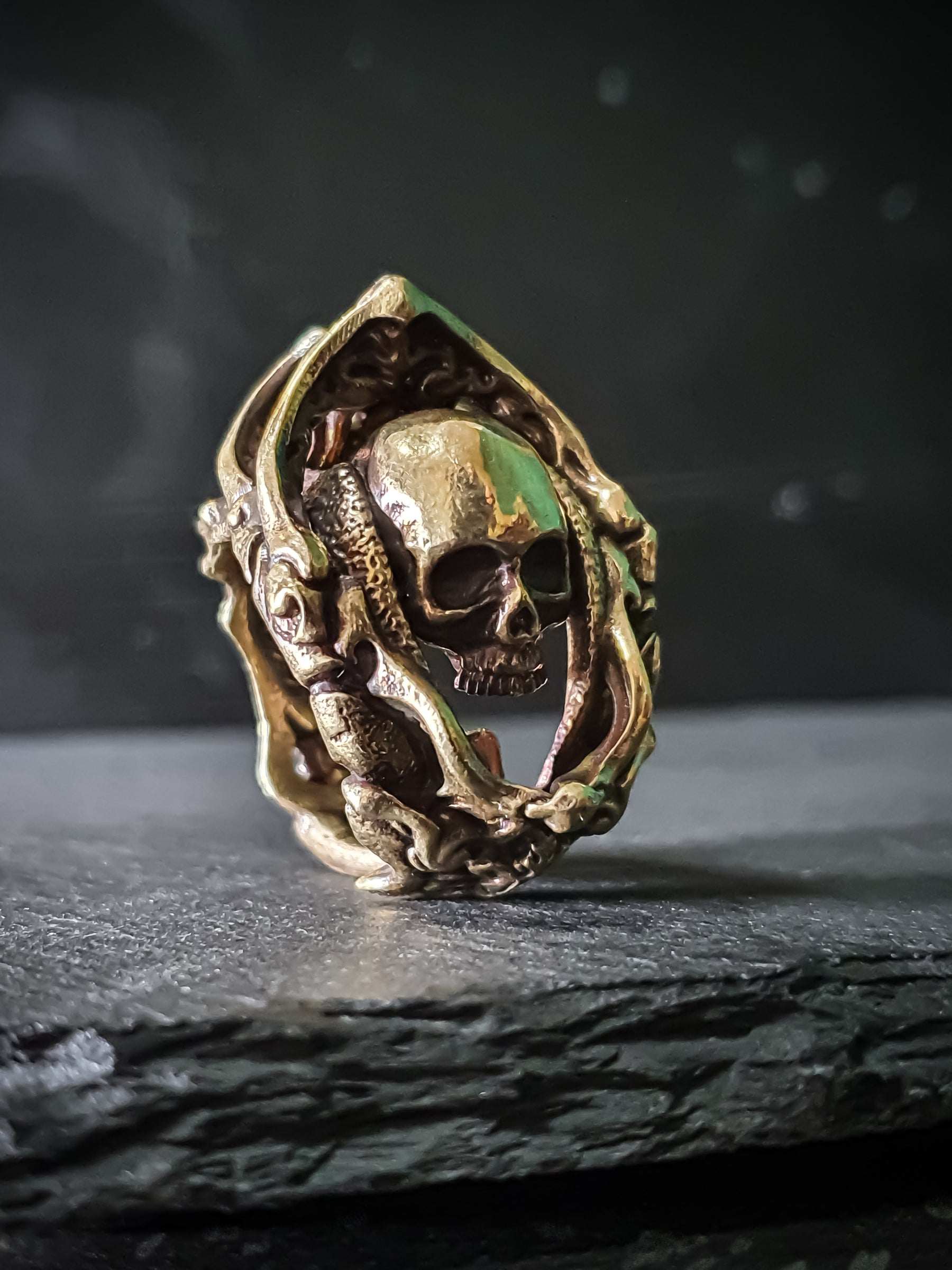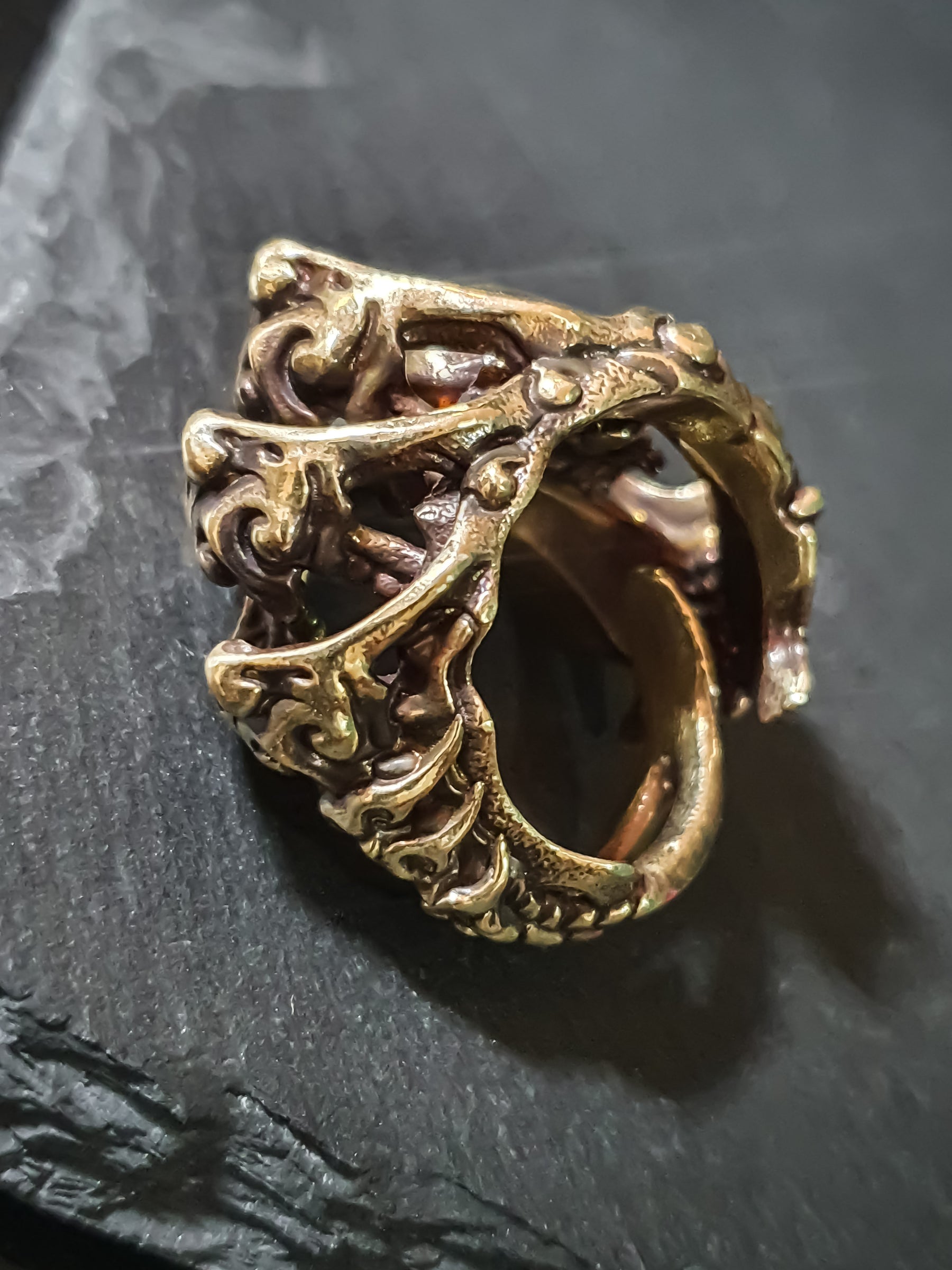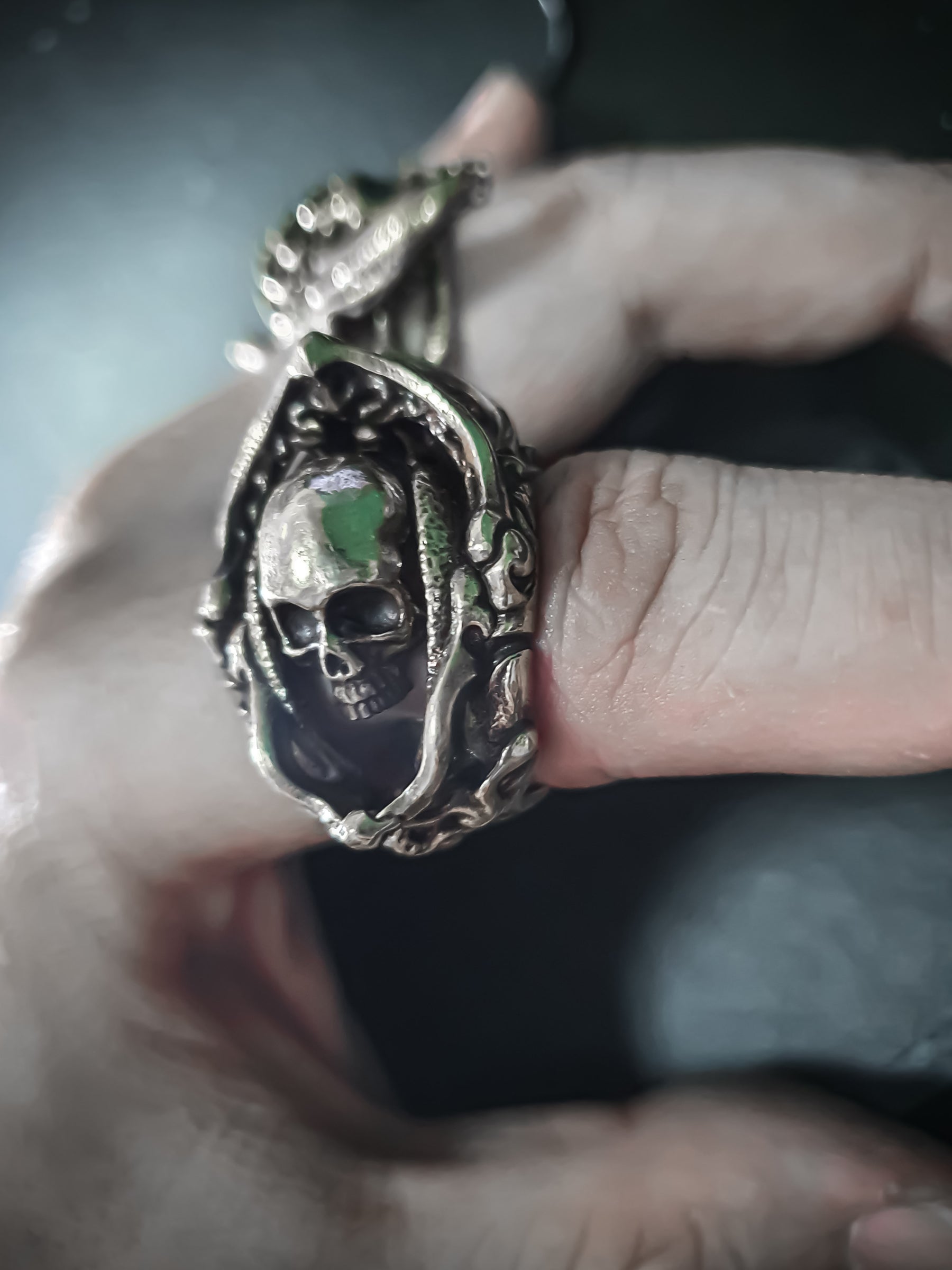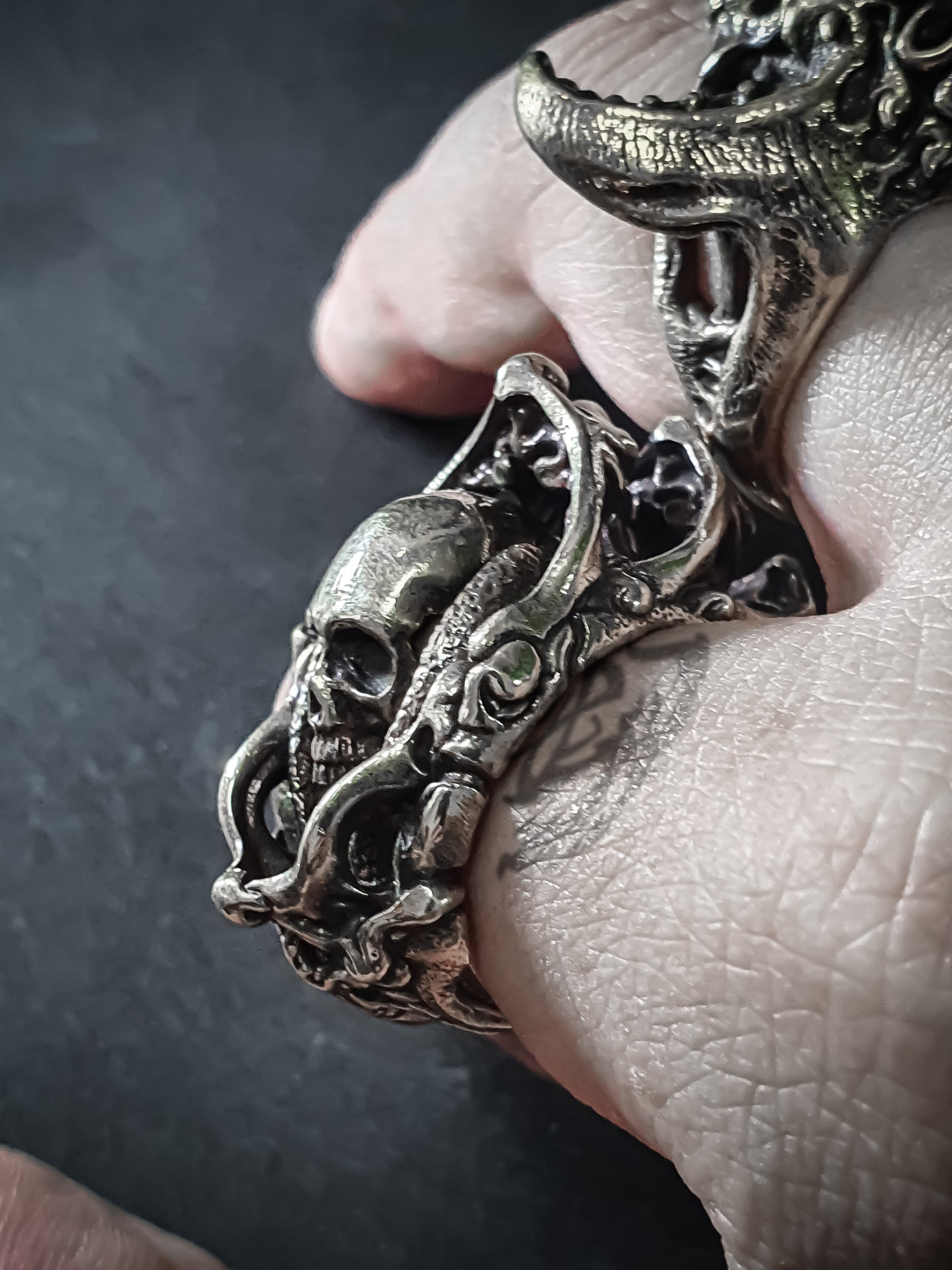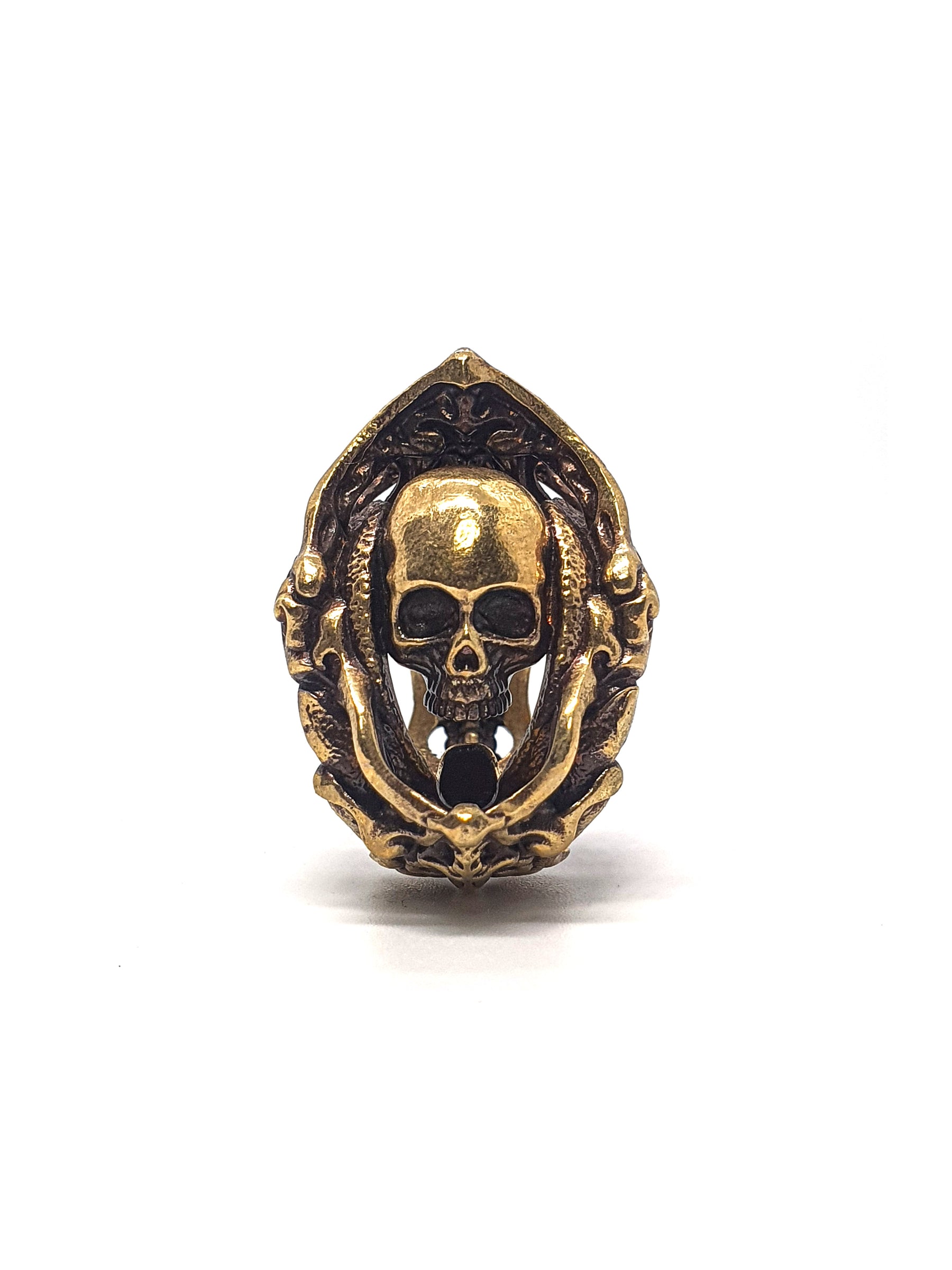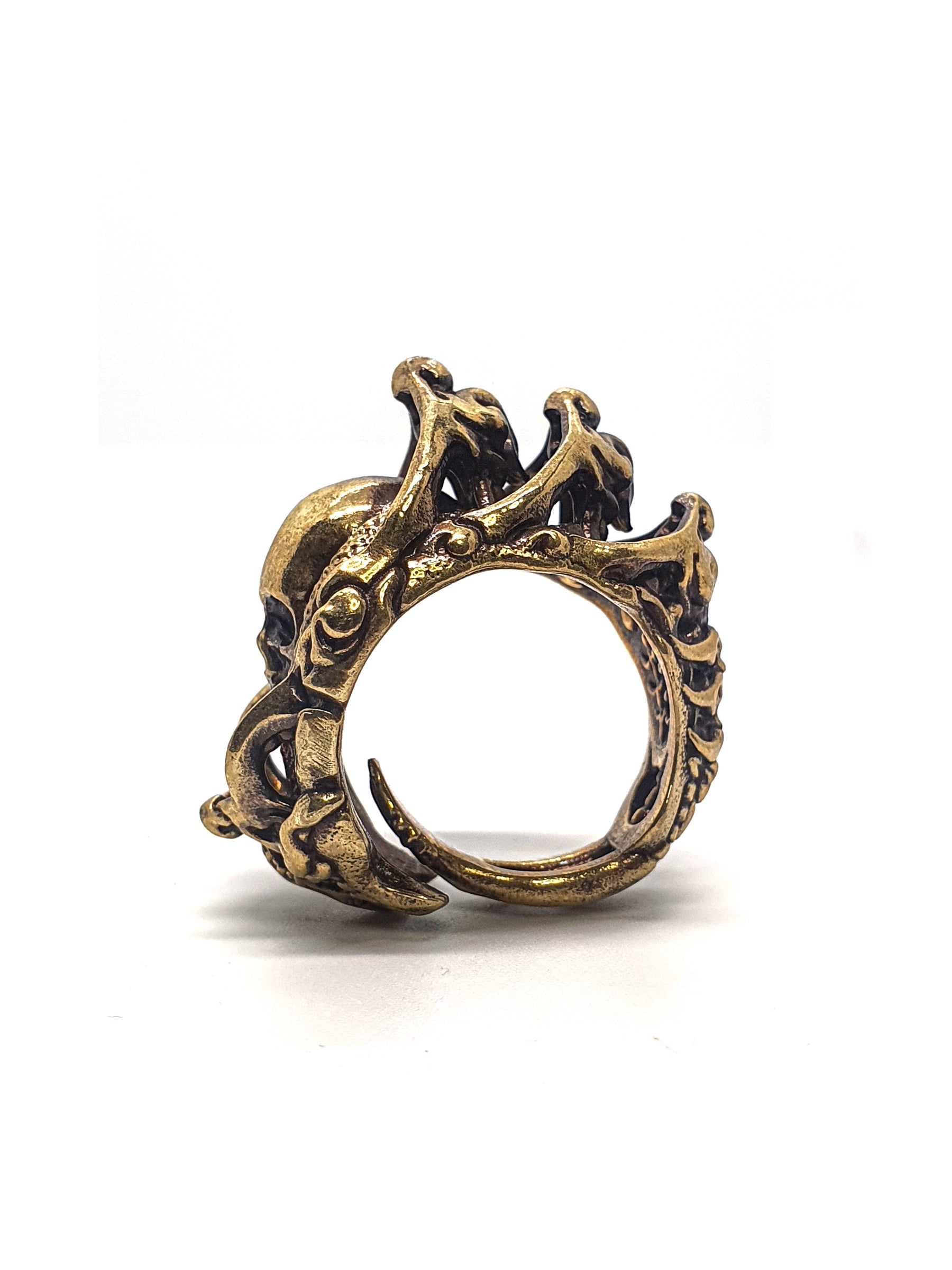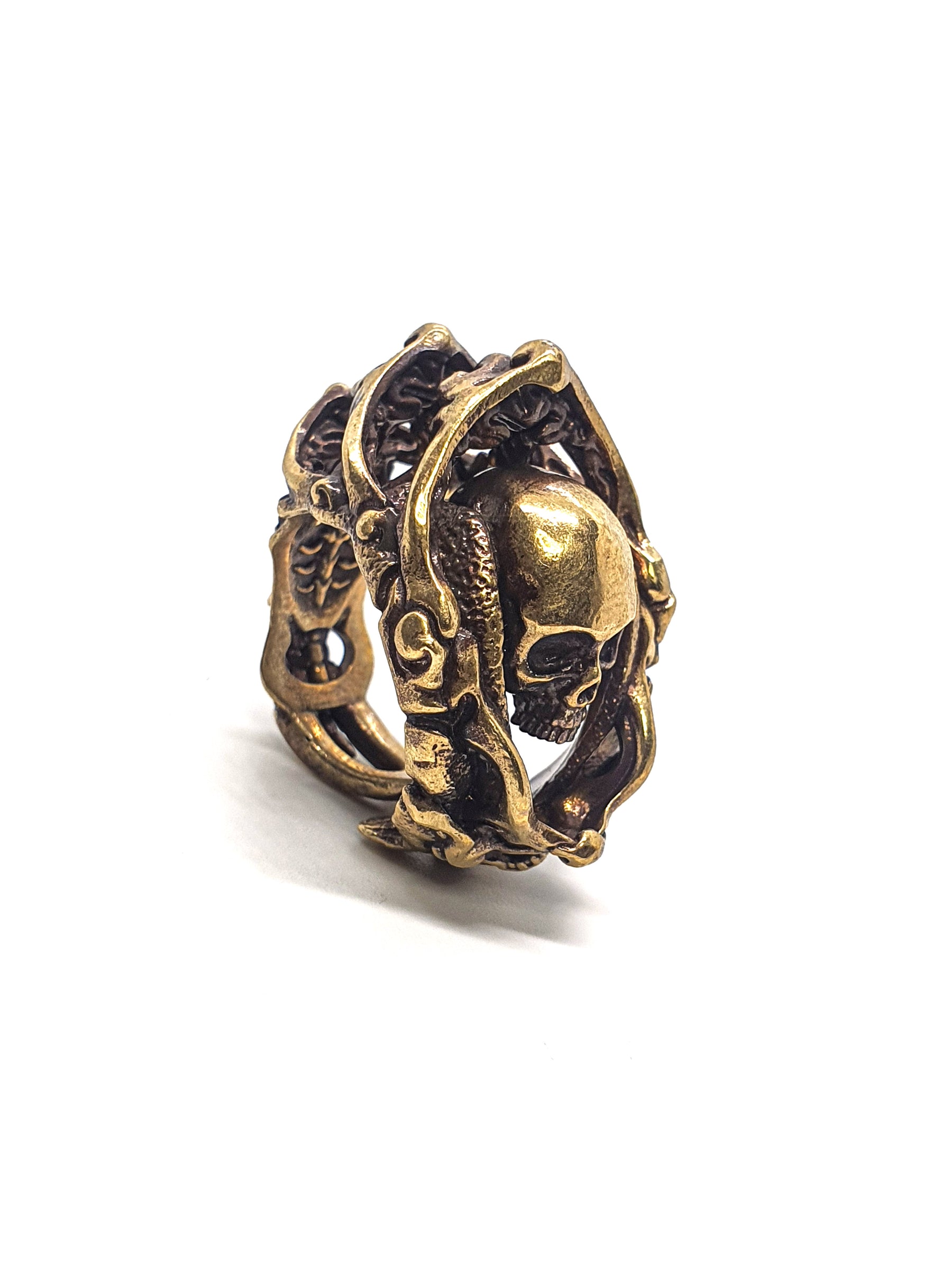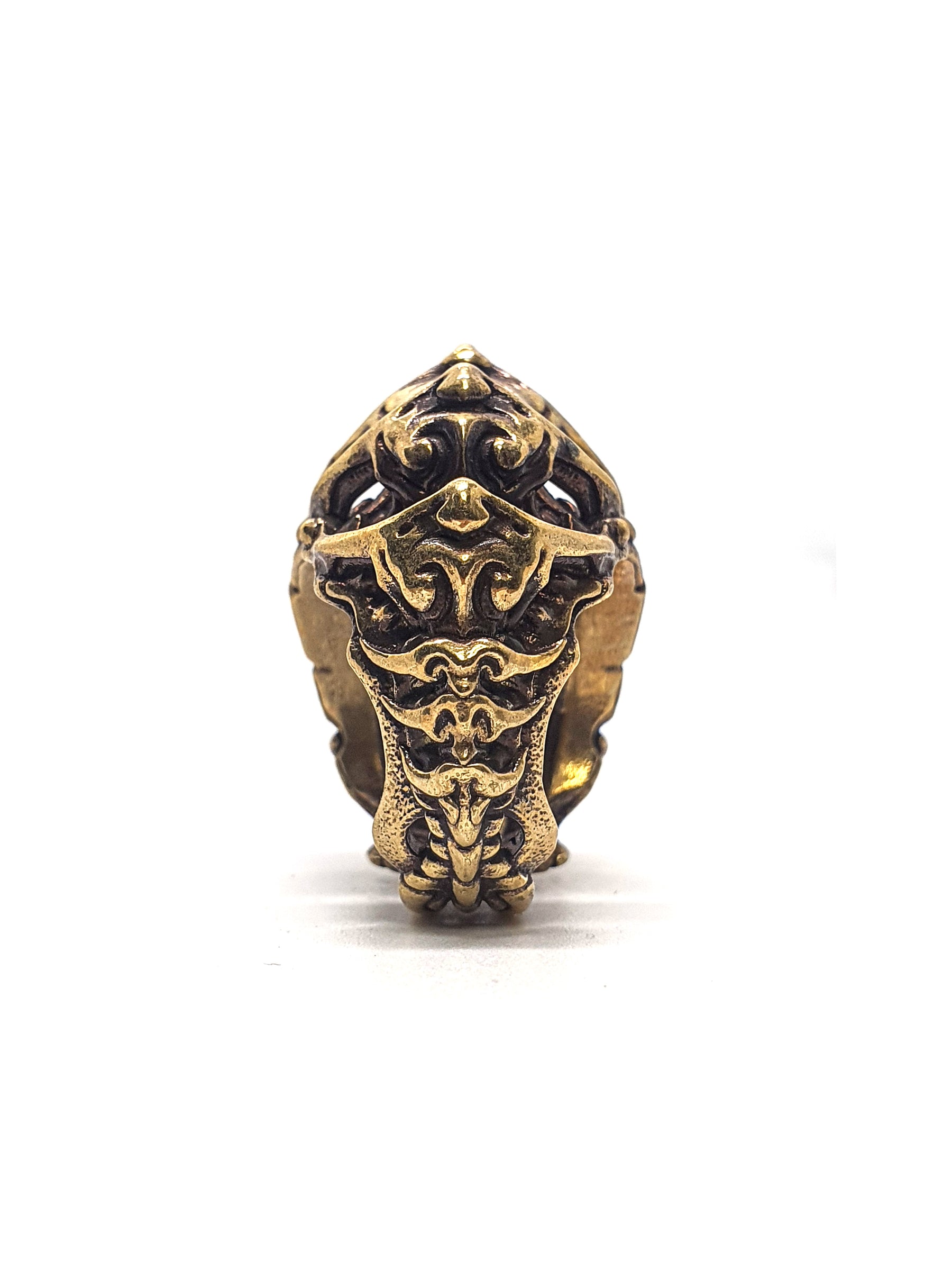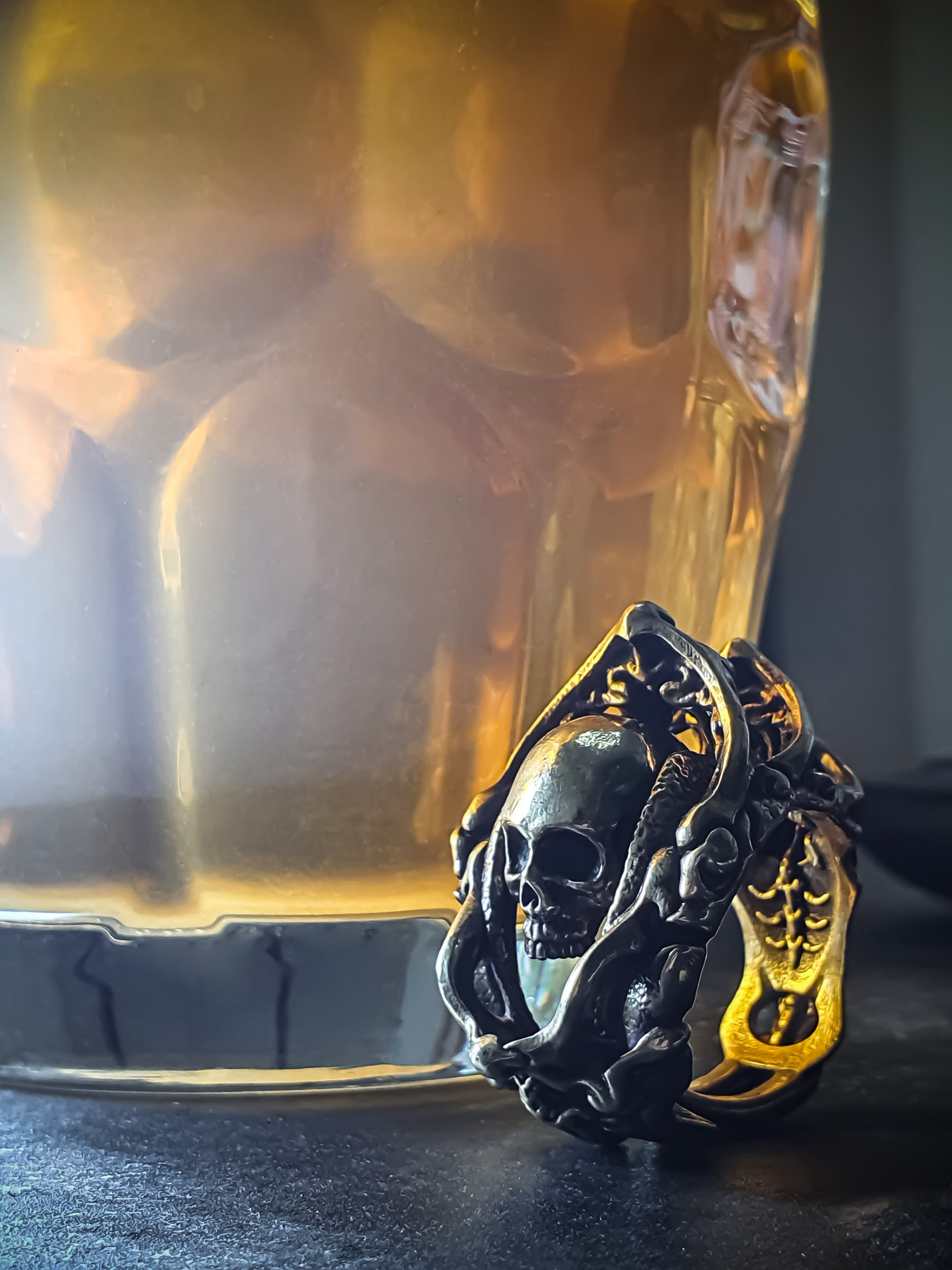 Skull Ring | Adjustable Death Knight Armor Warrior
This massive adjustable skull ring is meticulously crafted to showcase a warrior knight who has fought epic battles during medieval times. The ring is designed to be an awe-inspiring piece of jewelry that represents the passing of a legendary warrior with highly decorative bulky armor, has now been reduced to a skeleton.
The skull ring is made to impress with its substantial size, measuring an impressive 40mm x 25mm, and it is adjustable to fit most finger sizes comfortably. The ring is designed to be both stylish and durable, made with high-quality materials to ensure that it lasts for years to come.
The intricate design of the skull ring showcases a warrior who has been through battles to defend the king and honor, and the ring serves as a reminder of the bravery and courage of medieval knights. The craftsmanship is exceptional, with attention to detail given to every aspect of the design.
This skull ring is perfect for those who are passionate about history, medieval times, and epic battles. It makes an excellent statement piece and a perfect addition to any outfit. Whether you're looking to make a bold statement or add a unique piece to your collection, this skull ring is sure to impress.
Although this is an adjustable ring, but due to its massive size, it is advisable to give us your sizing so we can adjust for you.
MATERIAL VARIATIONS
1) Brass 
2) Brass + Eyes (Brass with aging finishing + 2 x Red Ruby)

3) Antique Silver (Sterling silver with aging finishing)
4) Antique Silver + Eyes (Sterling silver with aging finishing + 2 x Red Ruby)
We use authentic gemstones. The following can replace Ruby (Red) at no extra cost. Please write a note during checkout to request:
Citrine

 

(Yellow)
Sapphire

 

(Blue)
Emerald

 

(Green)
Quartz

 

(Transparent white)
Spinel

 

(Black)
For Rings
We use US sizing as standard. If you have problem converting your local sizing, please check with us.  
We are comfortably handle any sizing from 3-15. If any rings your are interested listed do not offer the sizing you need, you can write in to check with us. 
If you do not know your sizing, we recommend you visit your local jewelry store to get your sizing. But if it is not a variable option, you can DIY by using the following method.
Once you trace your size, place the paper strip against a ruler to measure.
During checkout, you can forward your reading (preferably in mm) so we can convert for you. 
We provide 1 time free ring size adjustment for our products. You just need to send back the item and we will re-adjust for you.  
For Bracelet
Same method as above, but instead of fingers, you measure the most narrow part of your wrist. For wrist, generally we are using inches instead. During purchase, select your correct wrist size measurement. If your wrist is slightly bigger then the sizing given. Choose the next bigger size. 
Example:
- if your wrist is 7 inches, choose 7 inches as your wrist size.
- if your wrist is 8.5 inches, choose 9 inches as your wrist size.
- if you are 9 1/4 inches, choose 10 inches as your wrist size.

Please write to us if you are not sure.