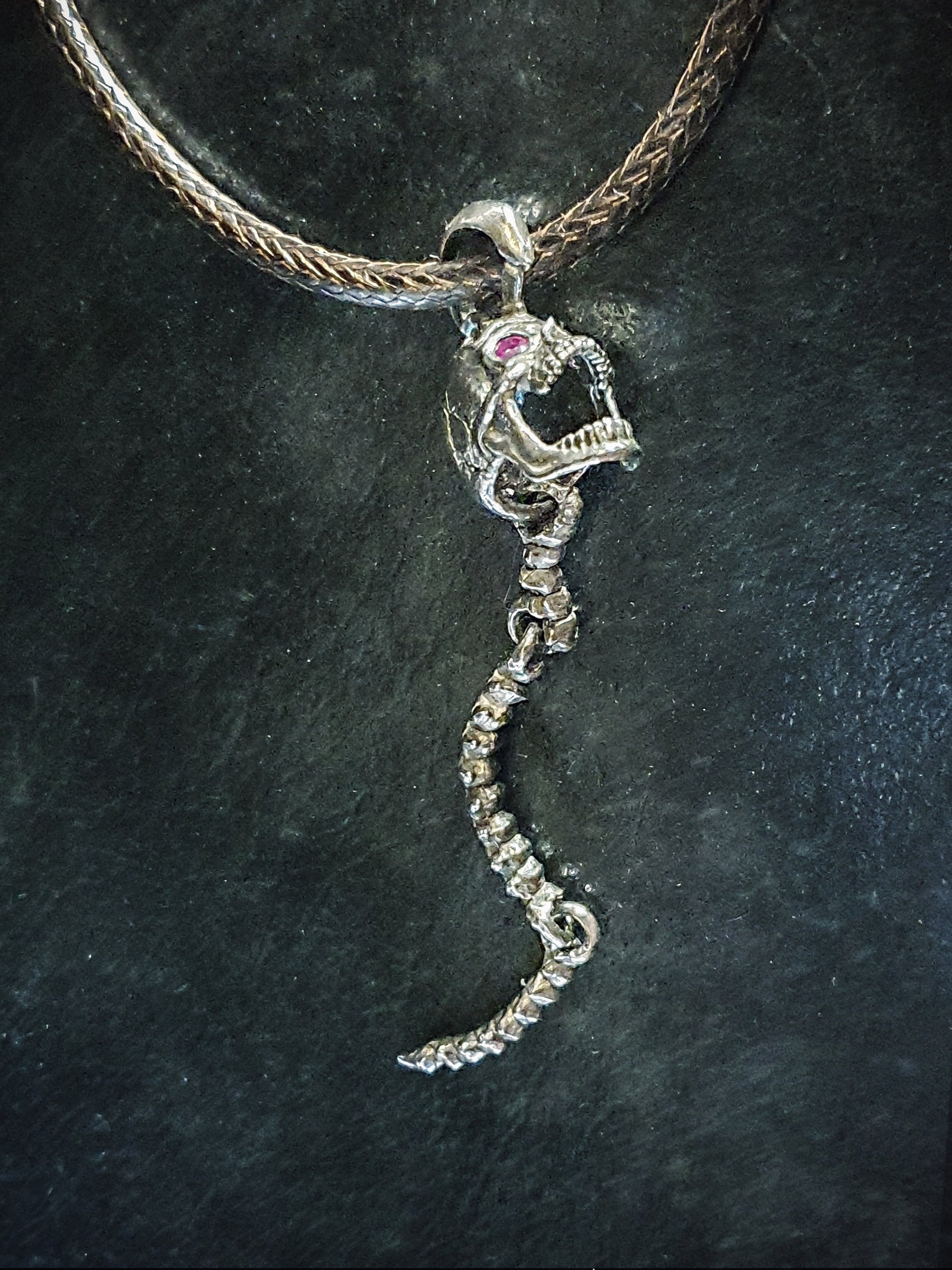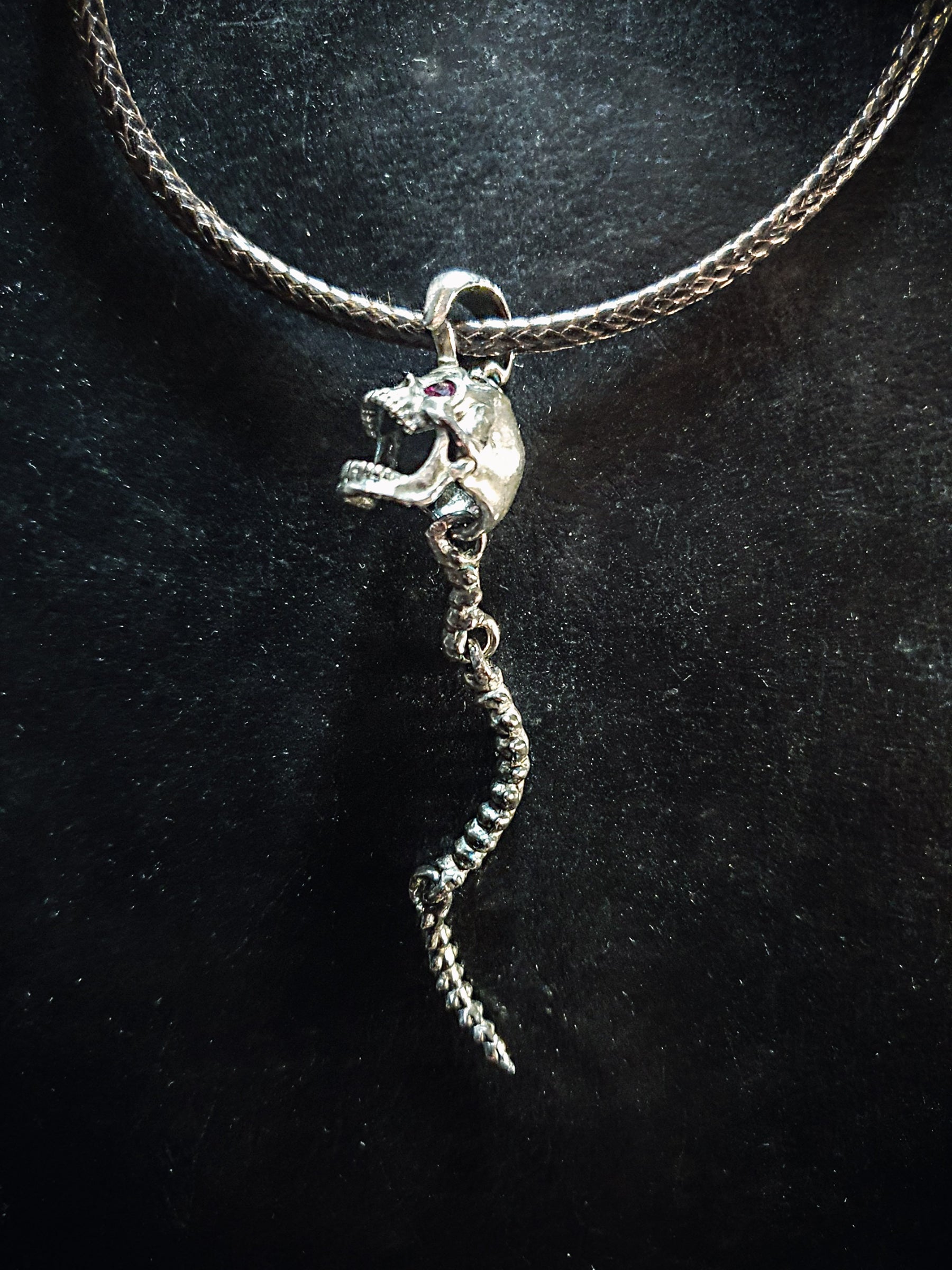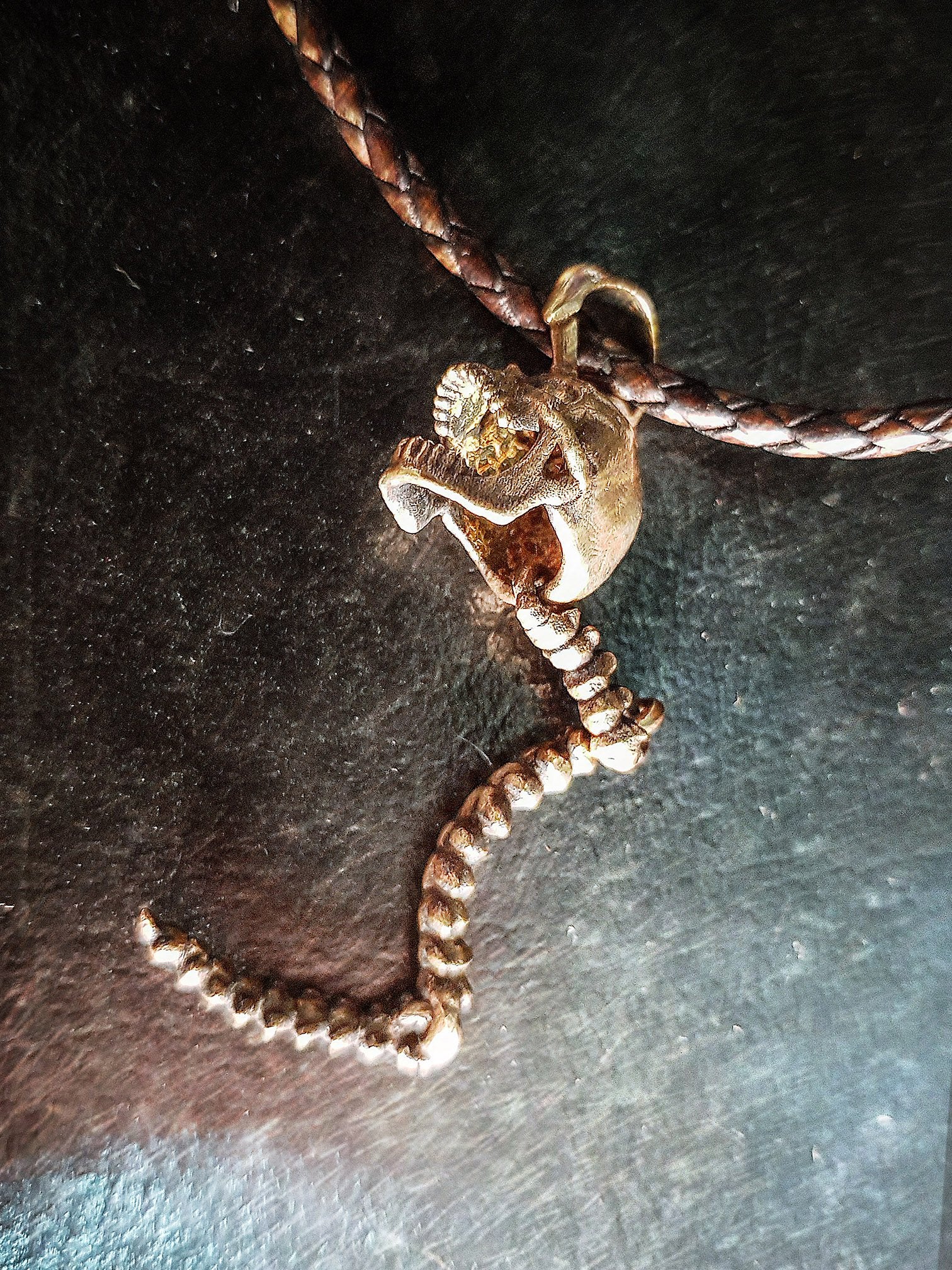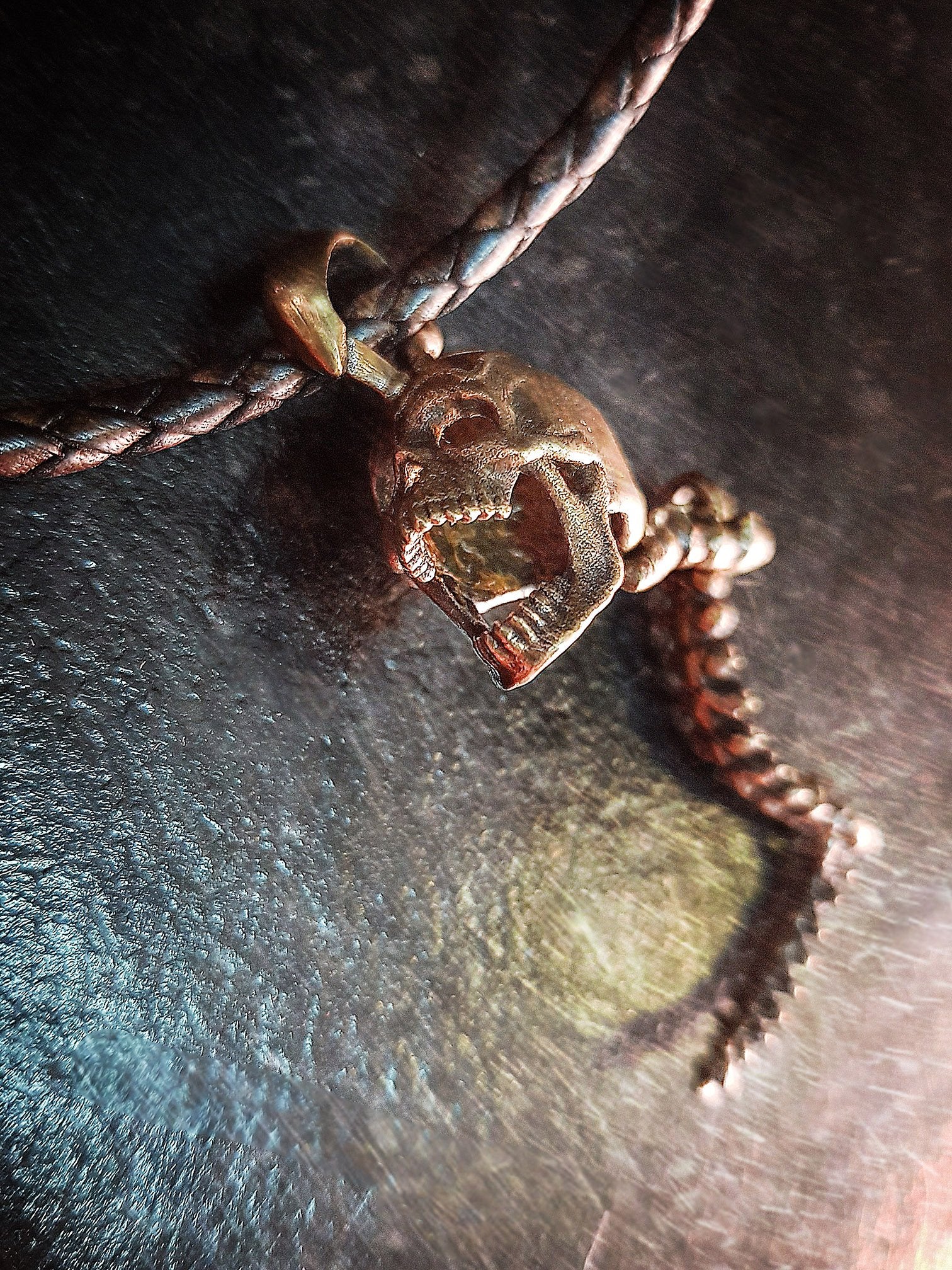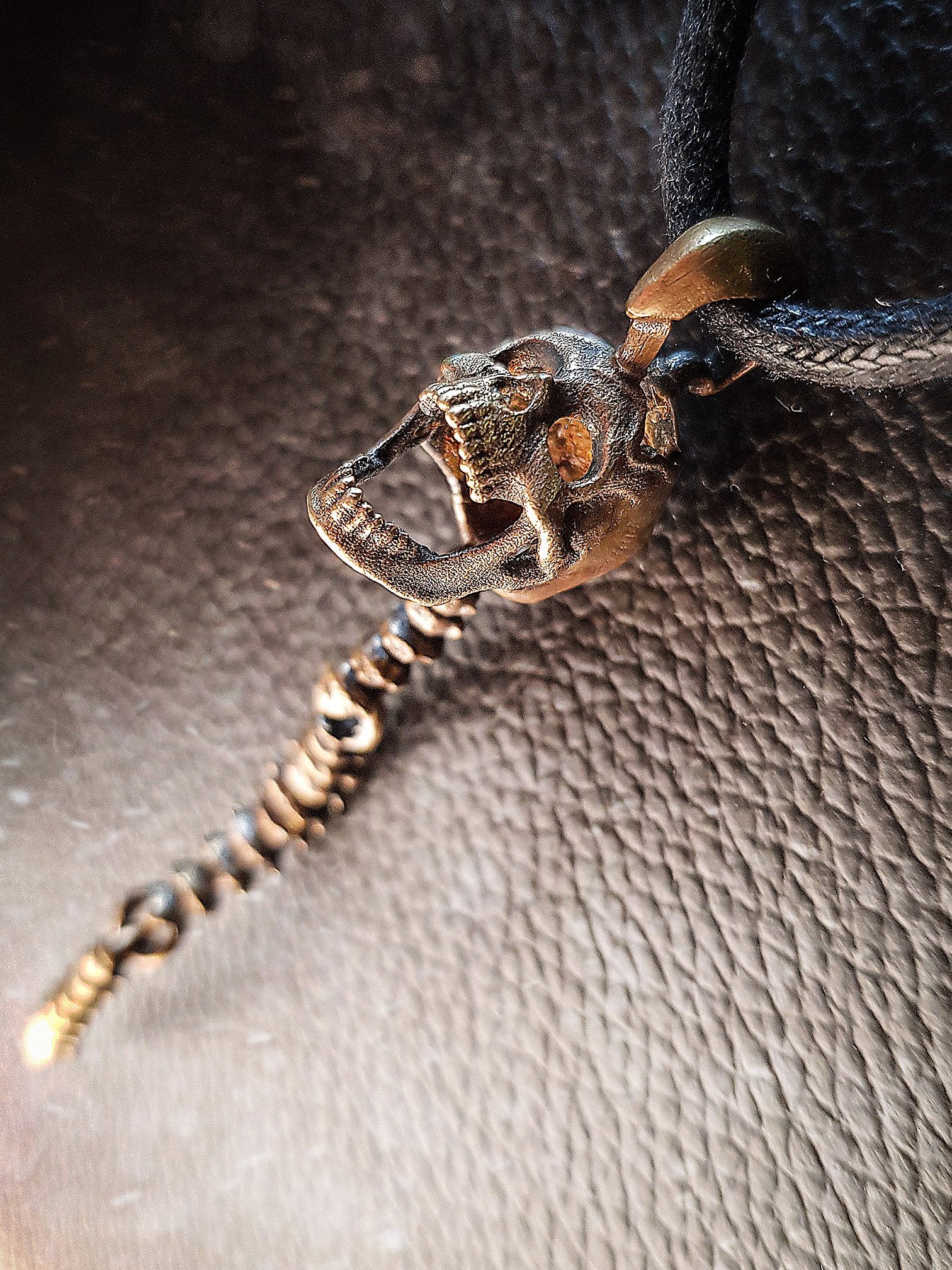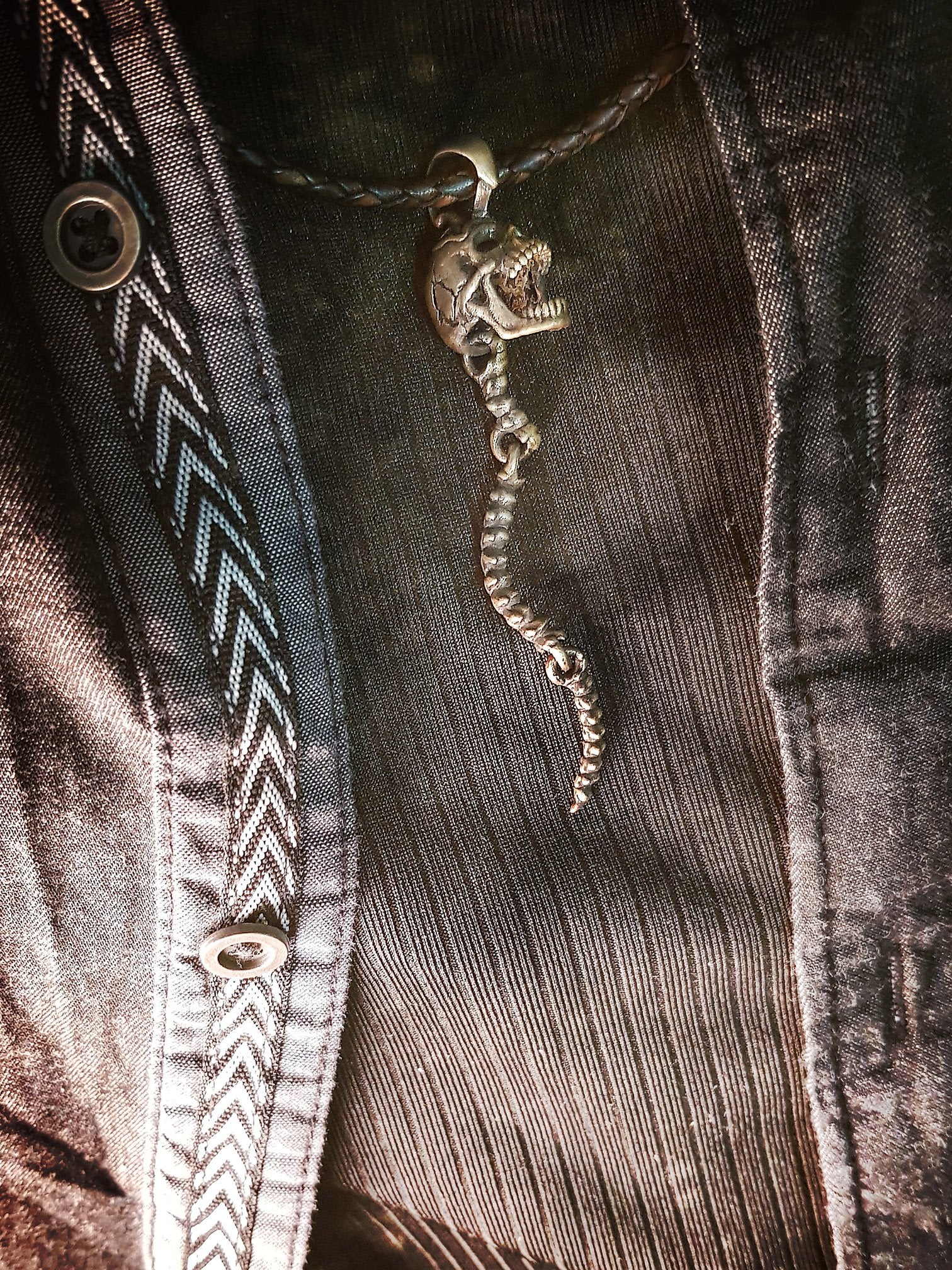 Description
Let it hurt. Let it bleed. Let it heal. And let it go.
~Nikita Gill
This unique skull pendant is designed with attached spines, looks like a swimming sperm with a head and a tail. This design is depicting a possible human cloning issue where a human is created without going through the natural process of the growing stages.
So does these clones have souls? Will they dying to seek their family roots? What kind of emotional struggle will they experience? 
Product Specs:
This pendant has a total of four parts with three movable joints to allow the pendant to swing in life around your neck. With the loop on top of the skull head to be specially designed in a way that when the wearer turns his/her head left or right, the necklace with pull the skull head to look in the same direction too. Definitely an attention grabber.
Height: 85mm Width: 10mm
Parts: 4 Parts, (interlock joints)
Material Variations
1) Brass (Red Rubies) 🔥🔥🔥👍
2) Antique Silver (Oxidized Silver with Antique finishing)🔥👍👍👍
3) Antique Silver w Eyes (Oxidized Silver with Antique finishing and 2 x 0.13 ct. Rubies)
🔥 Popular among buyers. 
👍 Recommended by Altejewellers. 
**The necklace in the photo is for reference. The actual product does not come with the chain.

For Rings
We use US sizing as standard. If you have problem converting your local sizing, please check with us.  
We are comfortably handle any sizing from 3-15. If any rings your are interested listed do not offer the sizing you need, you can write in to check with us. 
If you do not know your sizing, we recommend you visit your local jewelry store to get your sizing. But if it is not a variable option, you can DIY by using the following method.
Once you trace your size, place the paper strip against a ruler to measure.
During checkout, you can forward your reading (preferably in mm) so we can convert for you. 
We provide 1 time free ring size adjustment for our products. You just need to send back the item and we will re-adjust for you.  
For Bracelet
Same method as above, but instead of fingers, you measure the most narrow part of your wrist. For wrist, generally we are using inches instead. During purchase, select your correct wrist size measurement. If your wrist is slightly bigger then the sizing given. Choose the next bigger size. 
Example:
- if your wrist is 7 inches, choose 7 inches as your wrist size.
- if your wrist is 8.5 inches, choose 9 inches as your wrist size.
- if you are 9 1/4 inches, choose 10 inches as your wrist size.

Please write to us if you are not sure.