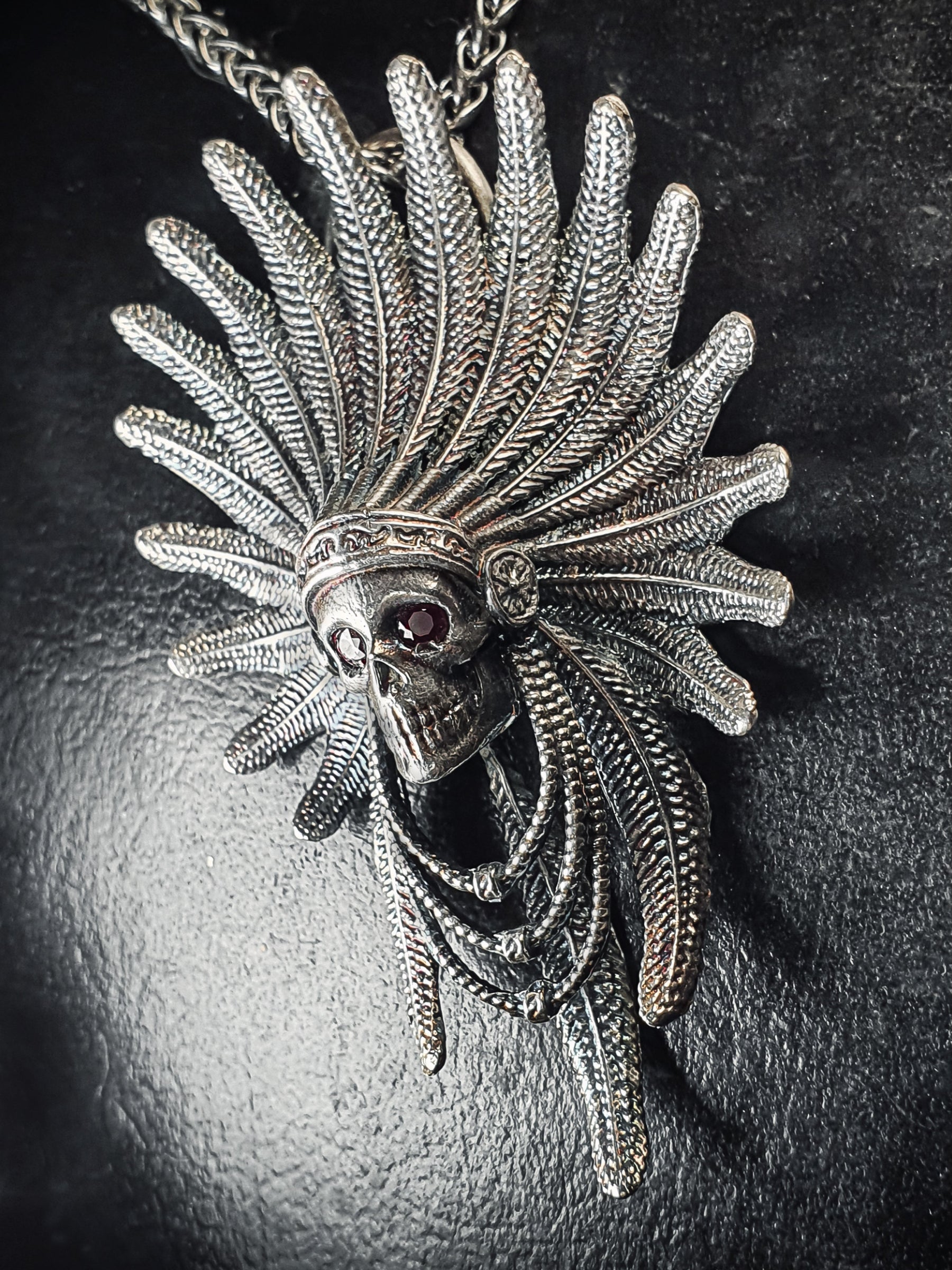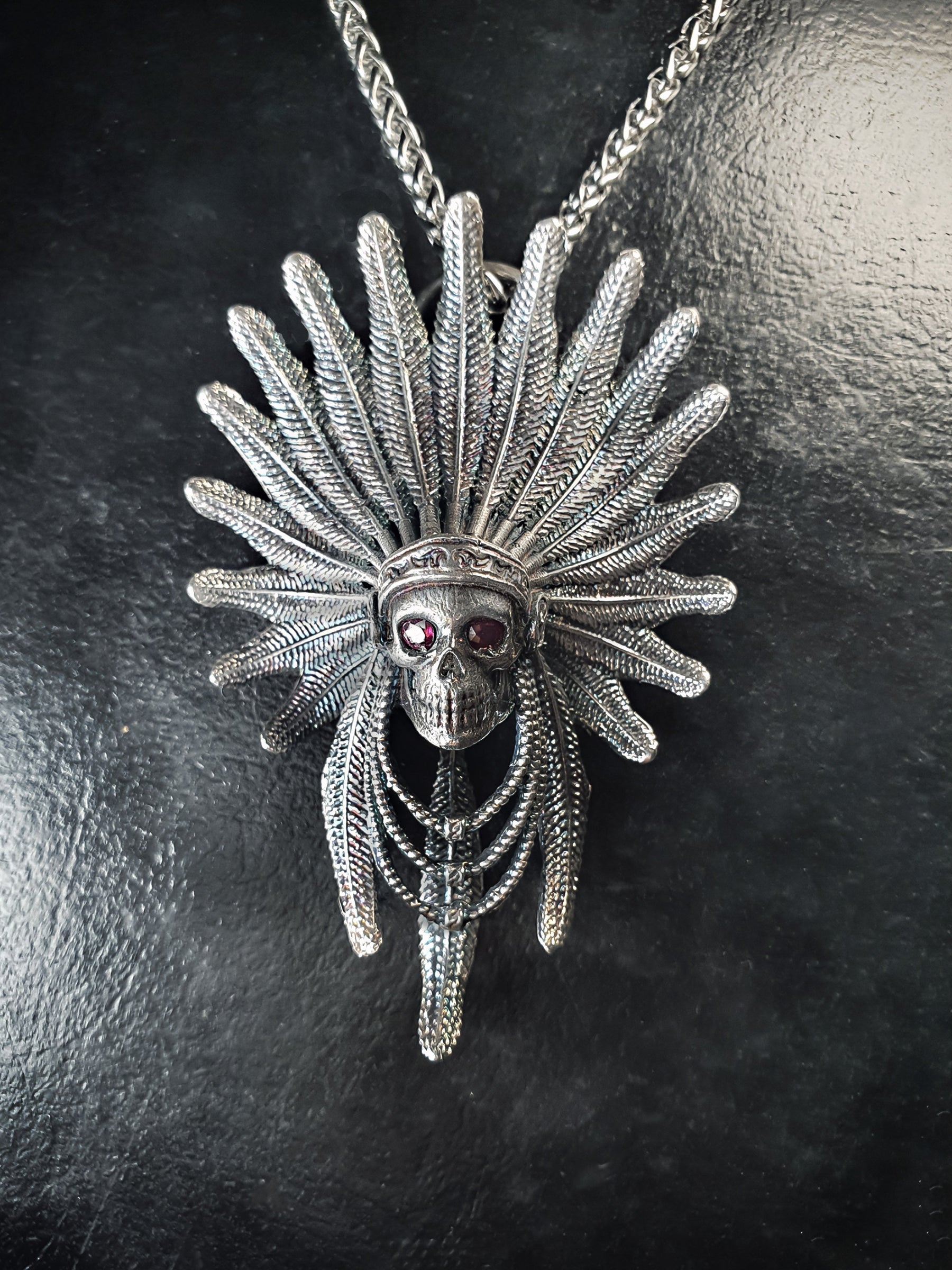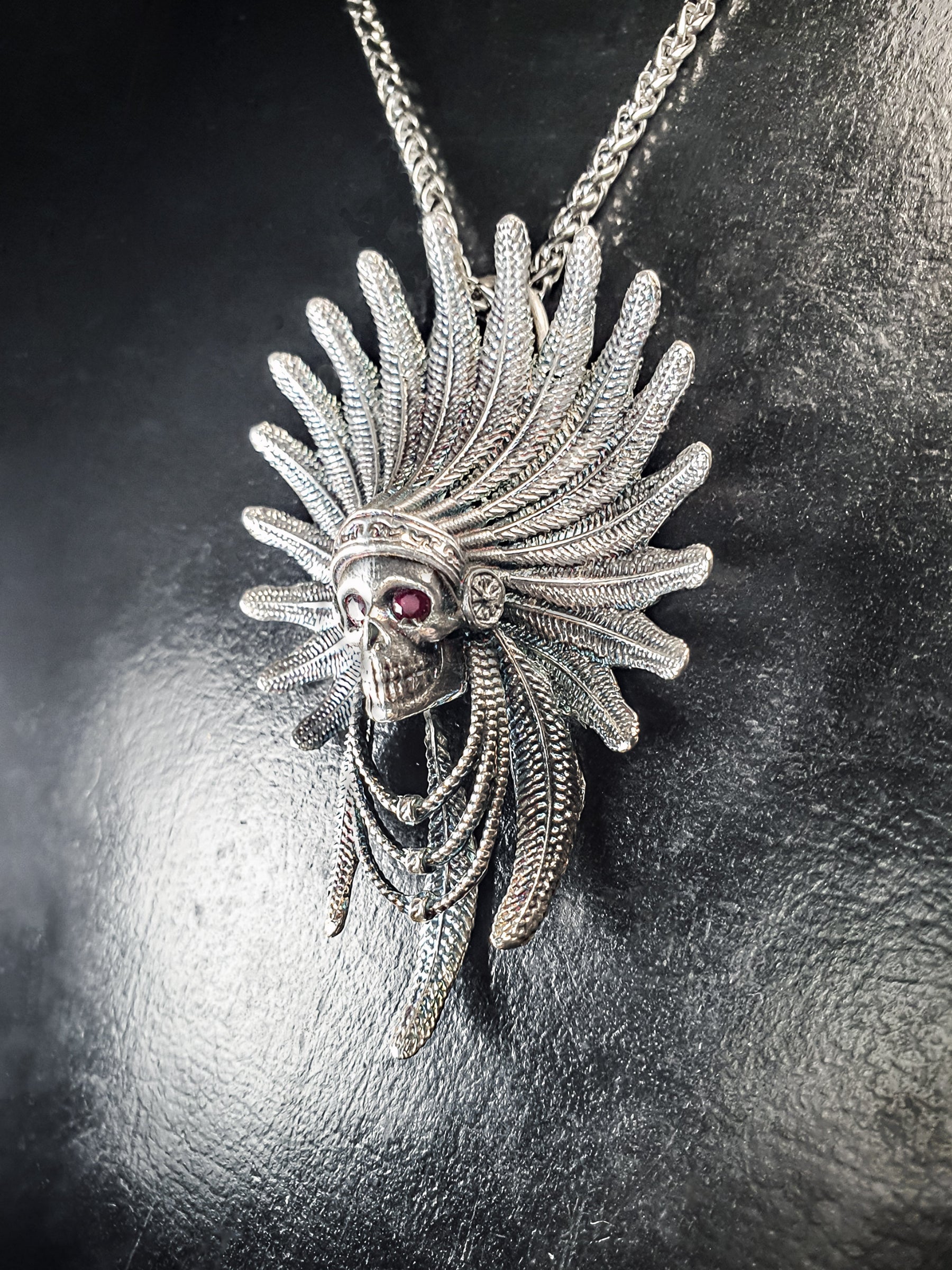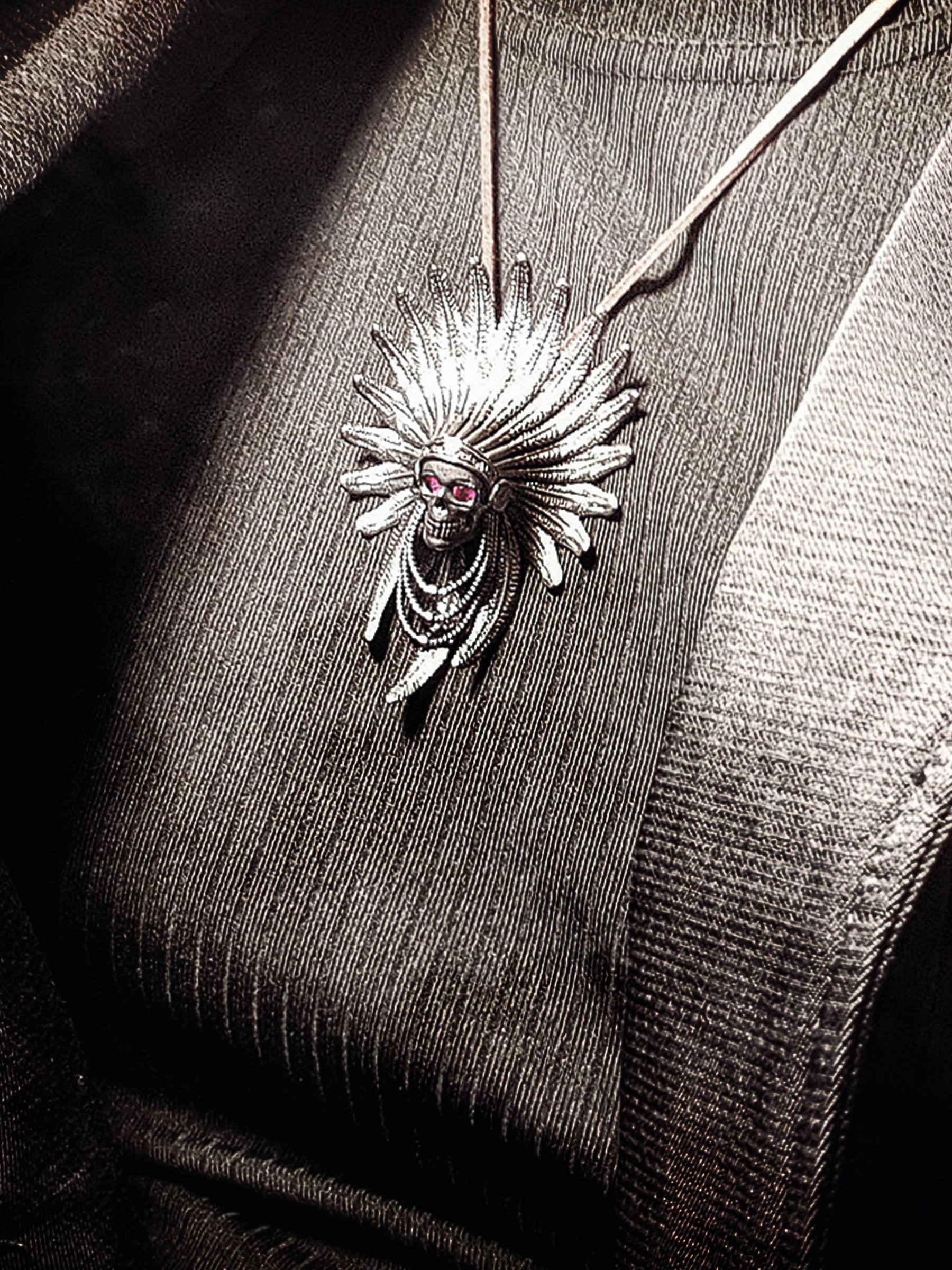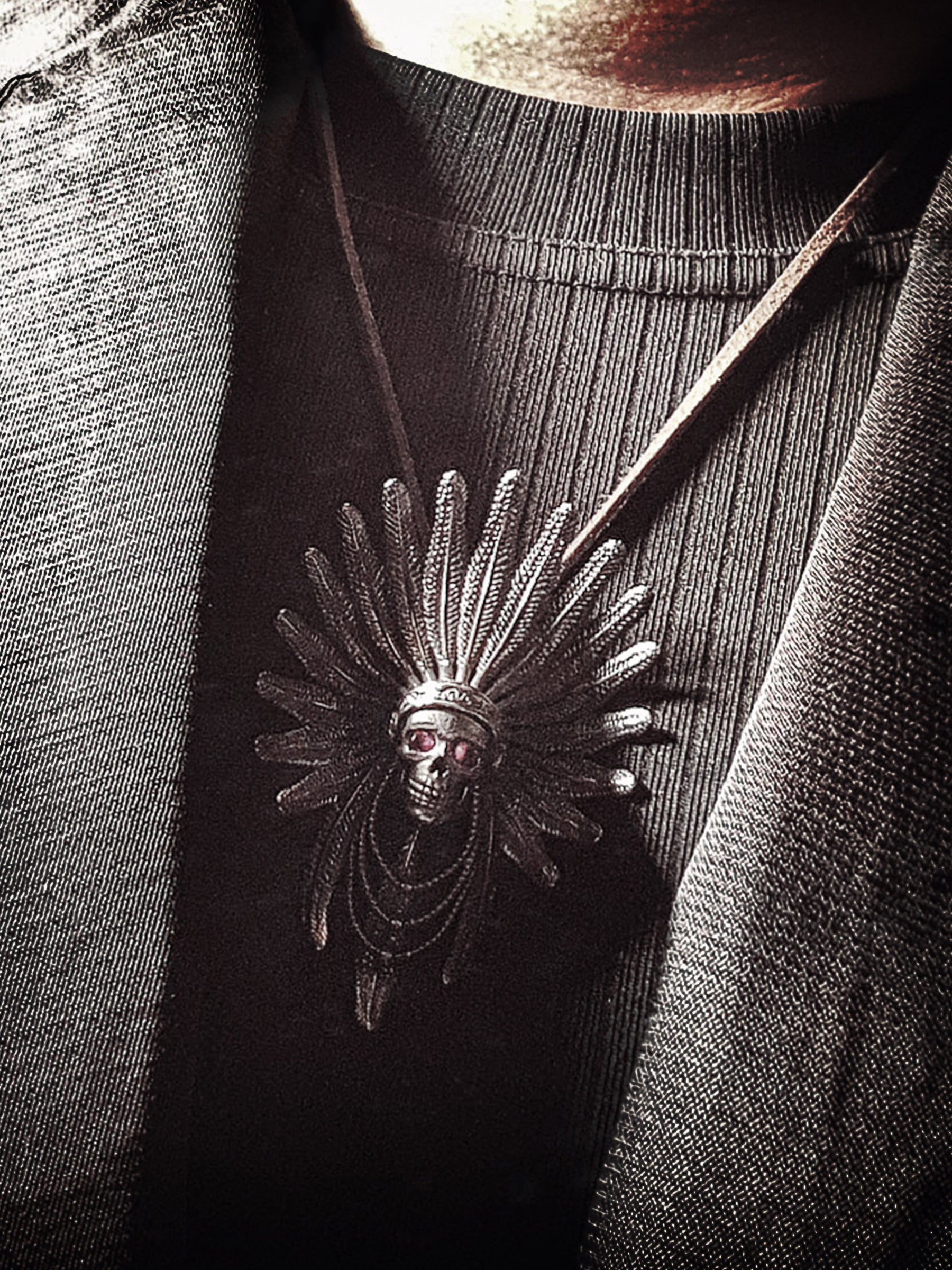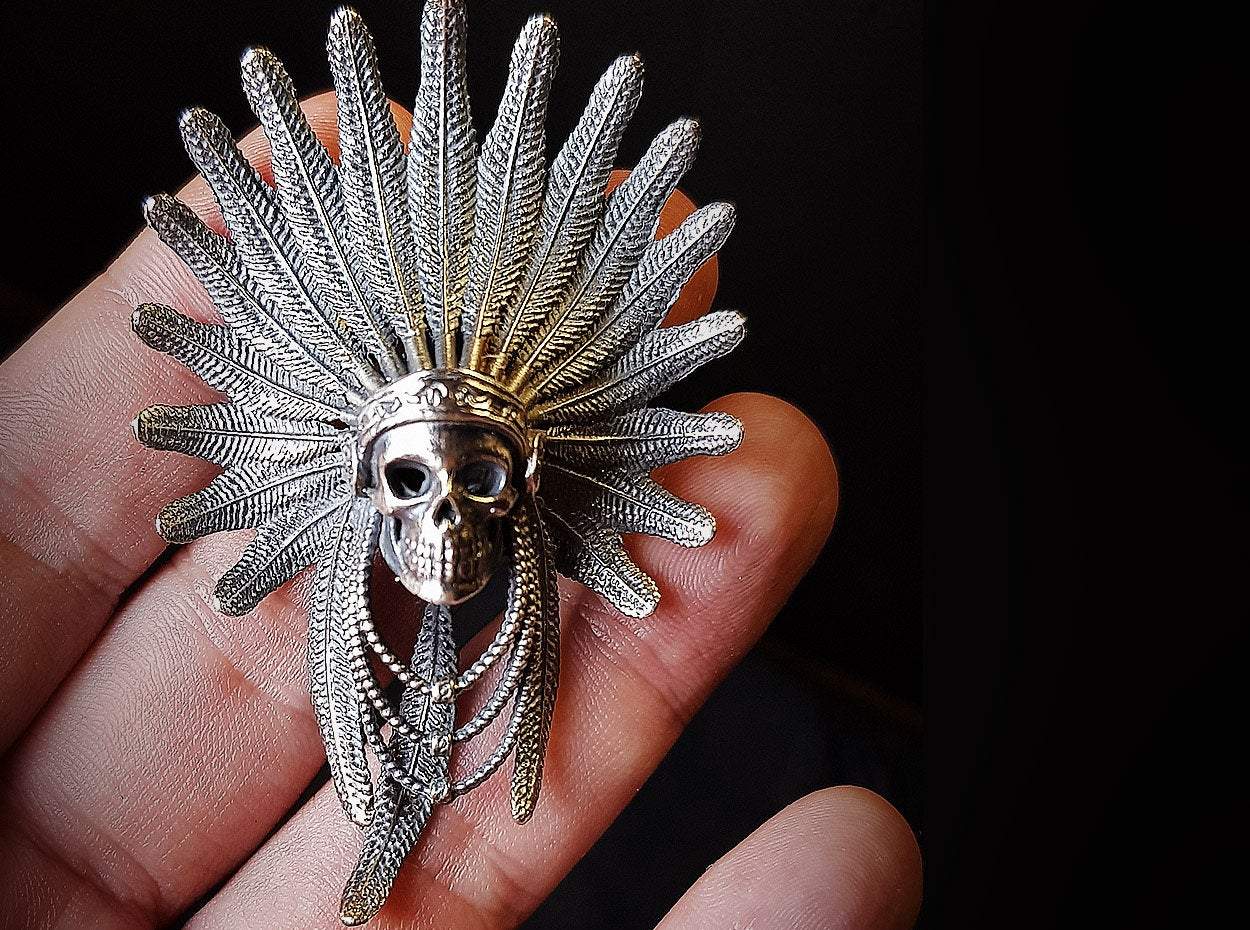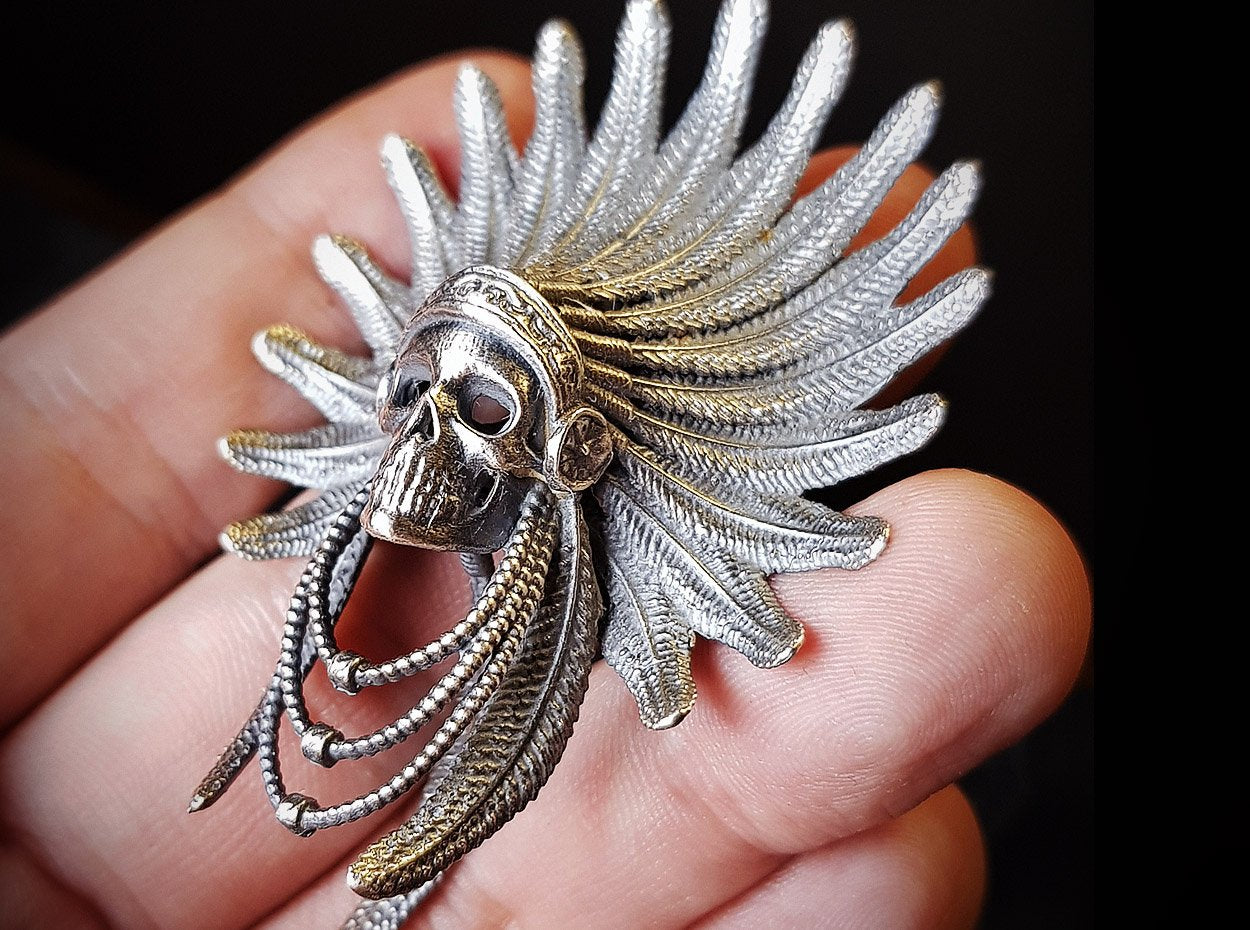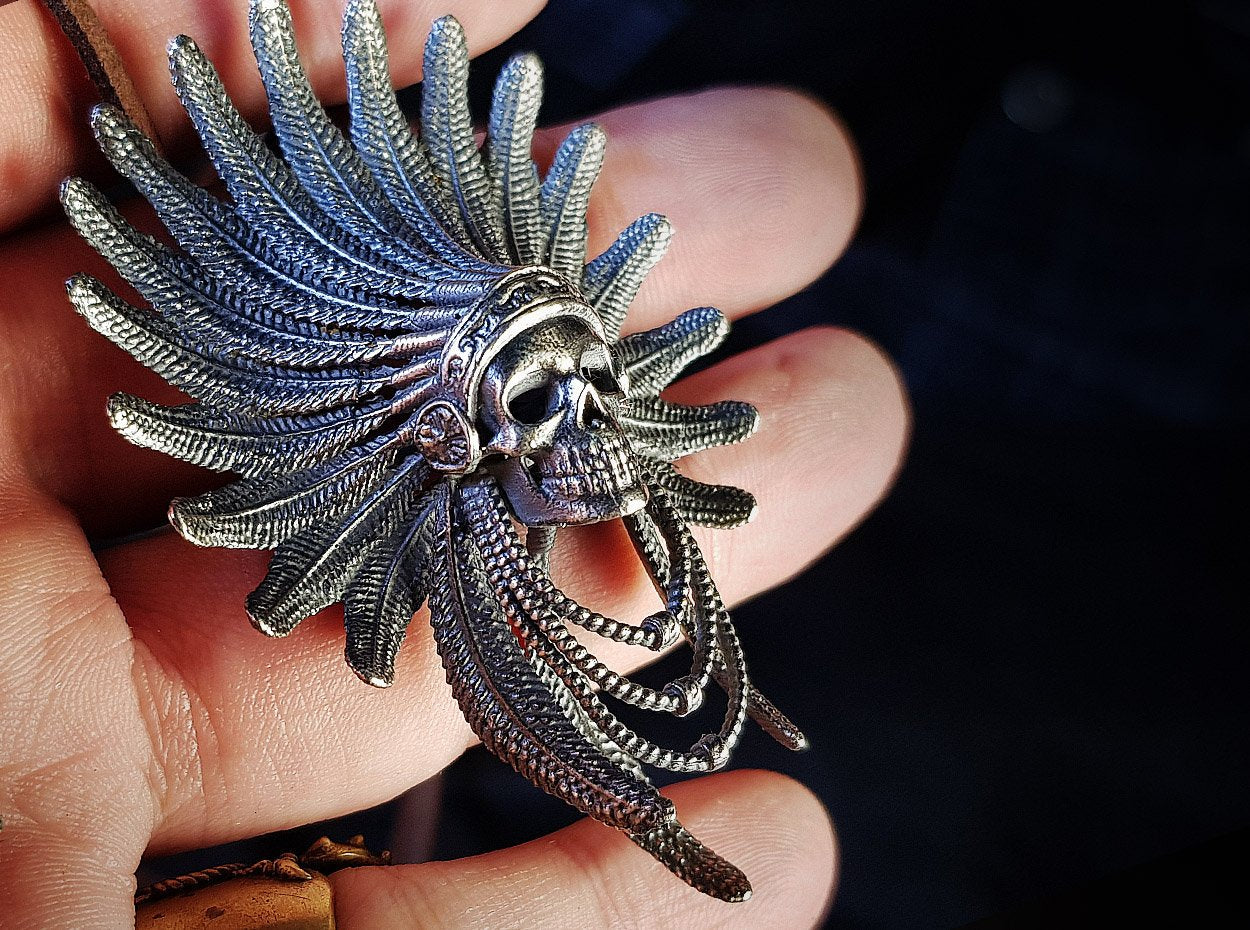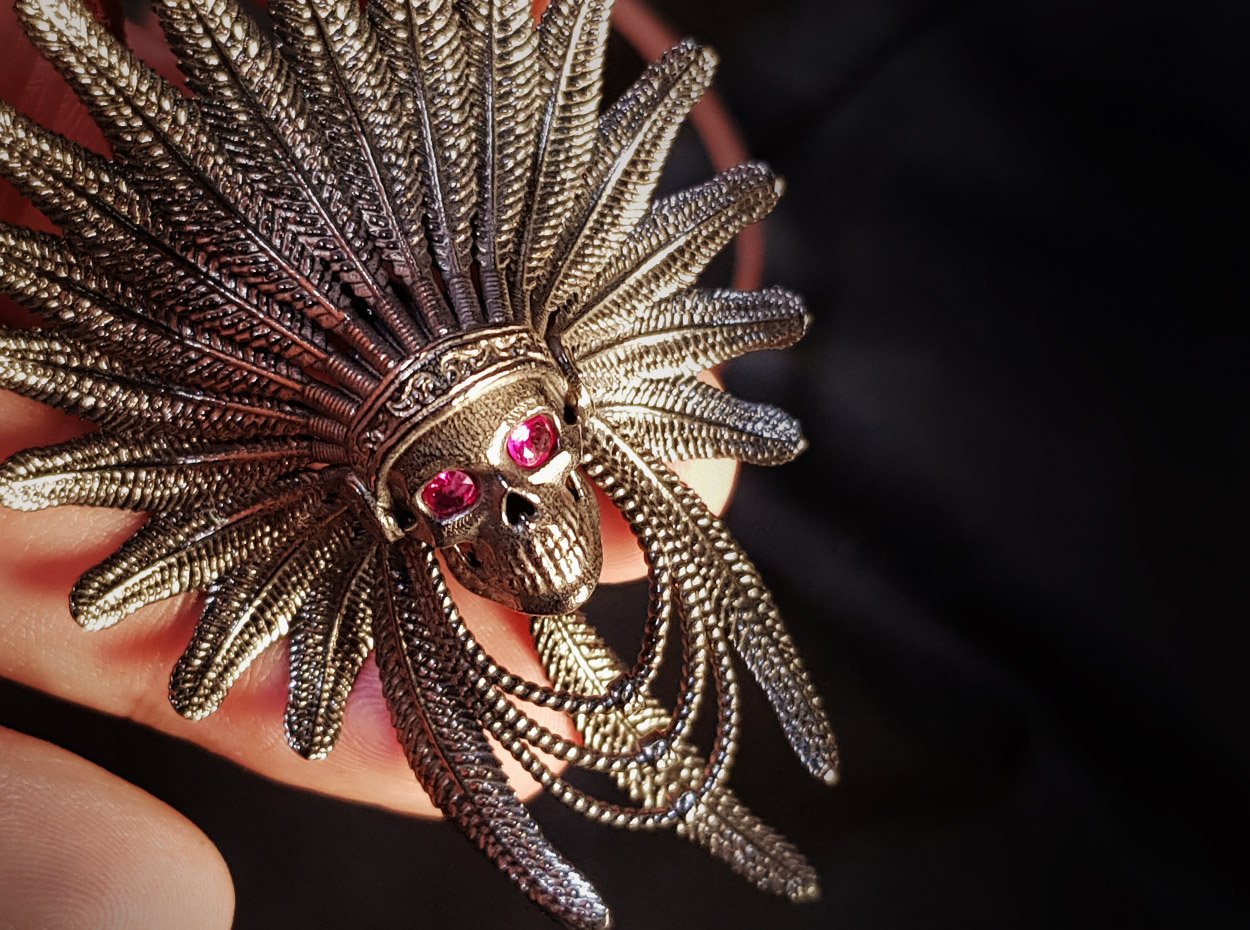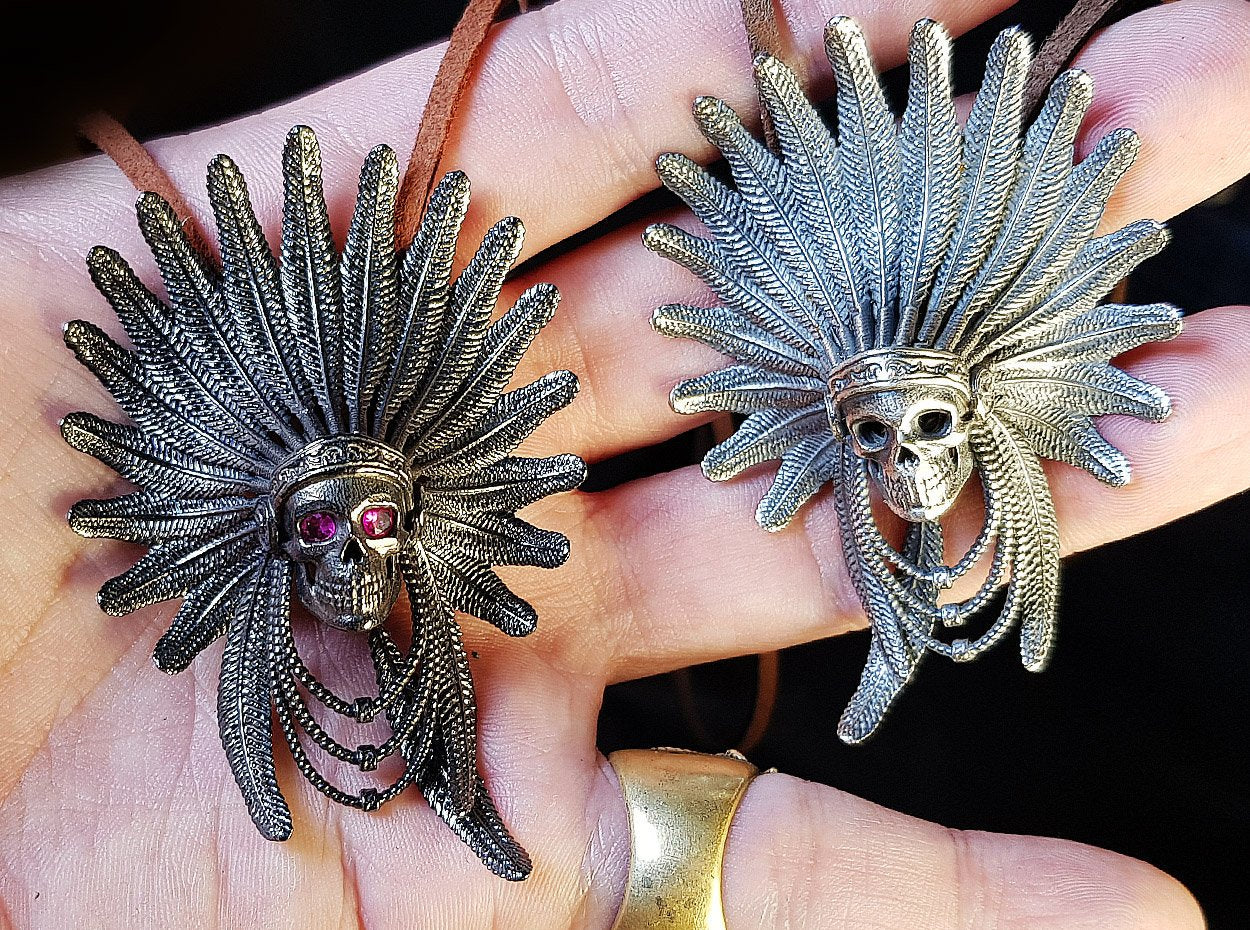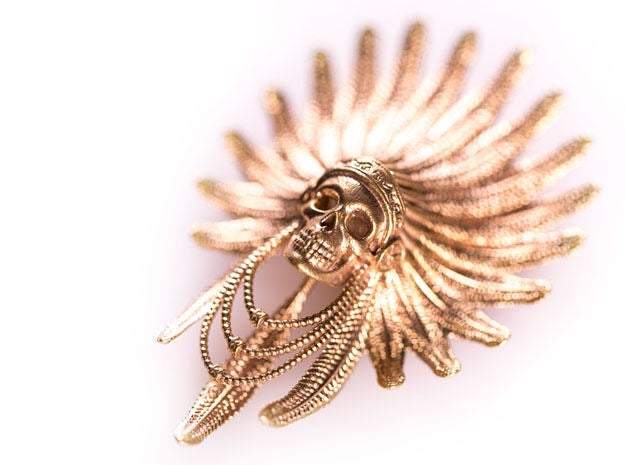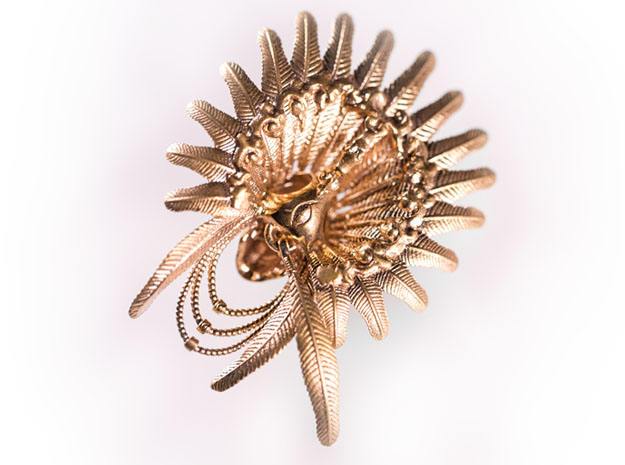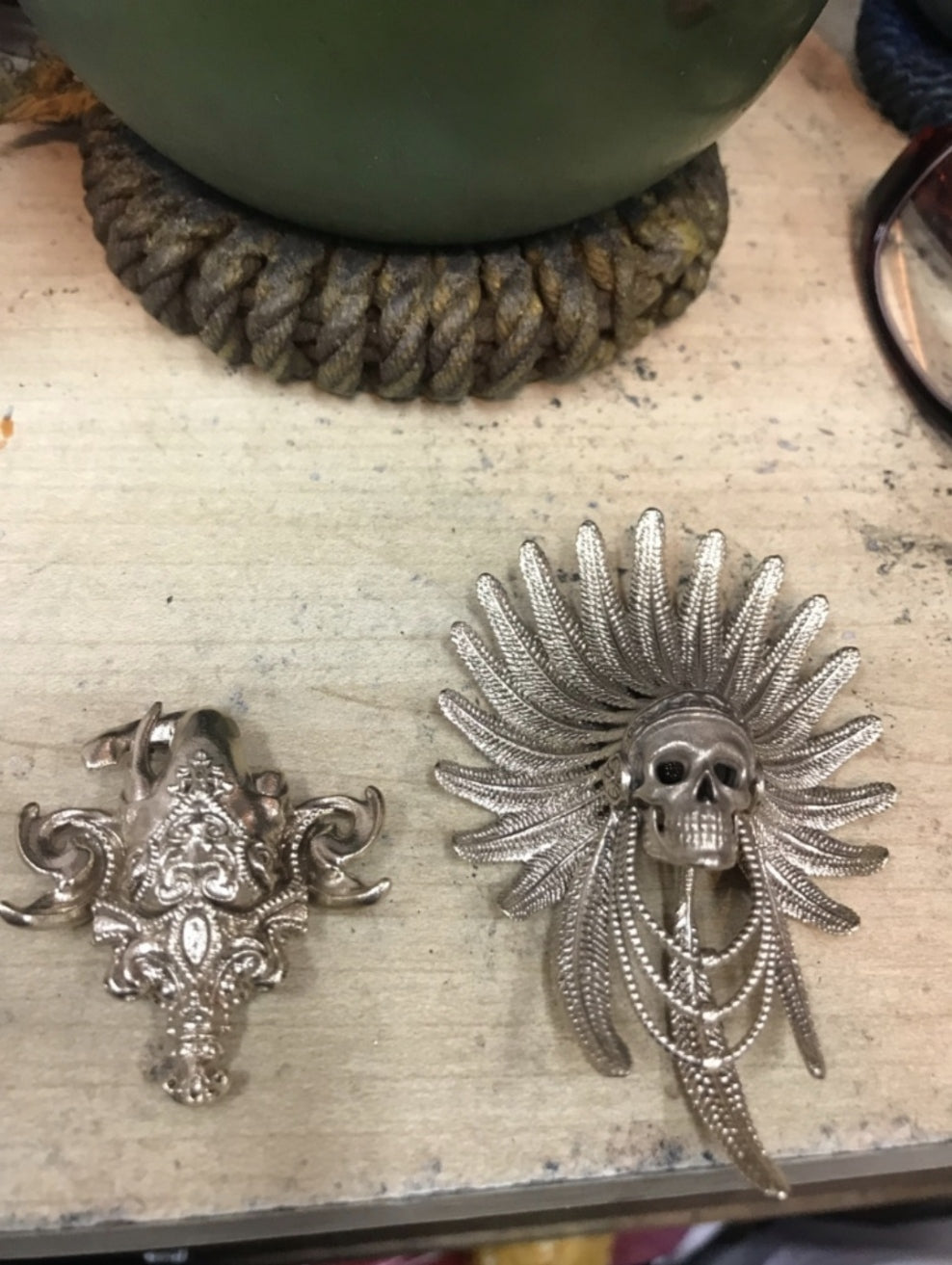 Skull Pendant | Indian Chief
The Native American Indian Skull Piece of Art is a stunning tribute to the rich cultural heritage of the Native American people. With a deep appreciation for the art and spirituality of this proud and vibrant culture, this piece is a celebration of the close connection between the Native American people and the natural world.

As a symbol of the fast-decreasing population of traditional Native American culture, this piece serves as a reminder of the importance of preserving and celebrating the unique heritage of this amazing people. Standing tall at 8 cm and featuring a bold and detailed design, this piece is sure to turn heads and start conversations.

One of the most striking features of this piece is the hanging single feather at the bottom of the skull, which creates a subtle swaying motion and a soft 'ting' sound when the wearer is in motion. This added detail not only enhances the visual impact of the piece, but also pays homage to the traditions and beliefs of the Native American people.

Despite its bold design and striking appearance, this piece is surprisingly comfortable to wear, with no sharp edges to cause discomfort. Whether you're a collector of Native American art or simply appreciate the beauty and spirituality of this amazing culture, the Native American Indian Skull Piece of Art is a unique and meaningful piece that is sure to become a cherished part of your collection.
Product Variations:
1) Antique Silver (Sterling Silver with Oxidized finishing)
2) Antique Silver with Rubies (add to 0.25ct. Rubies)
3) Black Skull (Black Rodium Plating)
4) Black Skull with Rubies (add to 0.25ct. Rubies)
For Rings
We use US sizing as standard. If you have problem converting your local sizing, please check with us.  
We are comfortably handle any sizing from 3-15. If any rings your are interested listed do not offer the sizing you need, you can write in to check with us. 
If you do not know your sizing, we recommend you visit your local jewelry store to get your sizing. But if it is not a variable option, you can DIY by using the following method.
Once you trace your size, place the paper strip against a ruler to measure.
During checkout, you can forward your reading (preferably in mm) so we can convert for you. 
We provide 1 time free ring size adjustment for our products. You just need to send back the item and we will re-adjust for you.  
For Bracelet
Same method as above, but instead of fingers, you measure the most narrow part of your wrist. For wrist, generally we are using inches instead. During purchase, select your correct wrist size measurement. If your wrist is slightly bigger then the sizing given. Choose the next bigger size. 
Example:
- if your wrist is 7 inches, choose 7 inches as your wrist size.
- if your wrist is 8.5 inches, choose 9 inches as your wrist size.
- if you are 9 1/4 inches, choose 10 inches as your wrist size.

Please write to us if you are not sure.